Mango season is an ideal time to make some Mango pickles. I have been born and brought up in Delhi. So, I got hooked to Aam ka achaar which my friends used to bring in their lunch boxes. Then, I finally decided to find a easier way to satisfy my addiction by learning to make this pickle at home.
This mango pickle takes time and patience but you will love the end result of your efforts. Aam ka achaar is a great combination of flavors from different spices. This form of pickle is more famous in North India and a great accompaniment with stuffed paratha. So, sharing the recipe and hope you all have fun making aam ka achaar too.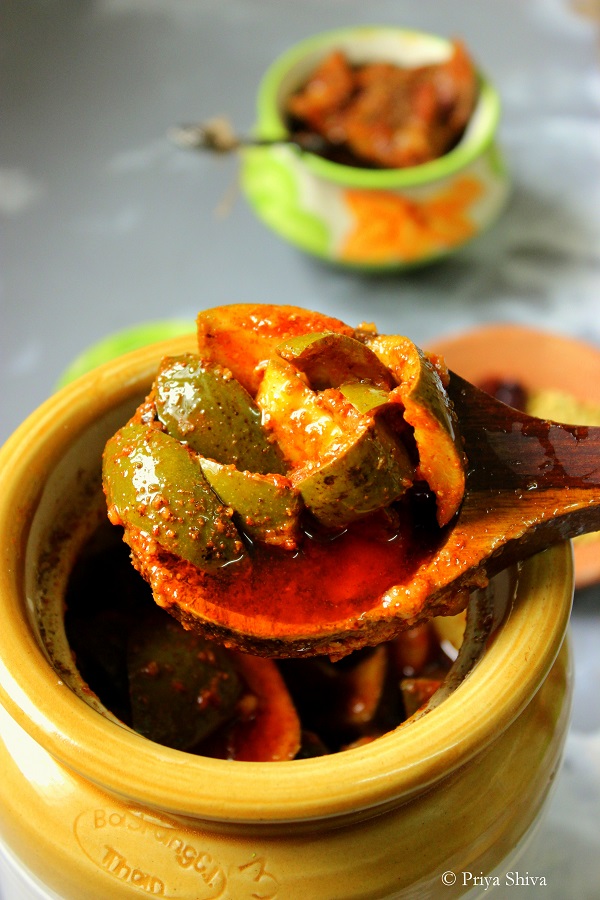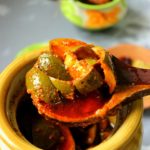 Aam ka Achaar
Ingredients
Raw mangoes - 1 kg

Turmeric powder - 2 tbsp

Salt to taste

Red chili Powder - 1/2 cup

Fenugreek seeds/methi dana - 5 tbsp

Fennel seeds/saunf - 6 tbsp

Mustard seeds- 2 tbsp

Onion seeds / kalonji - 1 tbsp

Coriander seeds/dhaniya sabut - 3 tbsp

Cumin seeds/jeera - 1 tbsp

Asafoetida/hing - 1/4 tsp

Mustard oil - 2+1/2 cups
Instructions
Clean with water and wipe the mangoes with a dry cloth. Chop them into one inch sized cubes.

Add the chopped pieces in a bowl with add turmeric powder and 5 tbsp of salt and mix it well.

Keep it in the sun for 4-5 hours covered with a sieve or a thin muslin cloth.

It will leave some water. So, drain that water and keep it aside.

Heat mustard oil to a smoking point and keep it aside. Let the oil cool down completely.

Roast fenugreek seeds, fennel seeds, mustard seeds, coriander seeds and cumin seeds on low flame for 2 minutes. Let it cool down completely.

Grind it to a coarse powder. Add asafoetida, red chili powder and more salt and mix well.

Add half the quantity of oil, chopped mangoes and spice mix and mix it well. Transfer the content in a pickle jar. Pour the remaining oil and mix well.

Keep the pickle in the sun for 5 days and at least mix it well once a day. The pickle will be ready to use after 8-10 days. Store it in a cool place and this pickle can be stored for up to 1 year. 
Recipe Notes
The oil should be floating above the pickles as it helps to preserve the pickles for a longer time.

Only coarsely grind the spices as the spices will puff up and add more flavors and aromas.

Always allow the oil to cool down completely before adding it in the pickle.

If you use hot oil, it will spoil the pickle.

Use dry spoons to mix the pickle and keep the pickle jar in a dry, cool place.

You can adjust the spices according to your taste.
Yum