Panipuri which is also known as golgappa or puchka is a popular street food in India. I'm sharing a recipe to make the puris for this street food which is served with tamarind water, sweet chutney and other fillings. You will find many variations to serve this dish like Dahi Puri or with sweet tamarind water or it is filled with cooked chickpeas and chat masala.
I'm very fond of this street food and I can have these delightful balls one after another :)I'm sharing a step-by-step recipe to make these puris which you can enjoy with different variations which I will share soon.
Click here to check out the complete recipe to Pani and essembling ingredients for Pani Puri.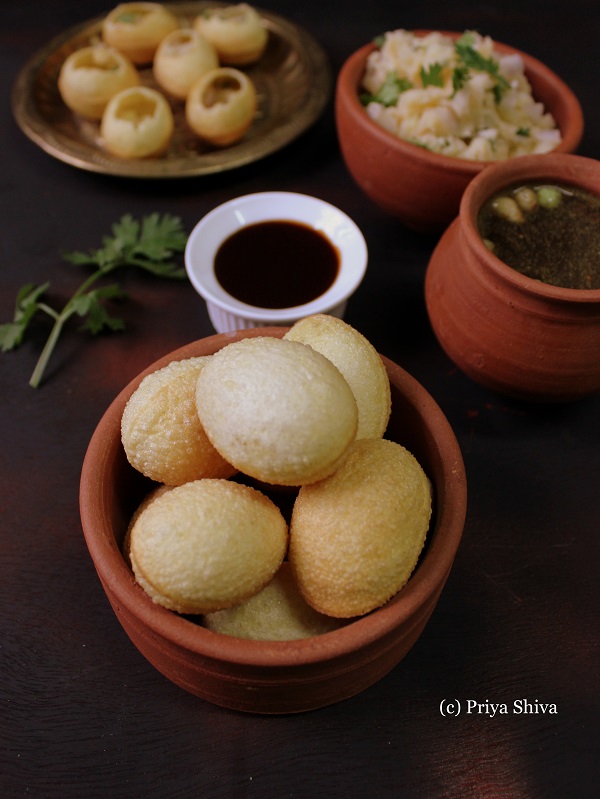 How to make Puri for Pani Puri
Author:
Prep time:
Cook time:
Total time:
Ingredients
Semolina/Rava/Sooji – 1 cup
All purpose flour/maida – 2 tbsp
Baking Soda – 1/4 tsp
Salt to taste
Water for kneading the dough
Cooking Oil for deep frying – 1 cup
Instructions
Add semolina, all purpose flour, salt and baking soda in a mixing bowl.
Start adding water slowly and knead to make a stiff, smooth dough. Keep it covered with a wet muslin cloth for 30 minutes.
Now make small balls of it and flatten it with a rolling pin. Using a 2 inch shape cutter, cut into small round shape.
Heat oil in a frying pan. To check if the oil is warm, drop a small piece of dough into the oil. If it comes on top immediately, the oil is warm for frying.
Keep the flame on medium level and slide the raw puri into the oil carefully. You have to keep regulating the flame to make sure oil doesn't get too hot.
Press down lightly on the puris as it fries to help it puff up.
Once puris turn golden brown, put them on a strainer or a paper tissue to drain excess oil.
Notes
The dough needs to be hard and stiff so that pooris are crispy. So, do not add too much of water while preparing dough.[br]You can even use oval shape cutter like me.
Yum