Poori is a popular Indian flat bread which is made out of wheat flour and deep fried in vegetable oil. There is something about these fluffy pooris that you can't stop at one. It is usually served with a side dish like Potato Masala, Chole Masala etc.
I love to have some poori with tariwale aloo sabzi and aamras for brunch on a weekend. Here's a quick video on how to make these fluffy poori.
I hope you watch this video and learnt how to make poori. Read the recipe and make fluffy poori at home..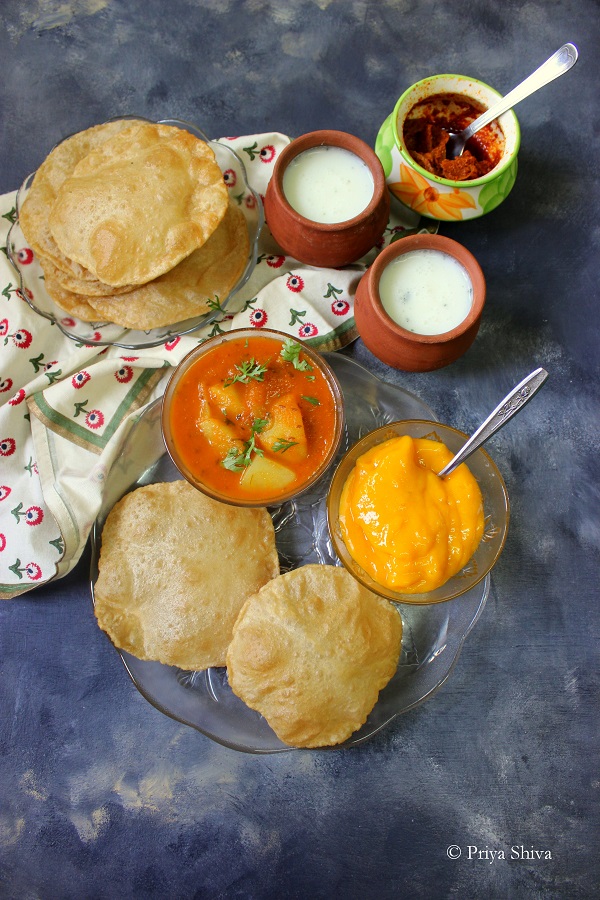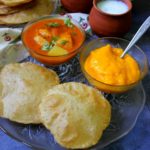 How to Make Poori
Ingredients
Whole wheat flour - 2 cups

Warm water - 1

Salt - 1/2 tsp

Idhayam Mantra Groundnut oil for deep frying
Instructions
Add flour and salt in a bowl.Gradually add water or milk to the flour and knead to make a stiff dough.

Add 1 tsp oil and knead again. Set it aside for 15 minutes.

Make a small ball of the dough and roll using a rolling pin. You can use little oil or dry flour to roll the dough smoothly.

Heat oil in a frying pan. To check if the oil is warm, drop a small piece of dough into the oil. If it comes on top immediately, the oil is warm for frying.

Keep the flame on high flame and slide the flattened dough into the oil carefully. You have to keep regulating the flame to make sure oil doesn't get too hot.

Press down lightly on the pooris as it fries to help it puff up. Once pooris turn golden brown, put them on a strainer or a paper tissue to drain excess oil. 
Recipe Notes
If you like crispy version of pooris, add little rava/Semolina while preparing the dough.

The dough should be little stiff than a normal dough which we use for making chappati so that the we use less amount of wheat flour for dusting while rolling out the pooris.

Use milk in place of water for softer version.
Yum