Biryani is a popular rice based dish which is prepared with blend of spices and vegetables or meat. The rice is firstly cooked separately and then layered with vegetables. The aroma of this dish itself is so captivating that no one can resist. I'm sharing one of the easiest methods to cook a mixed vegetable biryani with blend of spices and hope you all enjoy it.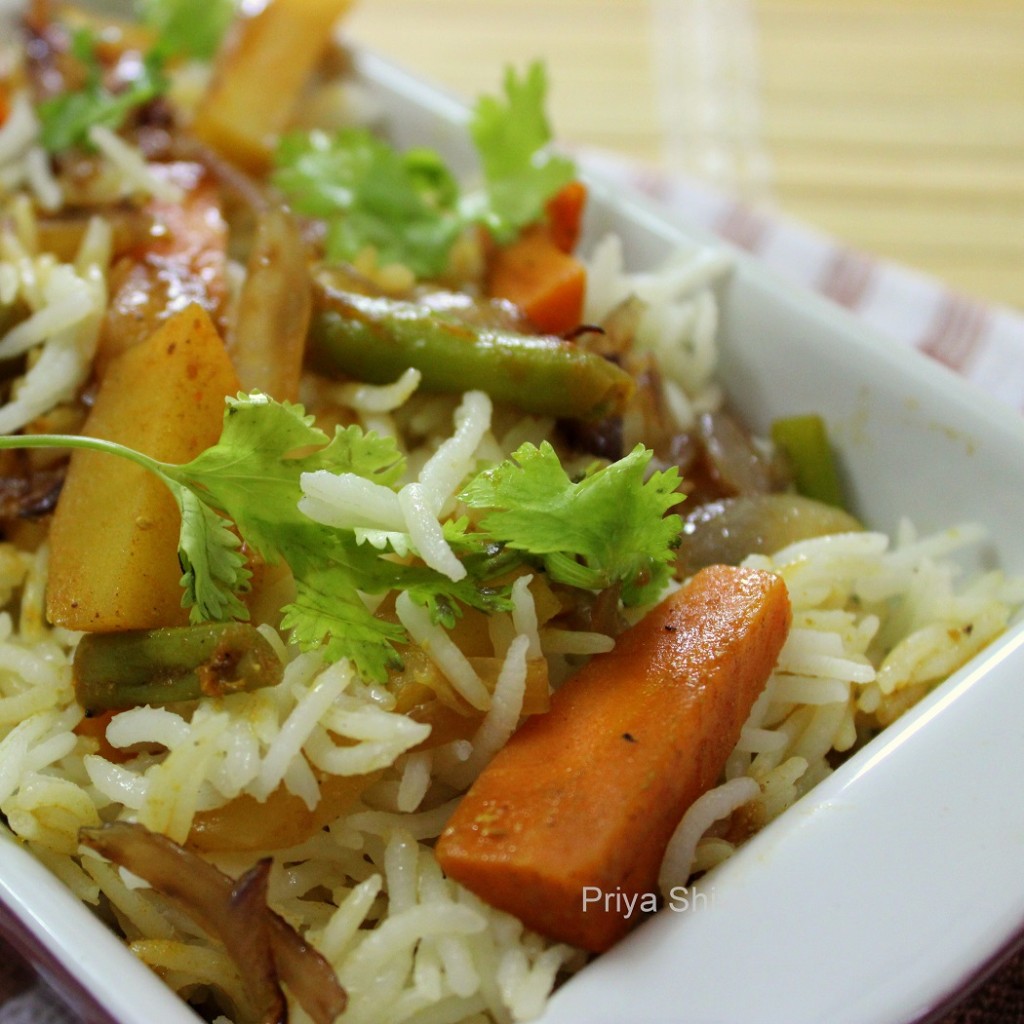 Vegetable Biryani
Author:
Prep time:
Cook time:
Total time:
Ingredients
Basmati Rice – 1 cup
3 Onion (sliced)
1 potato (peeled and sliced 1/2 inch)
2 Garlic cloves (finely chopped)
2 Carrots (peeled and sliced 1/2 inch)
1 Capsicum (chopped 1/2 inch)
6 French Beans (chopped 1/2 inch)
Green peas – 1/2 cupFew small onions
Yoghurt/dahi – 1/4 cup
Bay leaf – 2
Black cardamom – 2
Green Cardamom – 3
Cinnamon – a small piece
Cumin seeds – 1 tsp
Red chilly Powder – 1/2 tsp
Garam Masala – 1 tsp
Turmeric Powder – 1/4 tsp
salt to taste
Cooking Oil/Ghee – 2 tbsp
Few cashews and raisins
Instructions
Wash the rice gently and soak for 20 minutes. Drain the water and boil the rice in salt water (2 cups water) in a open pan till its cooked.
Do not overcook the rice or else it will become sticky. So, keep a watch on the rice and cook only till its 3/4th done.
Blend curd in little water and keep it aside.
Add Oil/Ghee in a heavy bottom pan and add cumin seeds, black cardamom, bay leaf, sliced onions, small onions, garlic, cinnamon, cashews, raisins and saute. When onions turn light golden brown, lower the flame and add green peas, potato, carrot, beans, capsicum and mix well.
Add red chilly powder, garam masala, turmeric powder and little salt and mix well. Cover the pan with a lid and let it cook for 2 minutes.
Now add yogurt, green cardamom and mix it well and let it cook for 2 minutes. Switch off the gas stove.
Take a microwave safe bowl and add one layer of cooked rice and then cooked vegetables and then cooked rice and another layer of vegetables.
Cook in the microwave on high for 2-3 minutes. Remove from microwave and serve it hot with some raita.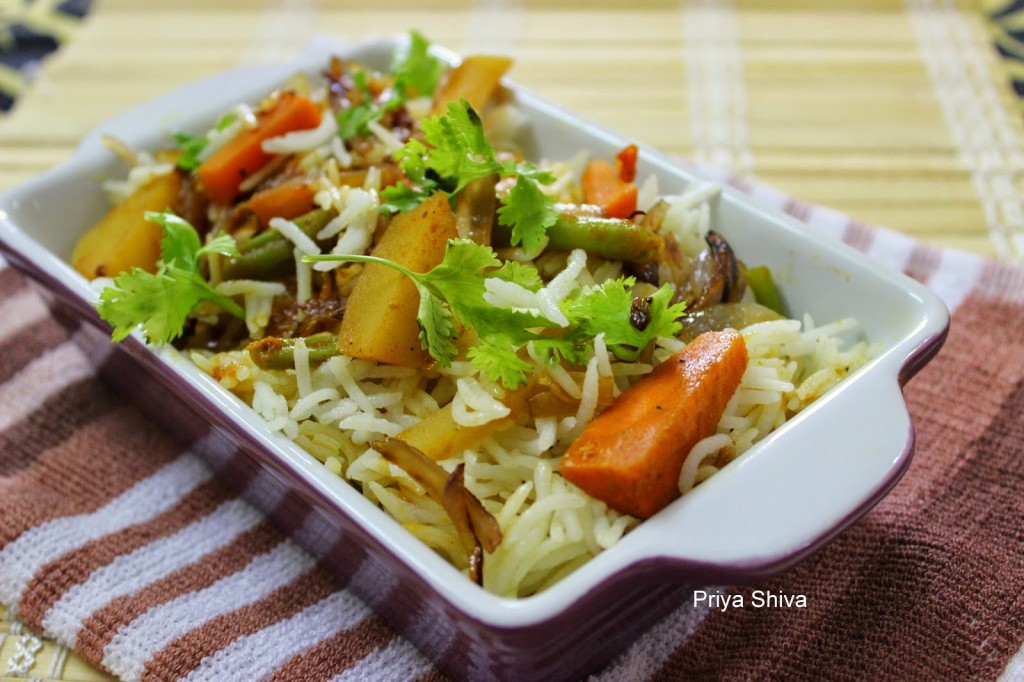 Yum