We all face setbacks in life and term it as our failures. I call them as life lessons. Each setback in my life has made me stronger as a person. So, today I'm contemplating over "Failure" as an emotion in my blog section of – Human and emotions.
I have had my share of failures in life. Some are personal and some are professional but each setback has taught me something. Failure is never easy and there is a whole process of rebuilding oneself which we go through. Each time I told myself that I tried, I gave my best and that's what counts. I accept the failure and move on to rebuild what's broken. So, how to I do it? Here are few things I learnt:
Make peace with your failure – Failures in life are hard to cope up with and relationship failures are even harder. Relationship failure could be a breakup with your boyfriend/girlfriend or even with wife/husband. It could be a fight you had with a close friend with whom you are not able to talk anymore. You are hurt and the first step towards healing from a setback is to accept what you feel. It's okay to cry. It's okay to be alone. It's okay to have few sleepless nights. You are not a robot to fine tune yourself immediately and be all smiling when you are feeling miserable from inside. You have to give yourself time to heal. Once you accept how you feel, you will learn to forgive and let go too.
Pick up a hobby or learn something new – You might have just lost a job or seen your coworker get the promotion you were aiming for. Cursing yourself and crying over it alone will not help. You need time to heal from a setback and this is the best time to pickup a new hobby or be adventurous. You can travel and see some new places. You can revive any form of art you once loved. It could be painting, dance or music or playing some instrument too! It worked for me and I'm sure that it will work for you.
Talk to a friend – Talking to a dear friend definitely helps! They will lend you their shoulder to cry on and even wipe away those tears. You will surely find comfort.
Don't get stuck in that rut –  Running the whole thing again and again hundred times in your head is not going to help you. You might have made some mistakes and you will realize it after processing it couple of times. Learn from your mistake and move on!
Sometimes, a fear of failure itself becomes a hurdle for us. If you have a dream, take that jump. It's okay to fail. At least you can assured that you tried. Let those failures in life lead you to something more beautiful.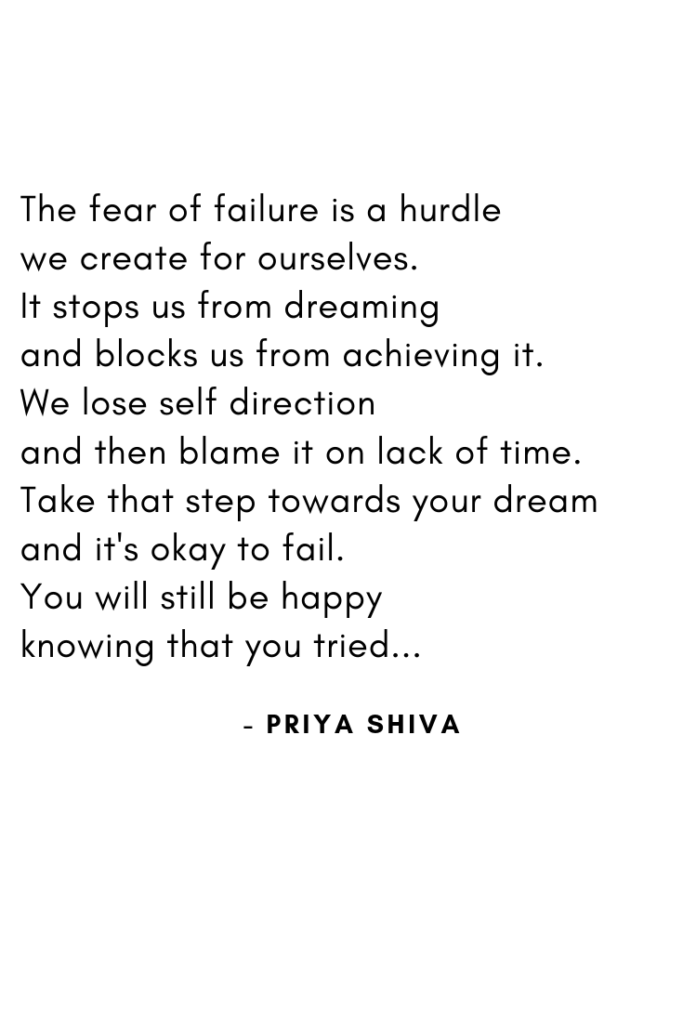 I will leave you at this thought. Please do share your thoughts on it. Share your way of coping up with failure and I'm sure I will learn something new.
Love,
Priya Shiva
Yum