We recently took a road trip from Bangalore to Belur and Halebidu. The temples at Belur and Halebidu are epic examples of Hoysala architecture built between 10th to 12th century. Each carving, each stone has a story to tell and leaves you mesmerized. The charm of history is in the fact that nothing changes from age to age yet it stands out with its enigmatic lessons..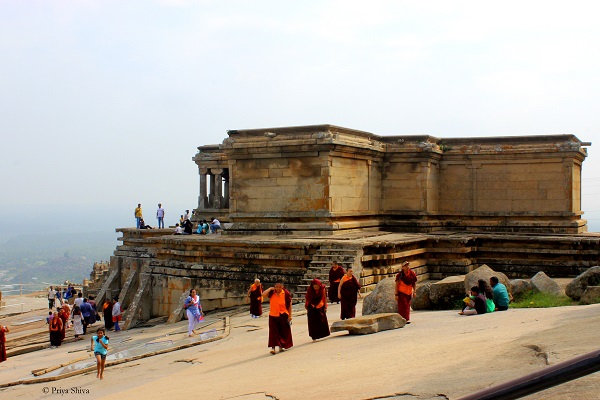 Everybody needs to travel and see the world. It is not to escape from the realities but to discover the endless roads which sometimes questions your own existence. You are totally cut off from your monotonous daily routine and meet new people. You are away from the comfort of home and still have the same air, sky and water around you which is needed for survival. We travel for that thrill and capture those moments in our life. This time we decided to check out age old temples at Belur and Halebidu. Belur is situated about 220 km from Bangalore. The roads to Belur are pretty good and you can easily cover it in about 4 hours. We were driving towards Belur when we decided to make a pitstop at Shravanabelagola…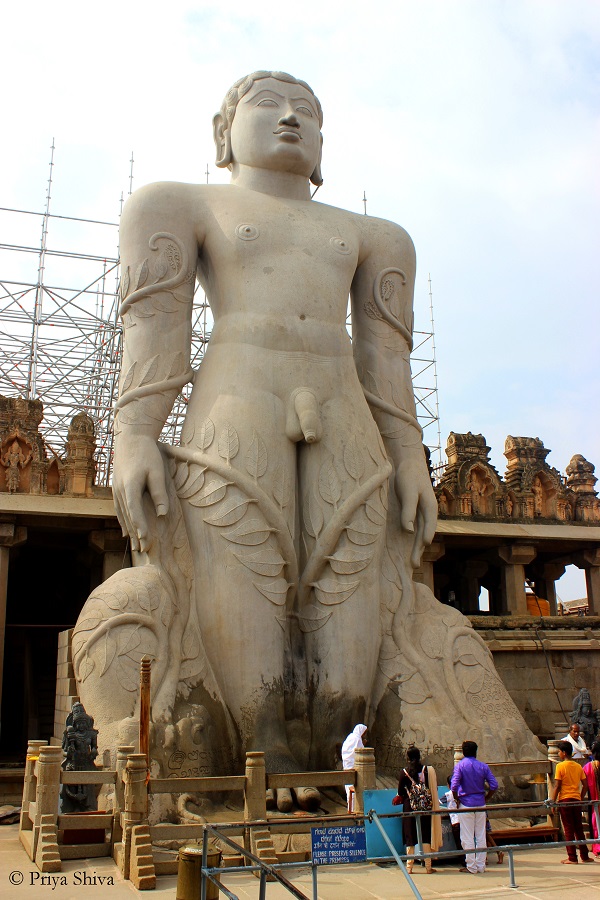 Shravanabelagola
Shravanabelagola is a small town located near Hassan district, Karnataka and is about 144 km from Bangalore. The Gommateshwara statue also known as Bahubali at Shravanabelagola is one of the most important place for Jain pilgrimage. Bahubali means a man with strong arms and he's fondly worshiped by Jain community in India. The statue was built around 981 A.D. and is the tallest monolithic stone statue in the world with a height of 58 feet carved out of a single block of granite.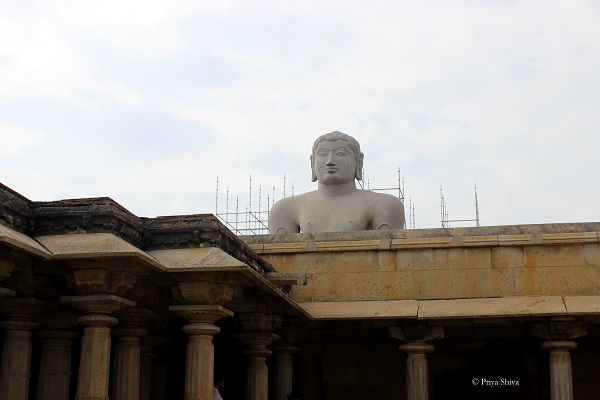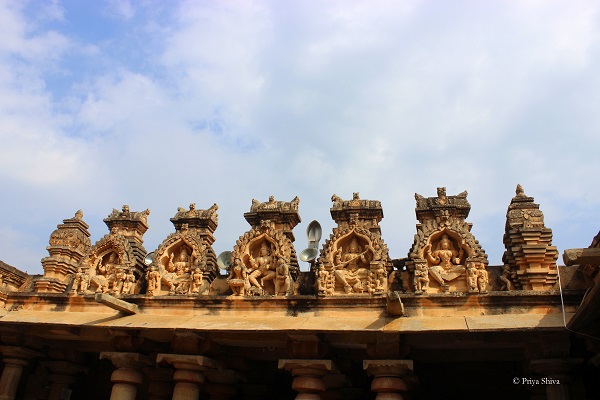 There is a climb of about 700 steps to reach the statue and you have to climb bare footed leaving any footwear at a shoe stall located near the steps. It is totally worth the climb for the peace and serenity and the beautiful view from above…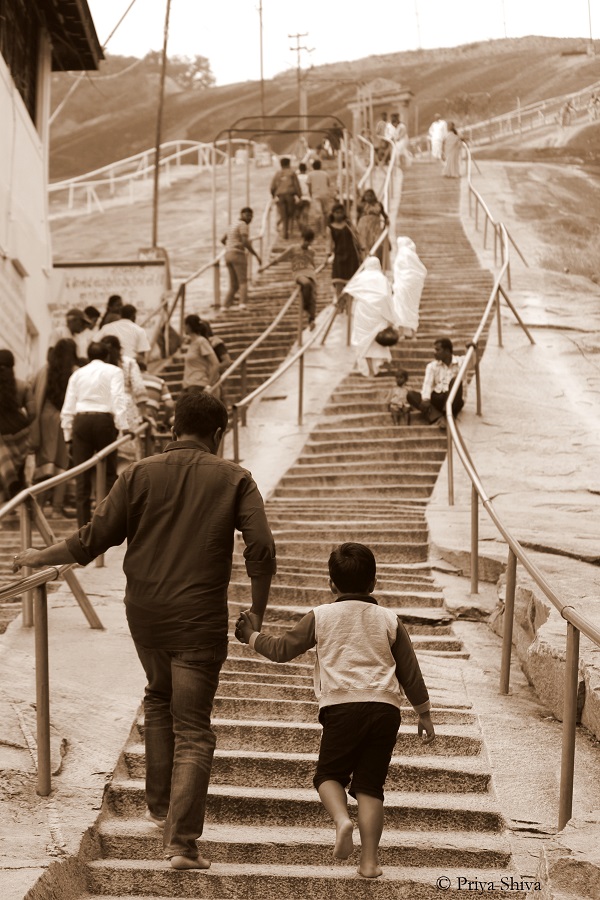 The temple timings are from morning 6:30AM to 11:30AM and 3:30PM to 6:30PM. We would suggest to take the climb early in the morning or after 4 PM as the stones tend to get hot making the climb tougher. Physically disabled or old people can use the Palanquins and avoid climbing the steps. It is worth visiting these old temples to know more about our history and heritage..
Belur
We started our journey again and reached Belur by lunch time. We stayed at Hotel Mayura Velapuri in Belur which is economical, clean and located at walking distance from Chennakeshava temple.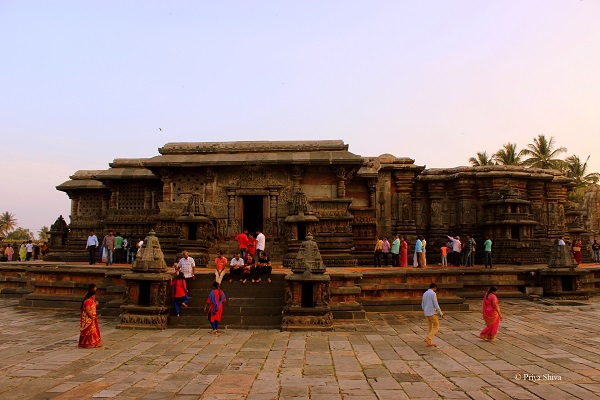 Belur has one of the grandest example of Hoysala architecture – The Chennakeshava Temple. The temple was built in the 12th century by the Hoysala ruler, Vishnuvardhana. In those days, Belur was the capital city of the Hoysala kingdom until Mughals plundered the capital city and Halebidu was established as the new capital. It took 103 years to built this magnificent stone temple and you stand in awe to see the intricate carvings..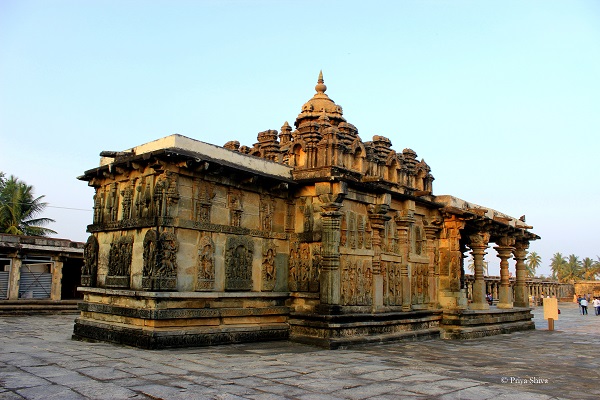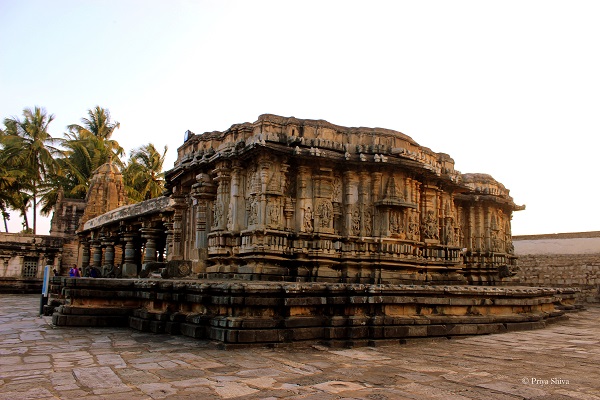 The temple is dedicated to Lord Vishnu and the Gopuram at the entrance itself is filled with sculptures of different incarnations of Lord Vishnu. There is a statue of garuda at the entrance and then you are mesmerized by the minute work on the stone temple..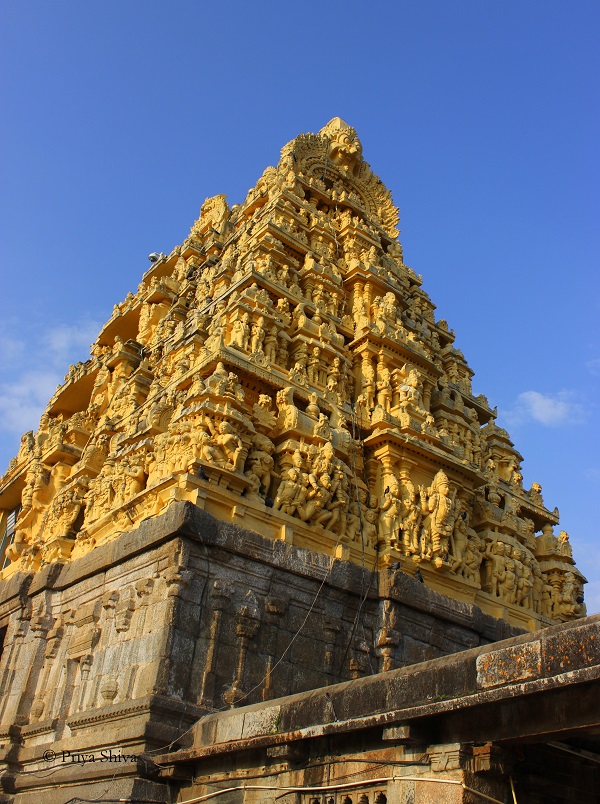 The carvings of dancing girls in this Hoysala temple indicates that music and dance were given high importance during this period. I felt that I have been transcended to that time and the dancer in me could not resist posing for a click :-)…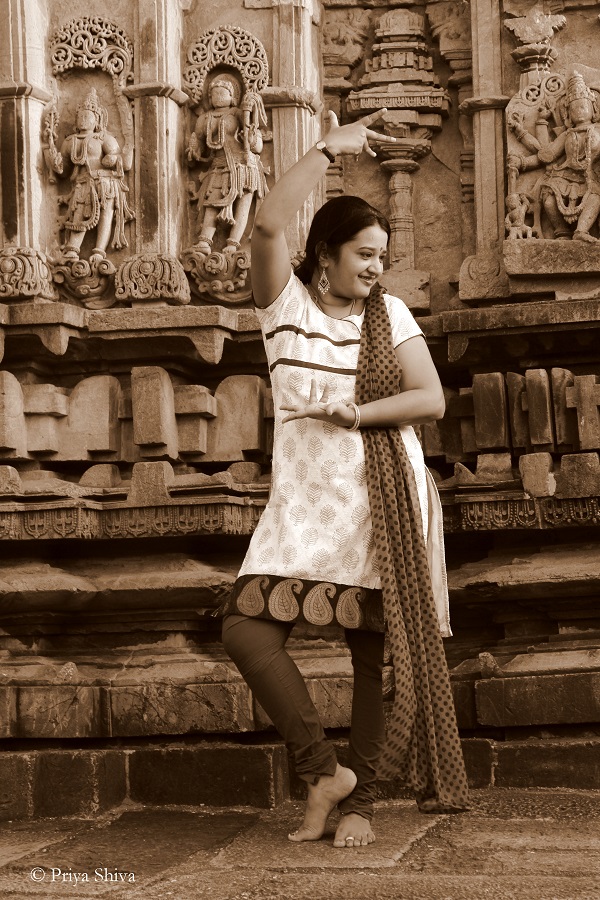 Don't miss checking out the gravity pillar right in the center of the temple courtyard. This 42 feet high pillar, also known as Mahasthambha or Kartika Deepotsava Stambha is a prime attraction of Chennakeshava temple. There is no base to this pillar and is placed on a platform made out of single stone. the beauty about this pillar is that its standing on three sides on its own weight and fourth side has a gap from where a piece of paper can pass..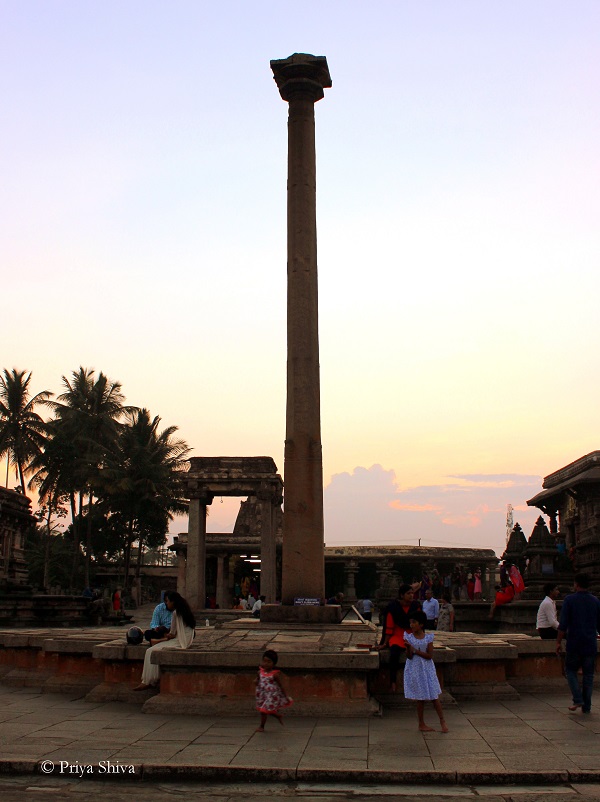 It is quite dark inside the temple but the light is enough to showcase the beautiful carvings and the main deity, Lord Vishnu. The ceiling is believed to be made of single stone and you can see the Narsimha avatar of Lord Vishnu engraved in the center.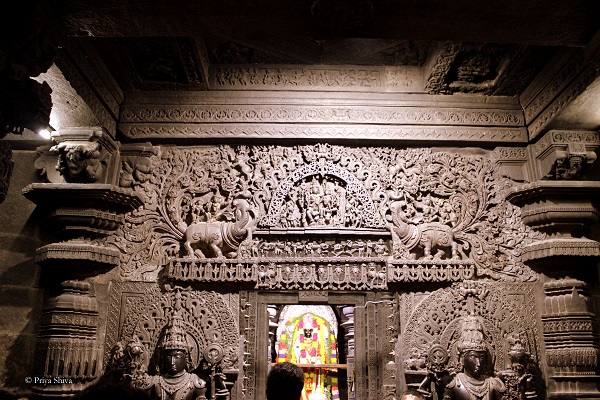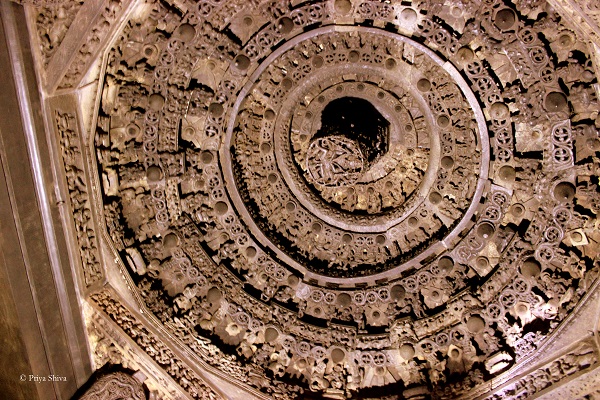 Hoy means strike and sala refers to the name of the forefather of Hoysala dynasty who saved a saint from a lion. The emblem represents it and you can see it in a sculpture in the temple…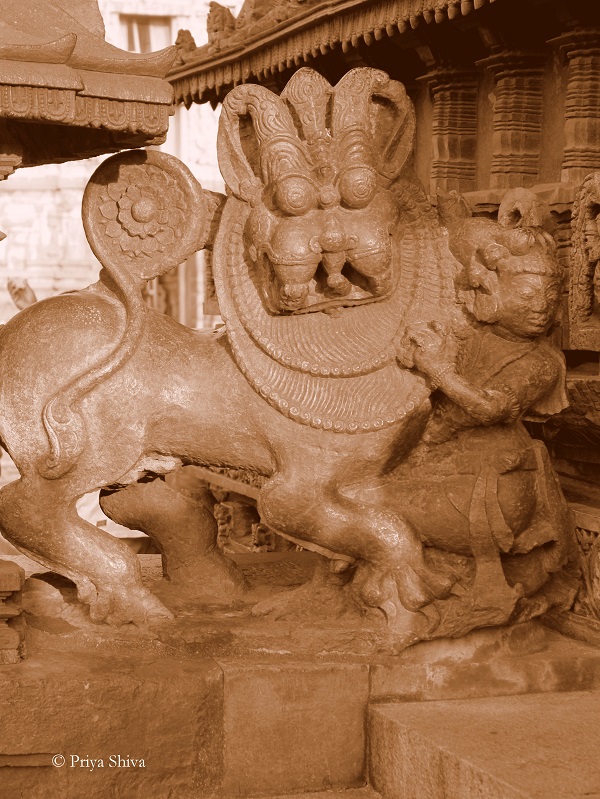 The tour of the temple left us famished and we retired for the night at the hotel. The next day, we continued our journey towards Halebidu..
Halebidu
Halebidu is a town in Hassan district and just 15 km away from Belur. Halebidu became the capital city in 12th century of Hoysala dynasty after Belur was looted by Mughals. We checked out the three main temples in Halebidu during our stay there. Our first stop was at Basadi Digambar temple..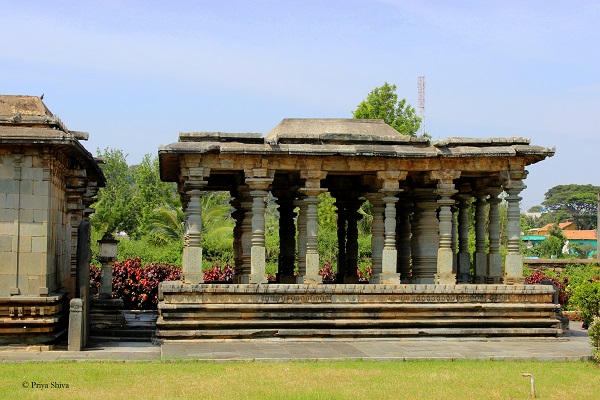 The three Jain temples in a row are dedicated to Parsvanatha, Adinatha, and Shantinatha tirthankaras. Basadi is built of soap stone and the most important attraction of this temple is the 18 ft. tall Parsvanatha Tirtankara statue in the sanctum.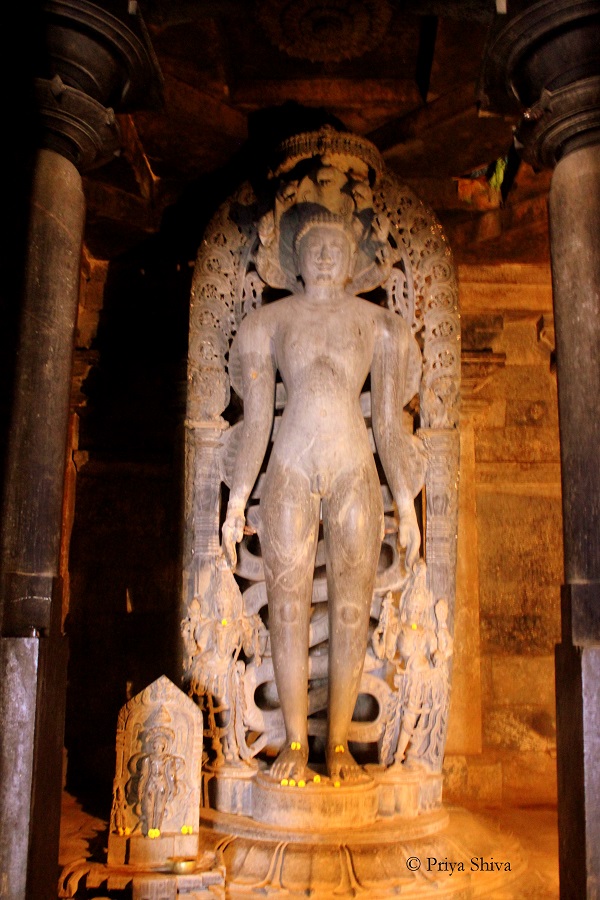 The only light source inside the temple comes from the entrance as there are no windows for this temple. There are Kannada inscriptions outside the temple and it is believed that the Hoysala king Vishnuvardhana was a Jain before he started worshiping lord Vishnu. It is visible through these old temples that Hoysalas were very tolerant to all religions and appreciated art and music..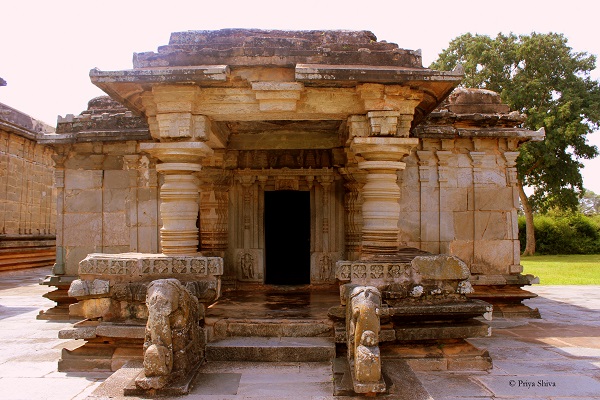 We checked in at Hotel Mayura Shantala in Halebidu which is right opposite the Hoysaleshwara Temple. We enjoyed a nice South Indian thali there and decided to visit the main temple in the evening…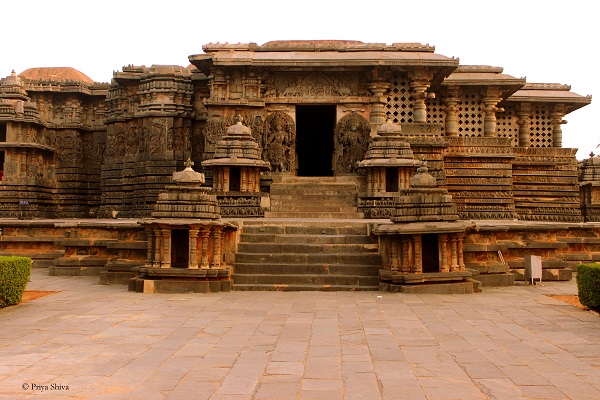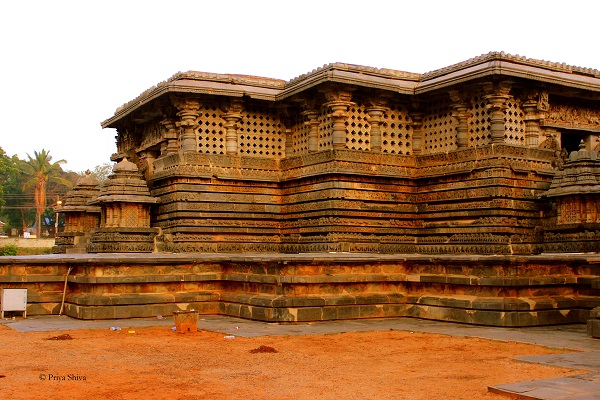 The Hoysaleshwara temple is a Dvikuta which means that the temple has two gopuras dedicated to Hoysaleshwara and Shantaleshwara. Hoysaleshwara is the main deity and it is amazing to look at such an impressive Lingam of Lord Shiva.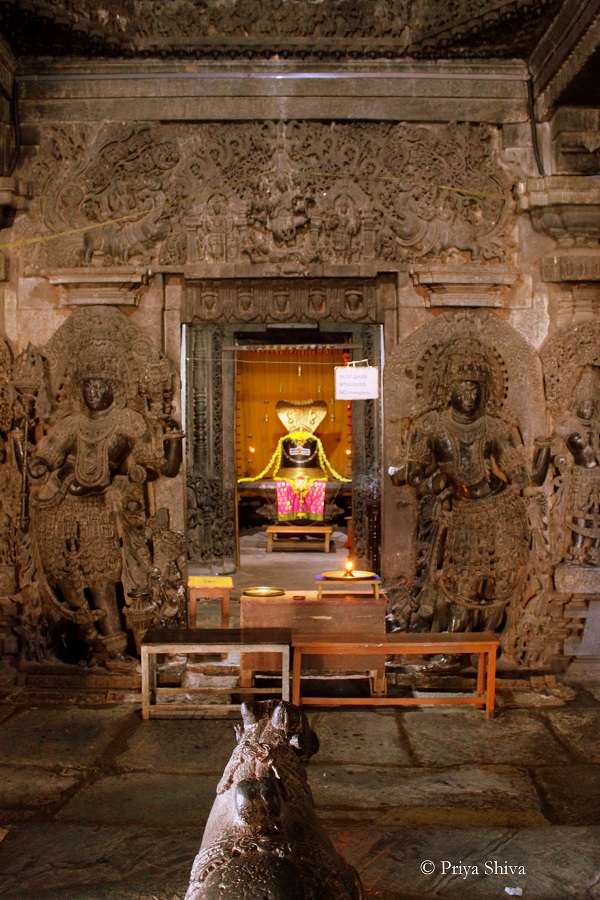 Hoysaleshwara temple is a classic example of Hoysala architecture and carvings depict the stories from of Ramayana, Bhagavatha, Mahabharatha and Bhakta Pralhada. Some knowledge of Hindu Gods and their avatars would help to understand the workmanship in this temple.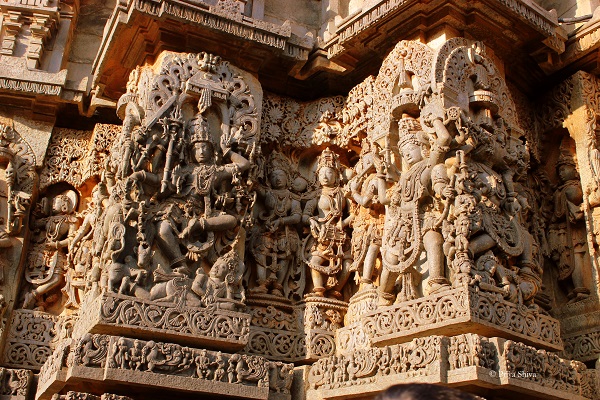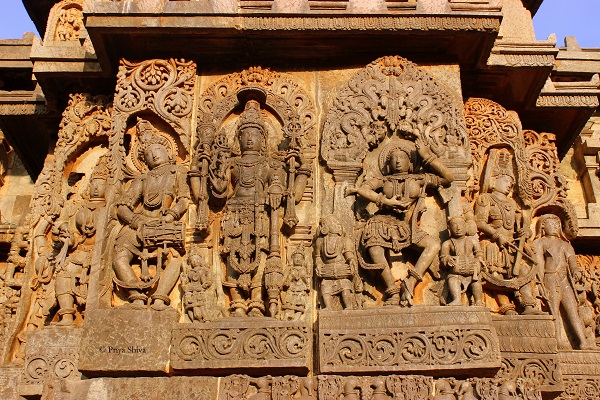 As we enter the temple, you stand in front of Shantaleshwara deity who is in the form of a Shiva Lingam. The temple is dedicated to Lord Shiva and thousands of people visit this temple everyday to worship him.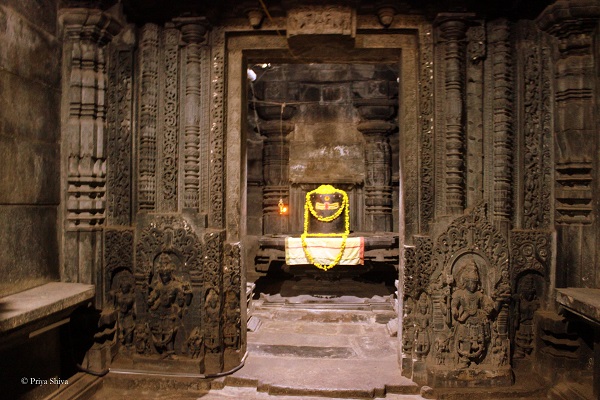 There are carvings depicting courtesans, dancers and musicians which shows the art and culture of Hoysala dynasty. The Nandis in front of Hoysaleshwara and Shanthaleshwara are also carved out beautifully..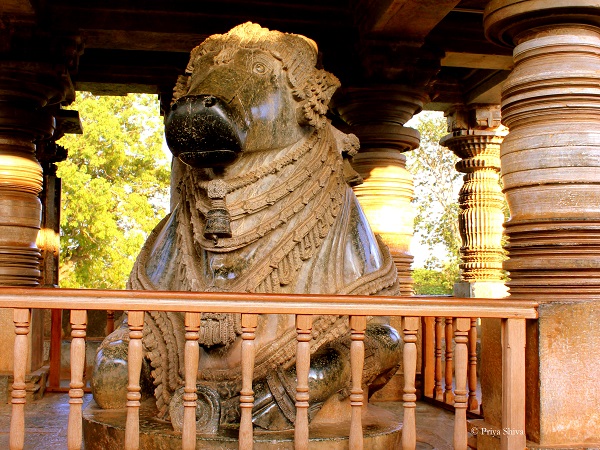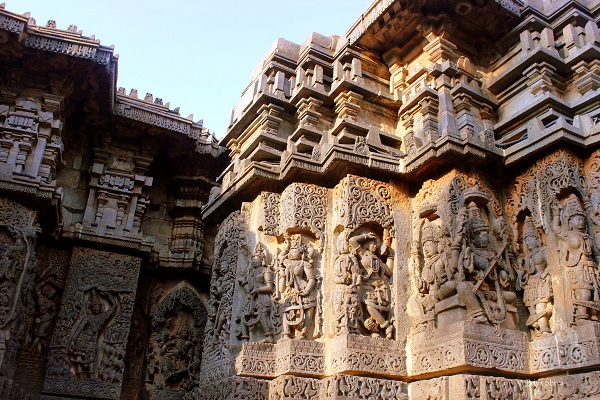 We decided to visit Kedareshwara temple in the morning before we continued our journey back to Bangalore. Kedareshwara temple in Halebidu is another beautiful example of Hoysala architecture with stunning carvings. This temple was constructed by Hoysala King Veera Ballala II in 12th century and dedicated to Lord Shiva. The temple is built with soap stone and located very near to the Hoysaleshwara temple. The temple was closed but we still managed to click few pictures..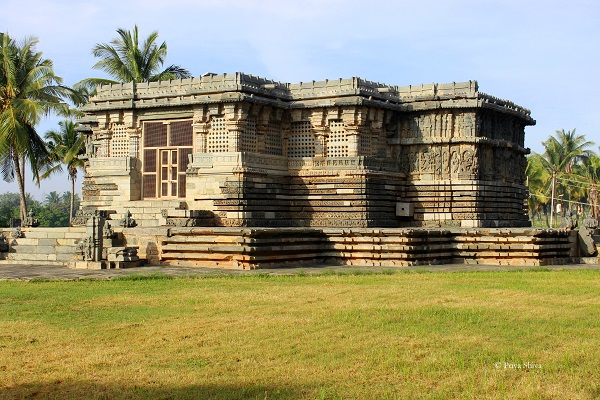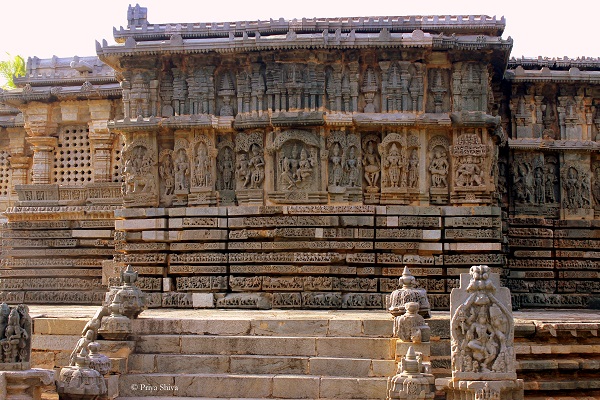 You will need time in hand to visit these temples and understand the stories which these carvings tell you. Some places mark a special place in your heart and we can say that Belur-Halebidu trip will always be special to us. These temples have seen all the wear and tear and still stand with all their beauty to awe you. You don't visit these places to find God or peace. You are there to witness the past and live the truth..
So, until we take another trip to a new destination and decide to write about it, enjoy our Rendezvous with Hoysala architecture at Belur and Halebidu..
Love,
Shiva & Priya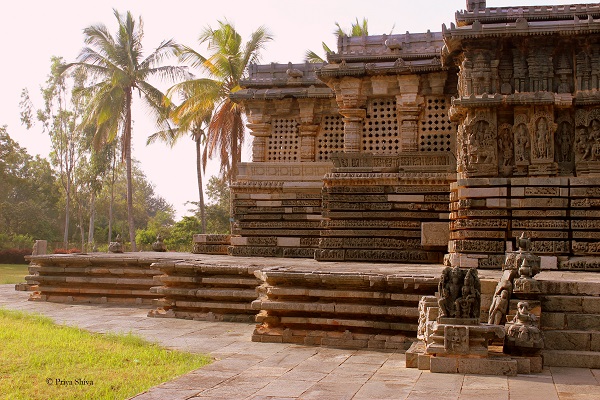 Yum