No one cooks like my mamma! Everyone believes that statement as they believe that their mother is the best cook in this world. I believe it too. I've learned to cherish food from her. I learnt to cook this Pacha Manga Curry from her too.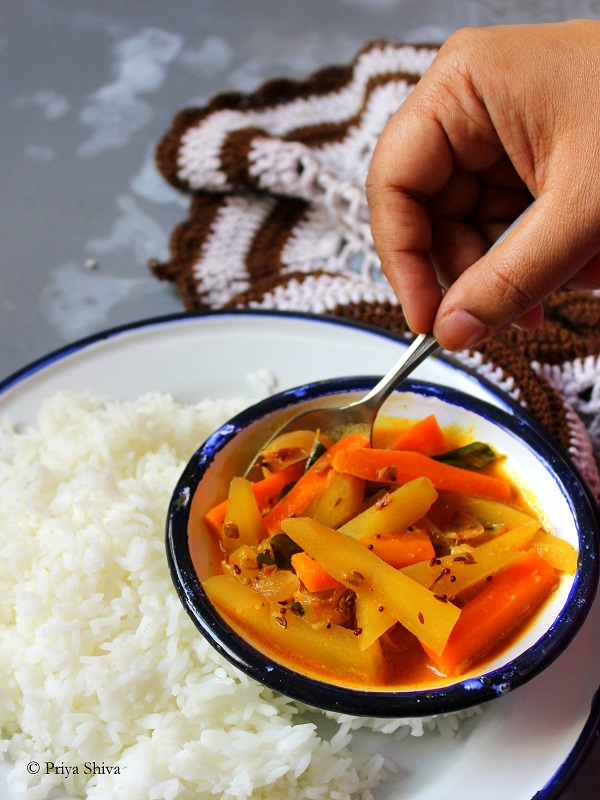 I've learned to love blogging through my mother's cooking. Whenever she will cook, she will cook with a smile and love. I always loved this Raw mango curry. It is so easy to make and so flavorful. The chopped raw mangoes are cooked in coconut milk with mild spices which makes it so delicious. So, sharing an easy curry recipe today which you can serve with rice or roti..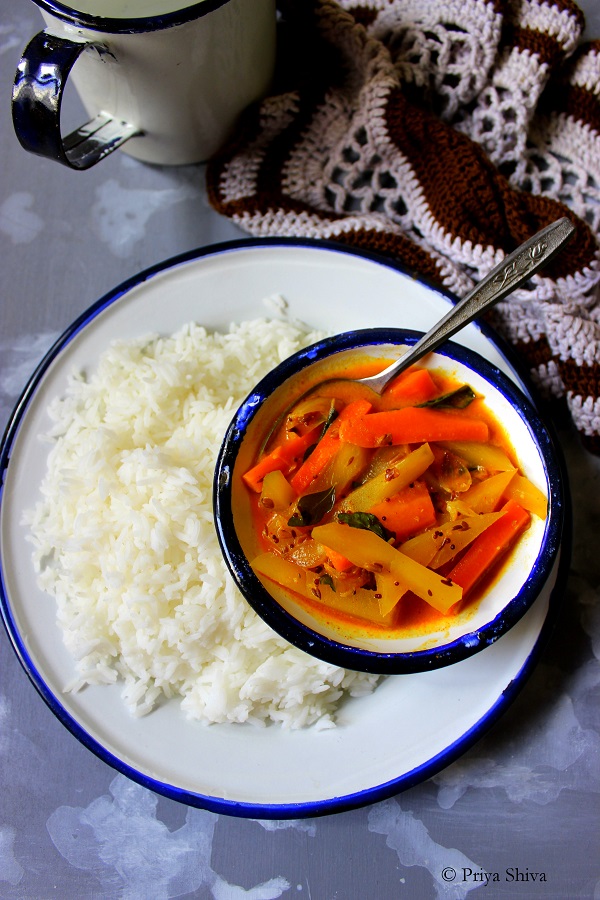 Pacha Manga Curry - Raw mango Curry
Ingredients
1 Raw mango (peeled and chopped)
1 Carrot (peeled and chopped)
1 Coconut
10 onion shallots (peeled and chopped)
green chilies – 2 (chopped)
Curry leaves – 1 sprig
Ginger (grated) – ½ tsp
Cumin seeds – 1 tsp
Mustard seeds - 1 tsp
Fenugreek seeds - ½ tsp
Turmeric powder – ¼ tsp
Coriander powder – 1 tsp
Salt as per taste
Coconut Oil – 2 tbsp
Instructions
Break one medium size coconut and grate the complete coconut. Add grated coconut and 1 cup of warm water in your grinder and blitz it for few seconds. Strain it through a thin muslin cloth to extract the coconut milk. The first lot will be thick milk and keep it aside in a separate container.
Now again add the squeezed coconut with 1 cup warm water in your grinder and bltiz it and extract extract the second cup of coconut milk and keep this separately.
Heat oil in a pan and add cumin seeds, mustard seeds and fenugreek seeds.
When mustard seeds crackle, add onion shallots and fry on medium flame till onions turn light golden brown.
Now add ginger, green chilies, curry leaves and saute for a minute.
Add all chopped carrots and raw mango with second time extracted coconut milk and mix it well.
Add turmeric powder, coriander powder and mix it well. Cover the pan with a lid and let it cook on low flame for 5 minutes. Keep stirring in between.
Add the thick first batch of extracted coconut milk and bring it to boil. Add salt to taste and mix it well.
Once it starts thickening, remove from the flame and serve it hot with some rice or roti.
Yum