I love pickles and pickling! Pickling is the process of making pickles by preserving it in oil, vinegar with added spices etc. I learnt this art of making pickles from my mother. I have watched her making all types of pickles with all fuss and joy. Remembering her while preparing this Avakai Oorugai was nostalgic...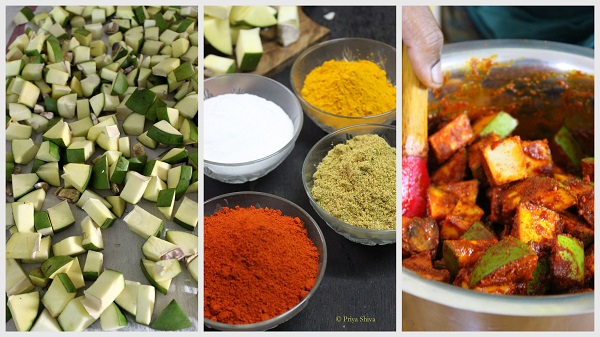 You need right kind of environment and jars to preserve pickles. The whole jar of pickle can go bad if the jar is not clean. I will suggest to use ceramic or glass jars to store pickles. Avoid using any kind of plastics for pickling.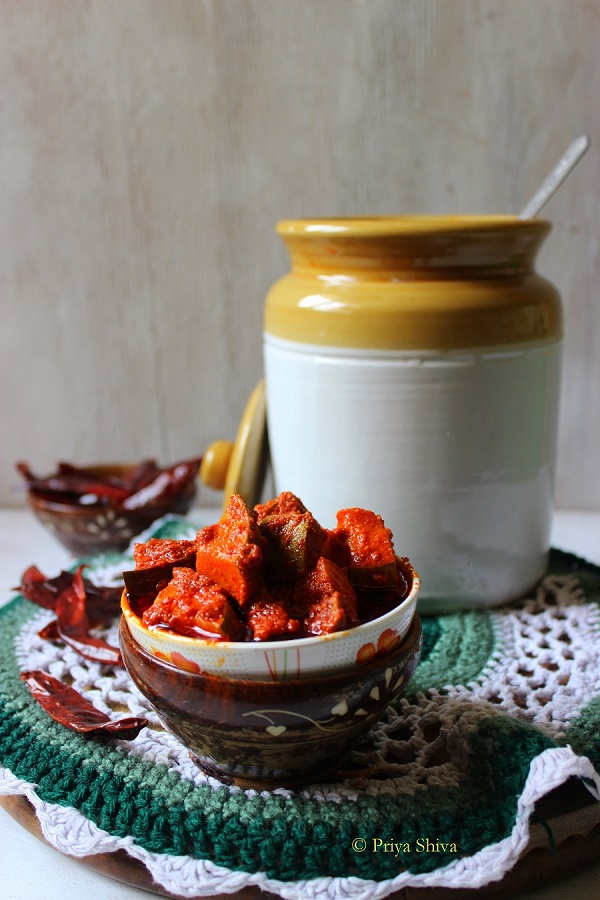 So, enjoy making avakai oorugai with this easy to follow recipe. It is the season for raw mangoes and perfect time to make spicy raw mango pickles. You can adjust salt and red chilli according to your taste. Read the complete avakai oorugai recipe and notes before you start making this pickle..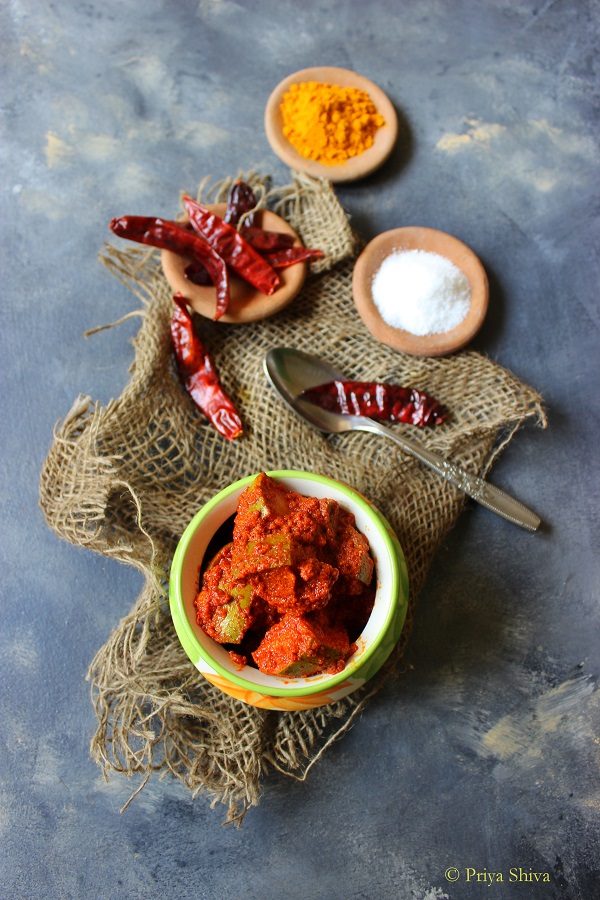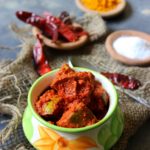 Avakai Oorugai / Raw Mango Pickle Recipe
Ingredients
Raw mango - 2 kg

5 big ones

Kashmiri Red chilli powder - 2+1/2 cups

Salt - 1 cup + 4 tbsp

Mustard seeds - 1 cup

powdered

Turmeric powder - 1/2 cup

Sesame oil - 4 cups

Kala chana/Black chickpeas - 4 tbsp
Instructions
Clean mangoes with water and dry it with a towel. Chop the mango with the skin and seed intact. Spread it on a white cotton cloth and let it dry for 24 hours.

Heat oil on high flame for few minutes. Remove from the flame and let it cool down completely.

Powder the mustard seeds.

Add mustard seeds powder, salt, turmeric powder, red chilli powder in a large mixing bowl. Mix it nicely with dry and clean spatula.

Add chopped mangoes and black chickpeas and mix well.

Transfer this in a ceremic jar and pour oil. Mango and spices should be well dipped in oil. You should be able to see oil floating on top.

Close the jar and keep it in a cool place for 2 days.

Open the jar after 48 hours and mix the pickle nicely with a dry and clean spatula. Continue the same process for next 2-3 days.

You can start using pickles after 5th day. Store the pickle jar in a clean dry place and use clean dry spoon.
Recipe Notes
Adjust salt and red chilli according to your taste. [br]Use kashmiri red chilli for bright red color.
Yum