Croutons are cubed bread pieces which are baked or sautéed with butter or oil. You can even add your choice of flavor to it. These croutons can be eaten as a snack or add them in your soup to make it even more delicious. Croutons can be added in your salad too! I love garlic and decided to make croutons today flavored with garlic. I added some dried oregano, red chilli flakes and they turned out so good. These garlic oregano baked croutons are going to do rounds in this winter season with some comforting Shorba.
Croutons can be easily made at home. So, sharing a recipe for some yummy Garlic Parsley Baked Croutons today. I just ate them as a snack with a cup of ginger tea :)..It is one of the best ways to use leftover bread slices. I have not removed the sides of the bread. I would suggest to retain them as they add more crunchiness to the croutons.
You can also make Croutons in Air-Fryer. Check out my friend Sandhya's post for an easy method – Croutons Made in Airfryer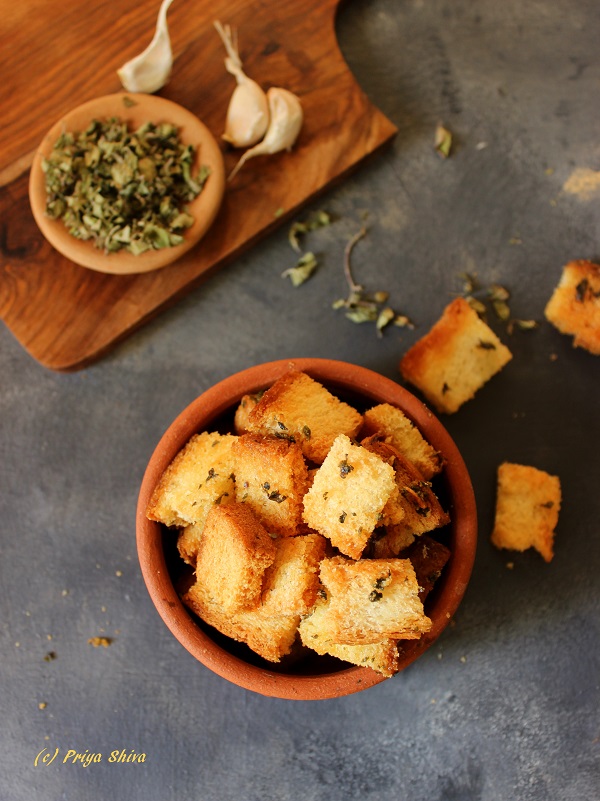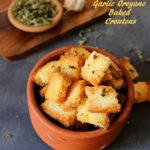 Garlic Oregano Baked Croutons
Ingredients
Bread slices - 3 (cubed)

Vegetable Oil - 2 tbsp

Unsalted Butter - 2 tbsp

Dried Oregano - 1 tbsp

Garlic Cloves - 4 (finely chopped)

Red Chilli Flakes - 1 tsp
Instructions
Add olive oil in a small sauce pan and heat it.

Now add butter, chopped garlic, dried oregano, red chilli flakes and mix well.

Wait till the butter gets melted and remove from pan. Toss the cubed bread in it.

Preheat oven at 180 Degree Celsius.

Grease a baking tray with oil and place the cubed bread on it. Bake for 15-20 minutes at same temperature and the croutons are ready.