Breakfast has always played an important role in my life. It was never about about eating fancy food but something which is wholesome and healthy. This reminds me of good old days when I used to start my day with Pazhaya Soru Kanji. It is a porridge made with leftover steamed rice. This porridge is also known as Neeragaram.
We are mainly rice eaters and usually left with some steamed rice which we store in refrigerator in today's times for future use. Remember the times when there was no refrigerator? My grandmother will simply soak the rice fully in water and store it in an earthen clay pot. She will leave it covered overnight. The rice will ferment by the next morning and we eat it for breakfast with curd and salt to taste in it. This porridge is very good for health.
The drained water was used to starch the clothes. We were taught early is life not to waste any food. So, do not throw away that extra rice you had cooked today. It could make the healthiest breakfast you will ever have…
Looking for more breakfast options? Click here to Check out the whole collection of Breakfast recipes on my blog.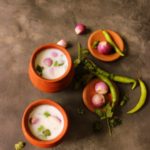 Pazhaya Soru Kanji / Neeragaram
Ingredients
Cooked plain rice - 1 cup

Water - 3 cups

Salt to taste

Curd - ¼ cup

Onion Shallots - 4

Green chilli - 1

Coriander Leaves - 2 tbsp

chopped
Instructions
Add 1 cup rice and 2 cups of water in a bowl. Cover the bowl with a lid and leave it untouched overnight.

Next day morning, darin the water and mash the rice with a ladle. Add salt and curd.

Add 1 cup of water to adjust consistency and mix well.

Add some chopped onion shallots, chopped corainder leaves, green chillies and enjoy this rice porridge.
Yum