It is my third blog anniversary and I was planning to post something special for this occasion. I thought of cakes, sweets or some old family recipe which will do justice to this occasion. Then I realized that I have been talking food all along. I have shared recipes, I have shared the new dishes I tried and even shared my small achievements with you all. In all these talk about food, I forgot to talk about my learning through blogging. So, I'm going to talk about the Five things I learnt from blogging today.
Blogging has completely changed my perspective about writing. It is a huge place to share your knowledge and learn simultaneously. I started blogging in July, 2013 and it has been an amazing journey. For the first year, it was just about posting recipes as I was on a marathon. I completed posting 365 recipes in 365 days. It feels so good just thinking about it:)..
The second year was about making my social media presence, food photography and trying to bring more traffic to my blog. I was successful enough as I have many people following me in social media and I receive about 1 lac hits every month. The third year I concentrated more on monetizing my blog and have been successful in doing that too. It took me more than two years to figure out how to monetize my blog :).. So, how was I successful in this blogging world?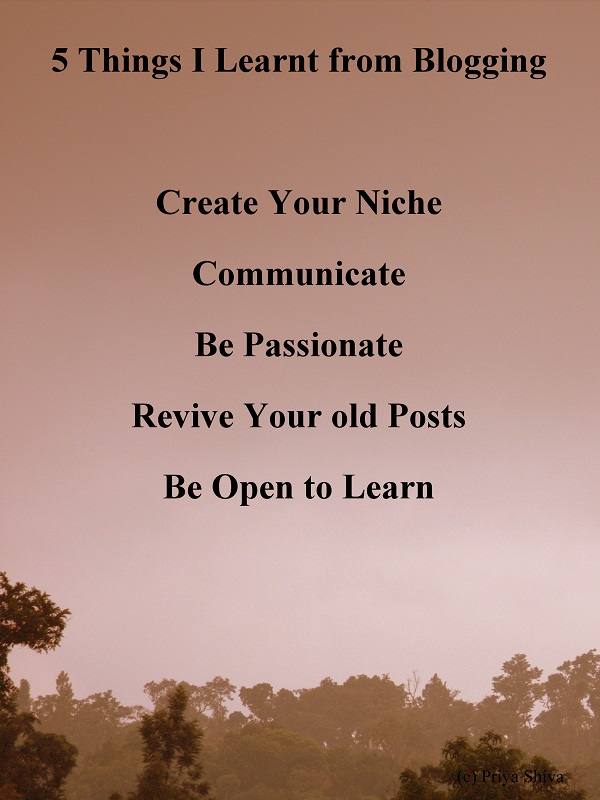 There are many things which I learnt from blogging but here are few things to start with:-
Create your Niche :- I'm sure many would have asked you this question as a blogger. What is your Niche? Now, just saying that I'm a food blogger is a very generic answer. There are thousands of food bloggers and the competition is very high. So, how do you make the difference by creating a niche? It takes time and you have to find your niche but trust me it adds value to your blog. I get thousands of visits to my blog because I'm a vegetarian and I mainly share Indian vegetarian recipes. I do post my travel stories, product reviews, experiment with international cuisines but my niche is with Indian vegetarian food. So, I make sure I stick to it and my frequency of Indian food is more than any other cuisine.
Communicate :- You are posting out of the box recipes with beautiful images and you still have no one reading your post. Ever wondered why? It is because there is lack of communication with your readers. Good content is the king but someone has to read it to make it viral. Here are few things which will help:-
Share your content in social media like Google+, Facebook, Instagram, twitter etc.

Connect on social media with people of same interest. I'm connected with many other food bloggers which helps me in learning and getting feedback for my posts.

Join your interest groups. I'm a member of many food group communities on Facebook. Sharing my content out there helps too.

Always remember to reply to your readers comments and emails. It adds value.
Be Passionate :- Your blog post has to reflect your passion. It could be in the story or the image. It is easy to say that blogging is my passion but how do I make my readers believe in it. It is simple – keep blogging and believe in your own work. Do not blog just because you want to monetize but blog to build great content, knowledge sharing and learn.
Revive your old Posts – Blog is not your dumping ground. You simply cannot post one fine day and forget about it. Revive them! You can re-post in your social media or even add new images. I recently added new images for an old post and it went viral!
Be Open To Learn – I'm no chef and just post to share my love for food. So, I love to learn from my co-bloggers, I learn more from my readers. When it comes to blogging, there is so much that you learn over time. For example – one of my reader asked me recently for a replacement for all purpose flour in a recipe and make it gluten free. This made me experiment and made me create a new recipe. So, always keep your mind open to learn.
Each person rates their success and I rate my success with the love I have around from my friends, readers and co-bloggers. This is just the beginning as I'm still on the path of learning. I can talk more about passion but I think I have stated what is in my mind. End of the day, you need to work hard towards your dream. There are no shortcuts. So, keep blogging, keep motivating yourself and trust that one day your blog post is going to go viral..
Love,
Priya Shiva
P.S – This is the first post of the series I have planned where I exclusively talk about blogging. So, stay tuned..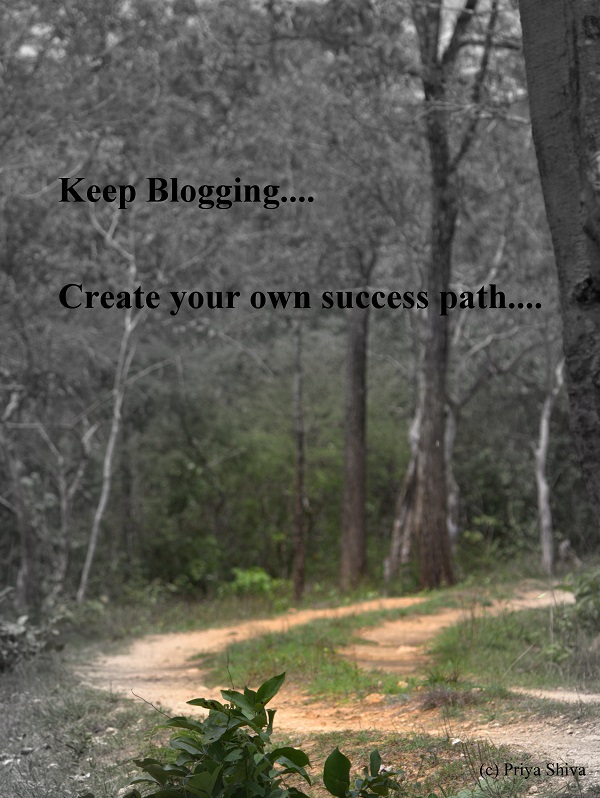 Yum