These vegan whole wheat cucumber banana muffins have to be in your breakfast menu for two simple reason. They are healthy and simply delicious! I love to explore with food and been thinking of making something different with cucumbers. I always end up thinking of cucumber in a salad or a drink. This time I changed my whole way of thinking and baked something with cuucumbers which turned out to be so good..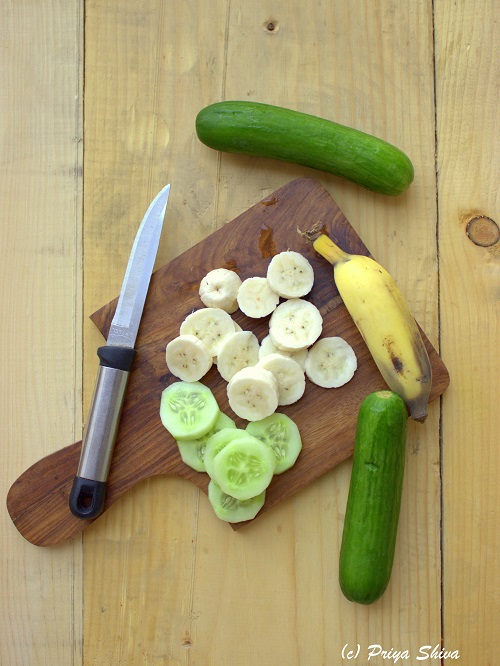 If you have been following my blog, you will know how important breakfast is for me. It is more important than any meal as it keeps be active and happy whole day. So, its very obvious that I would love to pamper myself and my family over breakfast :).. I love banana muffins and the recipe I'm sharing today is just a variation of the eggless banana muffin recipe I shared earlier on my blog. I never thought of adding cucumber in a muffin till today. I saw an image on Pinterest for zucchini muffins and it struck me that cucumbers can also be used in muffins. So, sharing the recipe for Vegan Whole Wheat Cucumber Banana Muffins today which are made with whole wheat flour with a subtle aroma and flavor from cinnamon. Trust me, your house is going to smell good :)..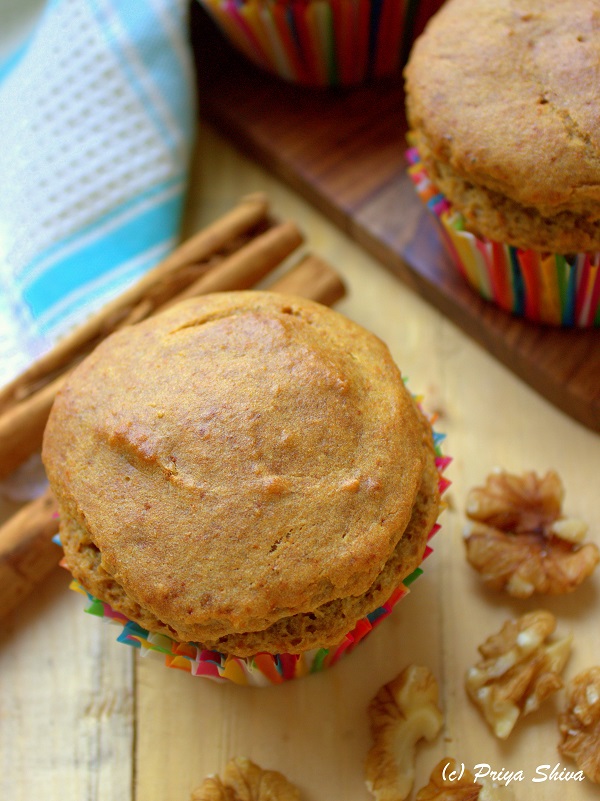 Vegan Whole Wheat Cucumber Banana Muffin
Author:
Prep time:
Cook time:
Total time:
Make healthy muffins for breakfast with cucumber and bananas!
Ingredients
Whole wheat flour – ¾ cup
Cucumber – 1 (medium sized)
Ripe Bananas – 2 (small sized)
Olive Oil – 1/4 cup
Brown Sugar or unrefined sugar – 1/4 cup (powdered)
Baking powder – 1/2 tsp
Baking soda – 1/2 tsp
Vanilla essence – 1/2 tsp
Cinnamon powder – 1/2 tsp
Walnut – 1/4 cup (crushed)
Instructions
Preheat the oven at 180 C/350 F.
Sift flour, baking powder and baking soda together.
Peel the cucumber and banana. Slice it. Add banana and cucumber slices to your food processor and prepare a puree.
Add oil, banana-cucumber puree, cinnamon powder and vanilla essence in a mixing bowl and whisk well.
Add sugar and mix well.
Now add sifted flour slowly to the bowl and mix.
Add the crushed walnuts to the batter. Give a quick stir.
Grease the muffin cups evenly with little oil or use liners and pour the batter in each cup. Make sure you fill only 3/4th of each muffin cup.
Now bake in the oven for 30 minutes.
Remove from the oven and allow the muffins to cool completely.
Healthy muffins are ready!
Yum