Kala Chana Shorba is a wholesome, comforting soup made with black chickpeas and blend of mild spices. Its winter time and we think of soothing soup, stew and warm food. I always love to cook with chickpeas and it has its own health benefits. Chickpeas or also known as garbanzo beans make any dish wholesome as it is rich in protein and fiber. I have not added any cream and tried to keep this soup as healthy as possible. The spices combine very well with chickpeas making this soup so delicious. If you are looking for some healthy soups, try the ones listed below. Just click on the name for the recipe:
This is also my last post for the year 2015 but I will be back with more posts in 2016. I have no big resolutions but I do have some plans in my mind which include spending more time with my camera and bringing more new dishes for you which means more kitchen experiments 🙂 .. So, stay tuned and wish you all a very Happy New Year!!!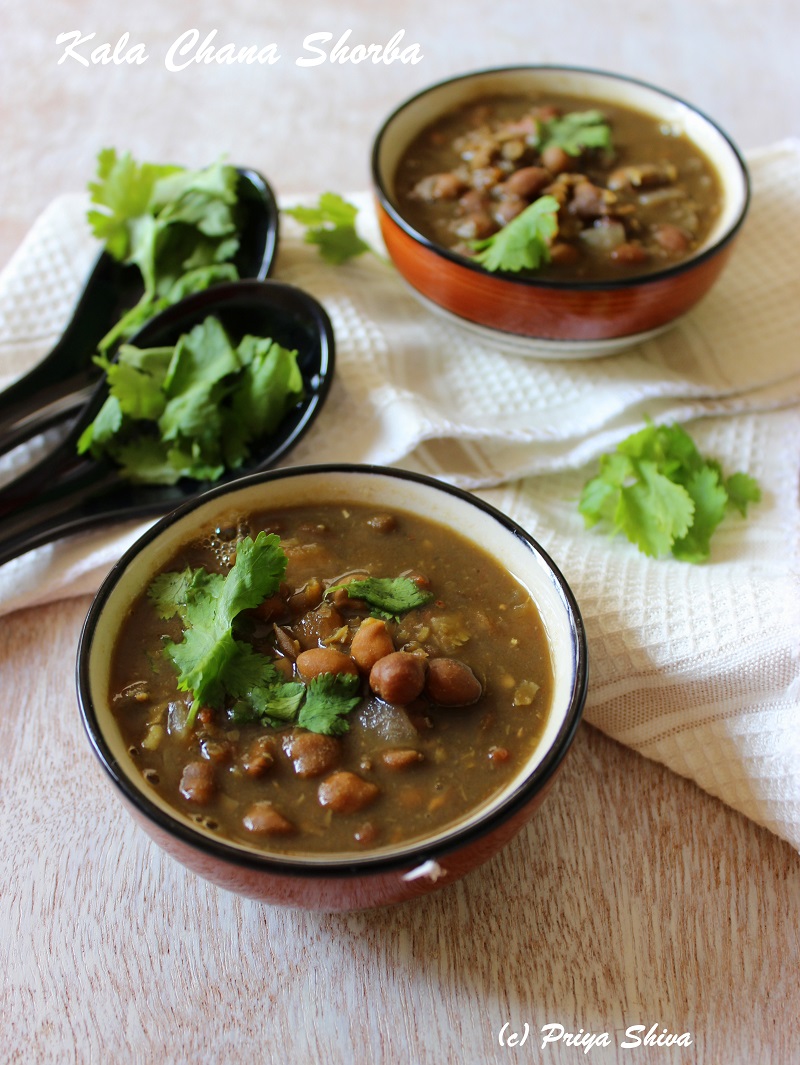 Kala Chana Shorba / Black Chickpeas Soup
Author:
Prep time:
Cook time:
Total time:
Make comforting, wholesome soup with chickpeas and blend of spices.
Ingredients
Boiled Black Chickpeas – 1 cup
Onion – 1 (finely chopped)
Tomatoes – 2 (chopped)
Grated Ginger – 1 tbsp
Turmeric Powder – ¼ tsp
Pepper corn – 2 tsp
Cumin seeds – 1 tsp
Amchur Powder/ dry mango powder – 1/2 tsp
Vegetable Oil – 1 tbsp
Salt to taste
Cilantro/Coriander leaves for garnishing
Instructions
Lightly mash boiled chickpeas with a potato masher.
Dry roast pepper corn and cumin seeds. Crush it in mortar pestle.
Heat oil in a frying pan and saute onions till translucent.
Add tomatoes, ginger, turmeric powder, amchur powder and keep stirring till tomatoes are mushy.
Now add chickpeas, salt, crushed pepper and cumin. Mix well.
Lower the flame, add some water and cover the pan.
Serve it hot garnished with coriander leaves.
Notes
For boiled chickpeas – Soak 1/2 cup raw chickpeas in some water overnight. Pressure cook with 2 cups of water till chickpeas are properly cooked.
Yum