Gulab Jamuns are one of my family favourite dessert. Any special ocassion in our house is incomplete without sweets and my family will always demand me to make these mouth-watering, soft balls called Gulab jamuns. I have already shared a recipe on my blog to make them with milk powder. Today, I'm sharing a recipe to make this sweet with khoya or evaporated/dried milk.
Click Here if you would like to learn how to make Gulab Jamuns with Milk powder.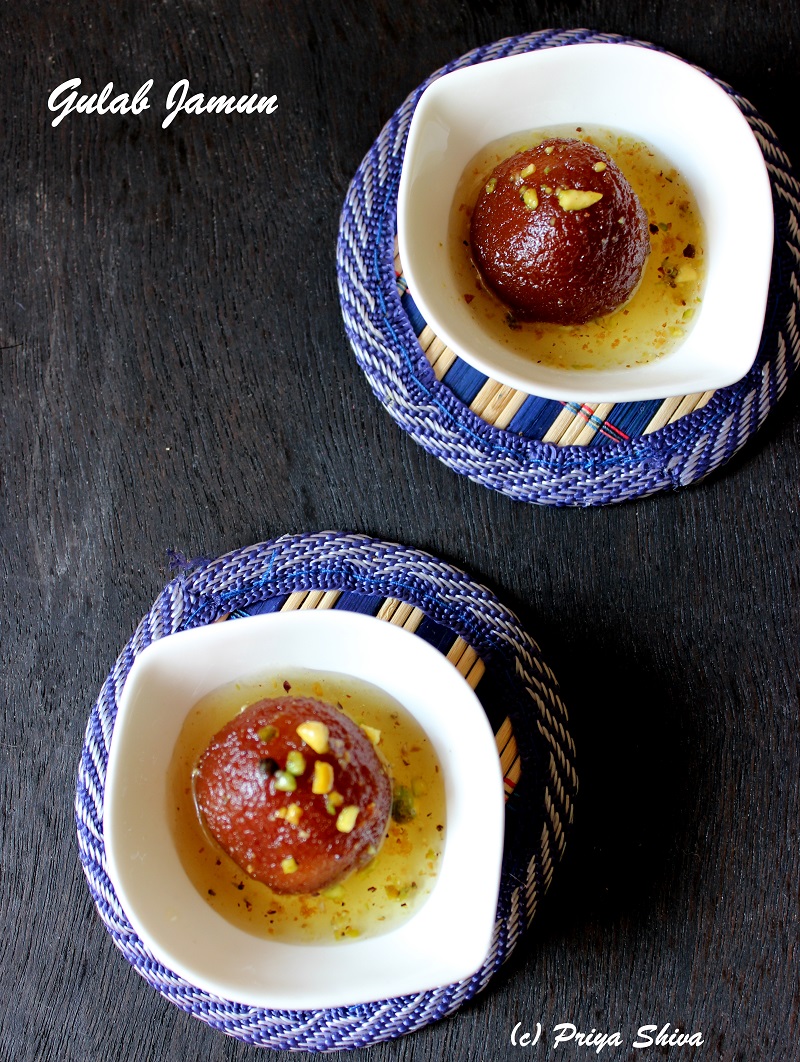 Gulab jamuns are easy to make and the only trick to make perfect Gulab Jamuns is to watch out while preparing the dough. Do not over-mix the dough and make sure that it is soft and sticky. Once you start making the balls, it will be smooth. Do not fry them on high flame or they will turn hard from inside.

Make sure you soak them for minimum one hour in sugar syrup before serving. Then only they get properly soaked and soft. So, sharing a step-wise recipe and hope you all make this to celebrate special occasion with your family and friends.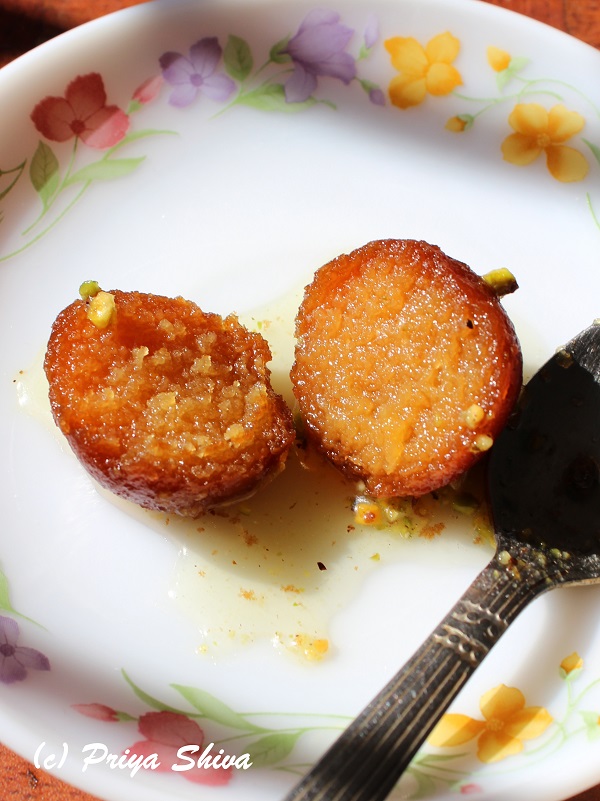 Gulab Jamuns – Made with Khoya
Author:
Prep time:
Cook time:
Total time:
Ingredients
Mawa/khoya – 1+1/4 cups
Chenna/Paneer – 2 tbsp
Baking Soda – 1/8 tsp
All purpose flour/maida – 1+1/2 tbsp
Green cardamom – 3 powdered)
Sugar – 1 cup
Pistachios – 6 (powdered)
Ghee to deep fry – 1 cup
Instructions
Add sugar, cardamom powder and 1.5 cups of water in pan and boil it. Keep stirring for few minutes and remove from flame. Keep this sugar syrup ready.
Grate khoya nicely and mash paneer.
Add grated khoya, paneer, flour, baking soda in a mixing bowl and combine to make a soft dough. You can add little water if you feel the dough is too stiff.
Make smooth,equal size balls from this dough.
Heat ghee in frying pan and keep it on low flame.
Add few balls at a time and deep fry till golden brown in colour. Drain excess ghee and soak in the sugar syrup for 1-2 hours before serving.
Serve it warm garnished with crushed pistachios.
Notes
Makes 10-12 Gulab Jamuns.[br][br]Add 1 tsp Rose water or rose essence in sugar syrup as it enhances the taste and aroma.
Yum