Its time of the year when you can only think of ice-cream, Popsicle, coolers, crush etc. Gulkand is a sweet preserve of rose petals and often used in making kulfi, paan and even sweets in India. Its helps in keeping your body cool and apt for this summer weather. It is getting hotter and hotter day by day. I can only think of having something cool and refreshing in this weather. So, finally decided to make some Popsicle using gulkand which my family can also enjoy. Its creamy and so delicious that you can hardly resist. So, enjoy some Gulkand Ice cream Popsicle this summer and stay cool!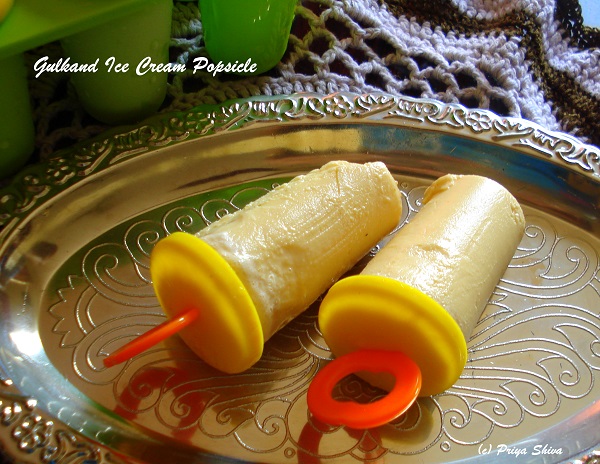 Gulkand Ice Cream Popsicle
Author:
Prep time:
Total time:
Make delicious ice cream Popsicle with gulkand in it!
Ingredients
250 gm Milk
2 tbsp Gulkand/ Rose petal Jam
250 gm sugar
200 gm Fresh cream
Rose essence – 1 tsp
Few Raisins and chopped cashews (optional)
Instructions
Combine all ingredients (except raisins and cashews)  in a blender and blitz it for 5 minutes till its creamy and smooth.
Transfer the content into ice-cream box or plastic box. Freeze it for 3-4 hours.
Remove from freezer and keep it open for 5-10 minutes or until just softened. Spoon into processor and blitz it for 5 more minutes.
Pour the content it into Popsicle tray , add nuts and raisins and mix it well. Freeze it for 4-6 hours.
Defrost before removing the Popsicle from the tray and enjoy!!
Yum