Delicious, tempting aromatic Coconut Basbousa to celebrate one of my biggest achievement. Yes, I did it and I'm proud of myself !!!!! 365 days of non-stop blogging, 365 dishes cooked, clicked and recipe written by me. Was it easy? No, Not at all. However I loved the journey to 365 days trying out different dishes, making friends, sleepless nights, scouting ingredients,  faulty internet connections, badly burnt food and days filled with frustration. Was it worth it all ? Yes totally ….
So, to celebrate my blog anniversary I wanted to make something special and decided to bake Basbousa. Basbousa is a traditional Arabian Semolina cake. The origins of this sweet cake can be found in Egypt and mainly included in Turkish, Egyptian and Lebanese cuisines. The sugar syrup which is added on the top enhances the flavor as it includes rose water. I enjoyed baking this cake with coconut which you all know is soul food for me and my house was filled with the aroma of this cake.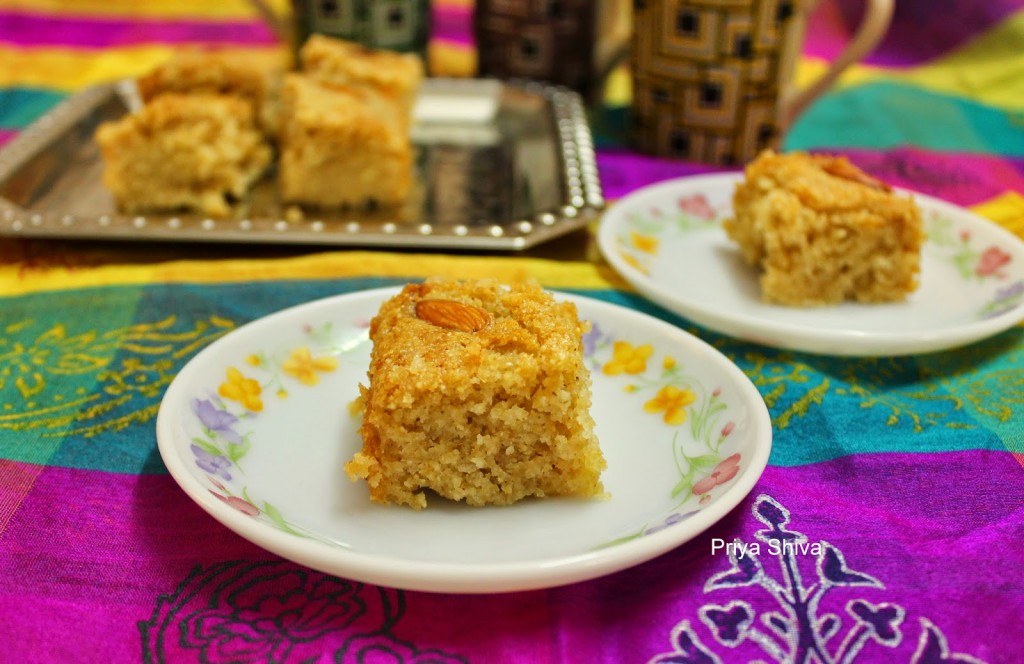 I personally thank each one of my readers who have liked, commented and encouraged me every step of the way. Join me today in my celebration with your lovely comments, wishes and I look forward for your continuous support as I plan my most deserved holiday 🙂 🙂 <3 <3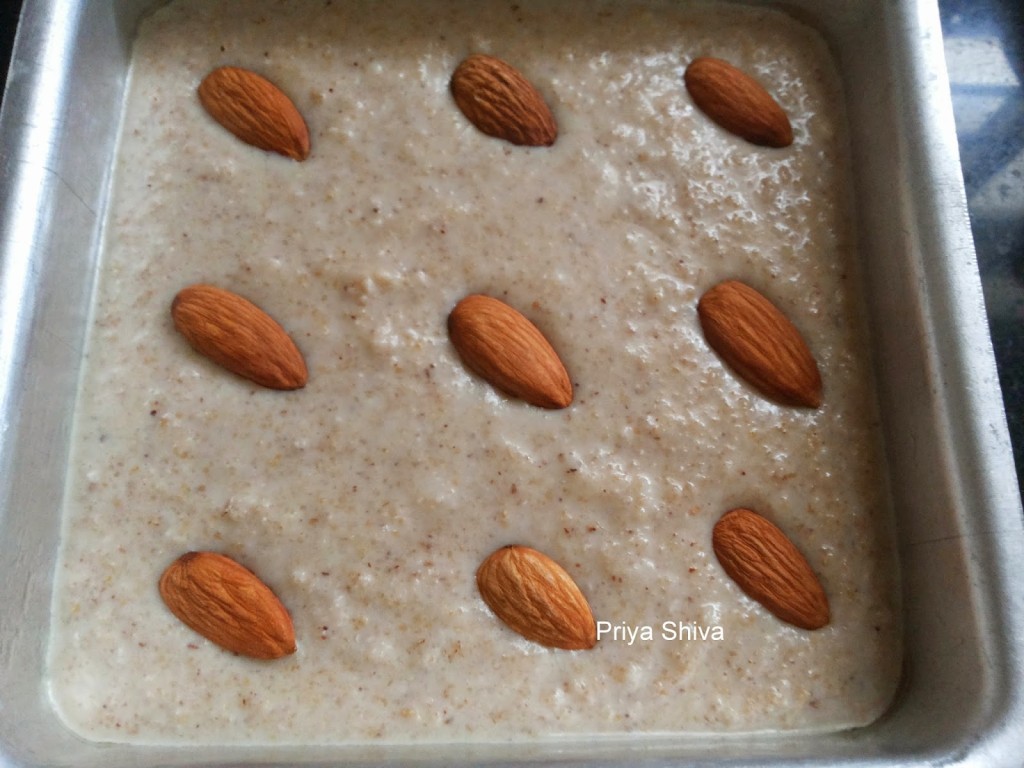 Lets prepare sugar syrup before we make some basbousa..
Ingredients For the Sugar syrup:
Sugar – 1 cup
Water – 1/2 cup
Lemon juice – 1/2 tsp
Blossom water / rose water – 1 tsp
How to Prepare sugar syrup:-
Add sugar and water to a saucepan.
Bring it to a boiling point, lower the flame and let it simmer for 5 minutes.
Remove from the flame and add lemon juice and rosewater and mix it well. Let it cool down completely.
So, sharing the recipe and hope you all try it out and enjoy!!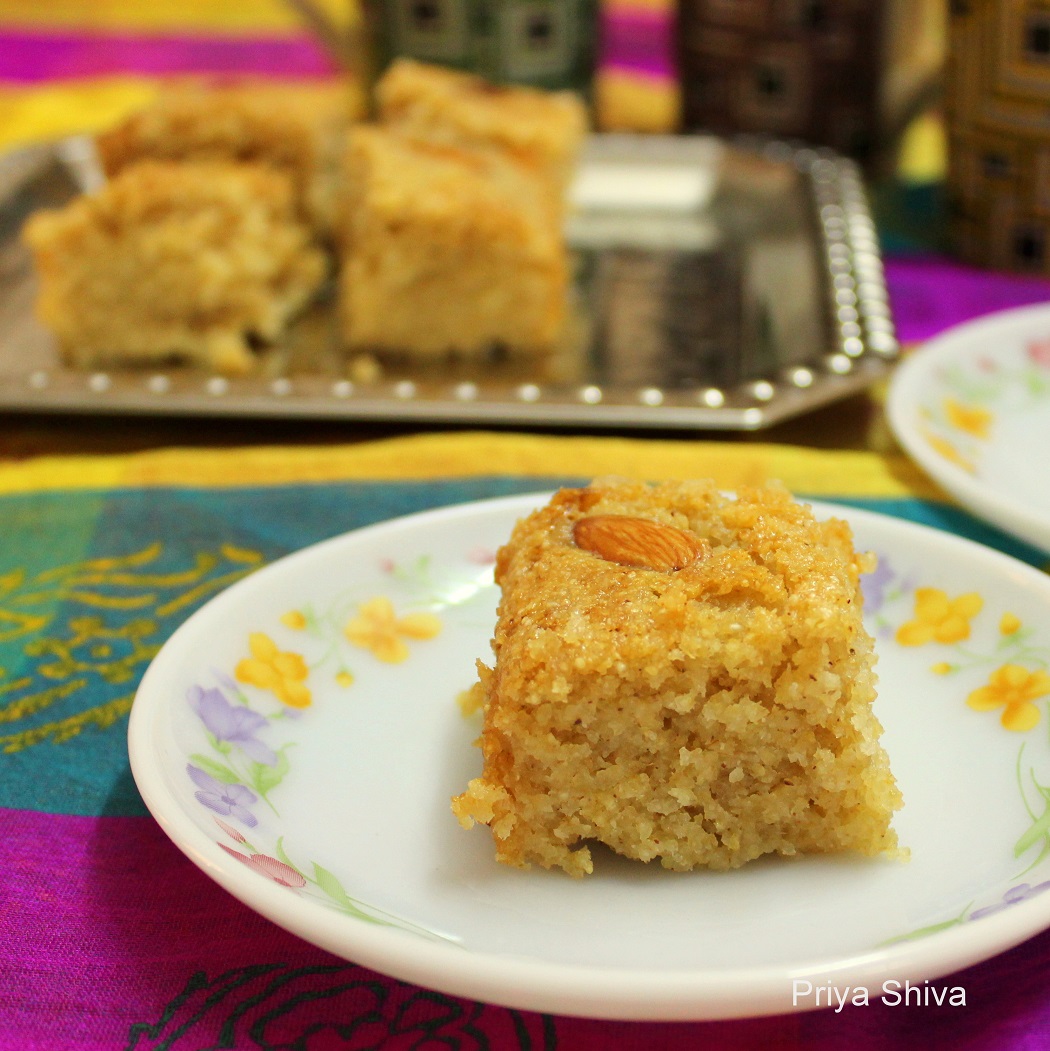 Coconut Basbousa
Author:
Prep time:
Cook time:
Total time:
Enjoy a delicious middle eastern cake made with semolina and lovely flavors of coconut and rose water!
Ingredients
Tahini – 1 tsp
Fine Semolina / rava / sooji – 1 cup
Unsalted Butter – 1/4 cup
Sweetened condensed milk – 1 cup
Baking powder – 1/2 tsp
Fresh Desiccated/shredded coconut – 1/2 cup
Water – 1/2 cup
Sugar Syrup – Method given above
Instructions
Preheat oven at 180 degree Celsius.
Grease a square baking tin with the tahini. I used 12 inch baking tin.
Combine unsalted butter, condensed milk and baking powder in a mixing bowl and mix it well.
Add semolina, coconut and water and stir until well combined.
Pour this mix in the prepared baking tin and place almonds as shown in the picture above.
Bake for 30-35 minutes at same temperature until the top becomes golden in color.
Remove from the oven and pour the cooled syrup all over it. Let it cool down completely and then cut into squares and serve.
Yum