Shortbread cookies are easy to make and usually made with one part white sugar, two parts butter, and three parts flour. The whole cookie jar got over within minutes and it was specially loved by my little one who kept asking for more 🙂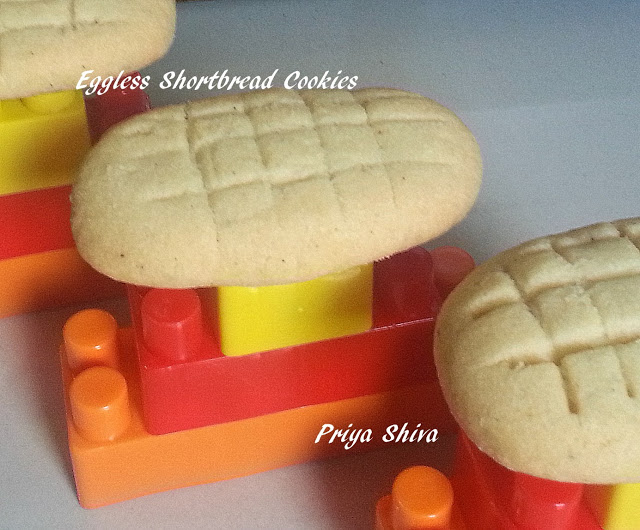 Ingredients:
Maida / All purpose flour – 1 cup
Unsalted butter (at room temperature) – 1/2 cup
Powdered Sugar – 1/4 cup
Salt – a pinch
Vanilla Essence – 1/2 tsp
Milk – 1 tbsp
Method:
1) Sift all purpose flour and keep it aside.
2) Add butter at room temperature and sugar in a bowl and mix well.
3) Now add all purpose flour, milk, salt, vanilla essence and mix well with your hands to make a soft dough. You can add more milk if you feel the dough is very stiff.
4) Take a small portion of dough and flatten it gently with your hands and place it on cookie tray.
5) Keep at least 1 inch distance between each cookie.
6) Preheat oven at 180 °Celsius.
7) Set the timer for 10 minutes and place the cookie tray for baking at the same temperature.
8) When the edges start turning golden brown, remove from the oven and place them on wire rack for cooling.
9) When they have completely cooled down store them in an air-tight container.
You can also dip them in chocolate syrup and enjoy.
Tip: My cookies took 15 minutes as it depends on the size. So, if you see that the cookie colour has not changed to light brown on the edges keep them in oven for few more minutes and keep a watch on them.
You can also try Eggless coconut Cookie recipe

Yum