Summer days are best to be relaxed, enjoy lemonades and ice cream, and spend whole day absolutely doing nothing. I would say that let me be at the beach, I can build sand castles and pick up some sea shells. I have been in this mode since I returned from my recent trip. Mahabalipuram trip was definitely fun and exciting. So, it was tough for me to get back to my daily chores as my mind kept wandering to the same. I hope you all read my last post and you would understand my dilemma in a much better way. So, to cheer me up, I made this Blueberry Falooda Ice Cream today. I needed that chillness in my day…
Blueberry falooda ice cream is easy to make and your family will love you for it. I used dried blueberries. So, I soaked them in milk for some time and then added the paste in falooda. I'm glad to be back in the kitchen cooking some summer specials :).. So, check out the recipe and enjoy your summer days with this Blueberry Falooda..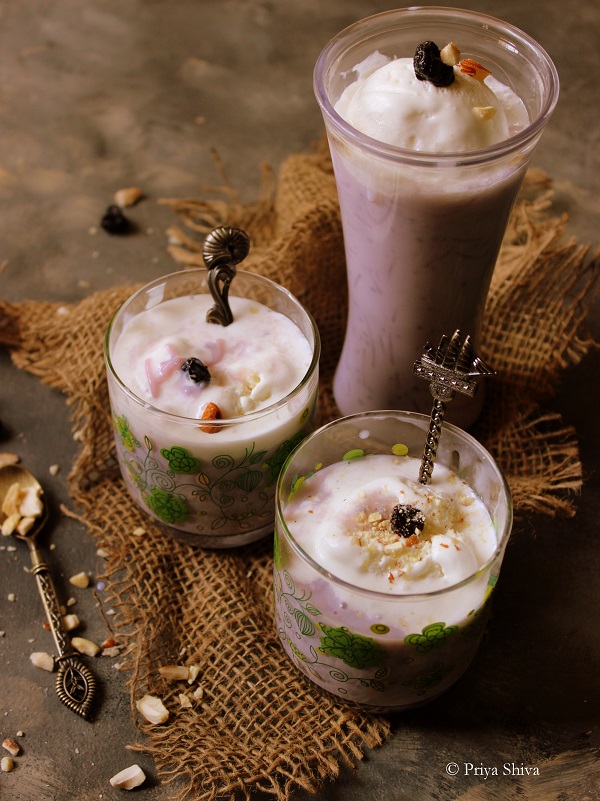 Blueberry Falooda Ice Cream Recipe
Ingredients
Milk - 4 cups+1/2 cup
Blueberries - 12-15
Sugar - ¼ cup
Vermicelli - ¼ cup
Sabja seeds - 2 tbsp
Cornflour - 2 tsp
Vanilla Ice cream - 4 scoops
Mixed nuts (broken almonds, cashews) - 2 tbsp
Instructions
Soak dried blueberries in ¼ cup warm milk for 30 minutes. Add it in your food processor and make a paste.
Boil 4 cups of milk in a pan.
Add vermicelli and sabja seeds and let it simmer on low flame for 5-10 minutes. Keep stirring and wait till vermicelli is soft and cooked.
Mix cornflour with ¼ cup of milk and add it in the pan. Stir well.
Add sugar, blueberry paste and mix well.
Remove the pan from flame and let it cool down.
Transfer in a container and refrigerate for 2 hours. You can add more milk before serving if you feel that the mix is too thick.
Now pour it in serving glass, top it with a scoop of vanilla ice cream, add some nuts and blueberries and serve.
Yum