Planning holidays is fun and as we were exploring places to travel with our kid, we wanted to make sure at least one international trip before his passport was to lapse. While zeroing on place to visit, we were looking at options that are family friendly and also have a lot of fun filled things to do that our kid would enjoy. After doing the pros and cons of many locations we zeroed in on Thailand. Contrary to popular belief that Thailand is only for grown-ups we saw a lot of potential and felt Thailand is as good a family tourist destination as much as it is a party destination. Prior to booking our air tickets, we also gathered information on alternatives to commercial flights. Some of my colleagues who have already been to Thailand suggested us to hire private jet charters. They told us several advantages of hiring a private charter. But the most important among them were-minimal wastage of time, and the freedom to take-off or arrive closer to the destination. We also got to know that some web charter-booking portals have the option of private jet cost estimator, which can easily give estimates for the air travel. So, tickets were booked and the journey started as planned. We landed in Thailand and had around 5 nights to spend. Hence, we chose on visiting Pattaya for four days and planned to spend the last of the journey in Bangkok after looking at a bangkok guide and seeing there were lots of activities we could do.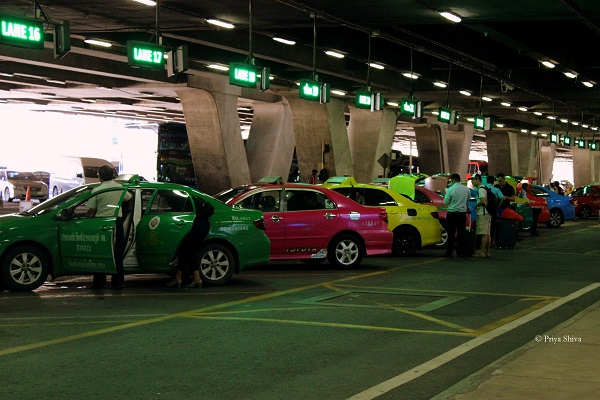 We landed a little late in the afternoon and proceeded to Pattaya. We took a Taxi ride from Bangkok to Pattaya which costed us about 1200 BHAT. Cheaper options like bus was available but in the interest of time we took a taxi and reached our resort "the Siam Bayshore" which was strategically located and was one of the best properties we could lay our eyes on.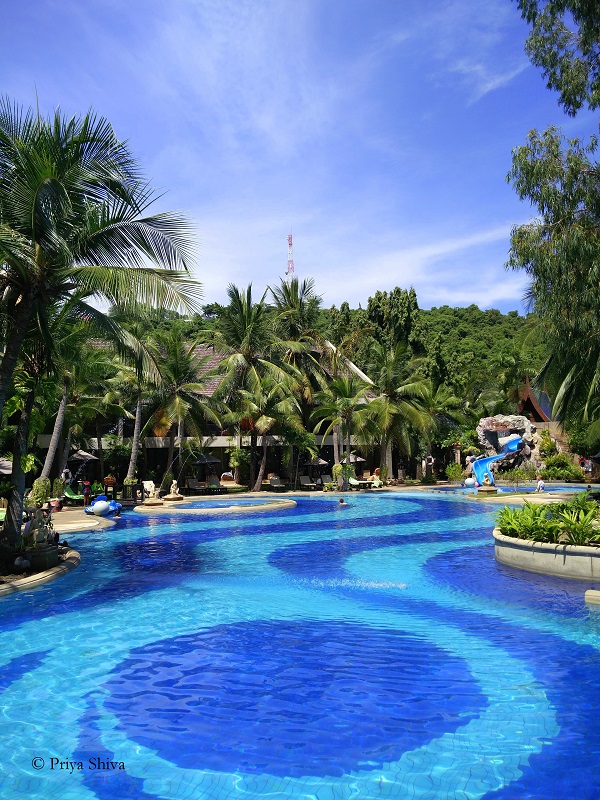 After a small nap & freshening up, we decided to do some light sight-seeing. We took an auto and just went on looking for some light things to do for the remaining 3 to 4 hours of the evening. Hungry from tiring travel we bumped upon an Indian restaurant and decided to have a delayed lunch. There is nothing like a good Indian meal and as we were finishing the meal we noticed "Ripley believe it or not" just opposite the restaurant and decided to just peep in.
Day -1
It has a lot of options to see and do. There are multiple gaming zones, a small wax museum akin to madam Tussaud's (though not of that quality) and a 12 d movie theater. We did chose and pick a few items to see here and there but it did not hold our attention. Our kid also did not enjoy this one much and hence we decided to move on.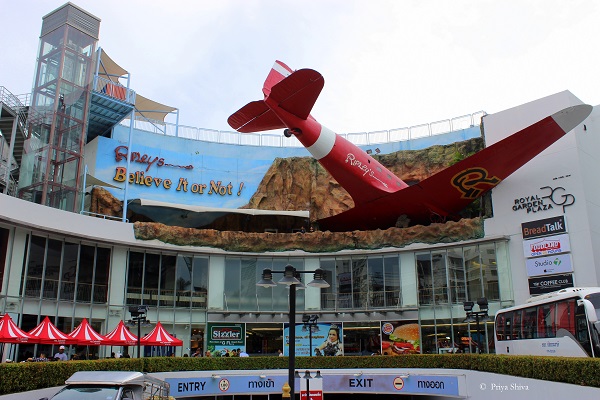 Just as we were coming out of Ripleys, there were multiple cab operators selling show tickets for the famous cabaret and were soliciting business for cabs. One particular guy seemed relaxed, he was not pushy and was sitting in a zen like way without worrying about anything in the world. We just walked up to him and asked if he would like to suggest something for us to do where the kid would enjoy. He looked at his watch and said, why not you go to tiger park today. We asked if he would drive us down there and he willingly agreed. He was to be our cab driver for the rest of our trip and we really liked his tireless efforts to drive us around and was reasonably priced too.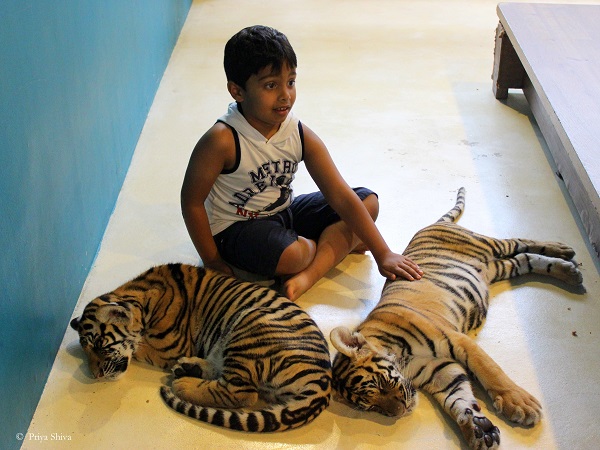 Tigers in Thailand have always been the centre of controversy for being sedated, badly treated and not so well fed. Though we would not want to dwell with it, our idea of visiting the park was to take a look at the tigers in close quarters. Only after we entered, we realizedd the atmosphere at tiger Park Pattaya was spic and span, the animals appeared healthy and there were variety of packages that could be availed. We chose the little cubs as they appeared playful. Though a reluctant pet lover, our son jumped in at the thought of petting baby tigers. It surprised us as he had not even petted a dog before, we were amazed by sudden surge of courage in petting baby tigers. We thoroughly enjoyed the baby tigers and for sure they dint appear to be drugged. Then came the chance to walk into a huge enclosure with three fully grown up tigers loitering around. Initially a little hesitant, the bucket list tick off prompted the husband to get it. After spending close to half an hour and playing with the tigers he came out with a big smile that showed his sense of satisfaction at the time spent and photos clicked.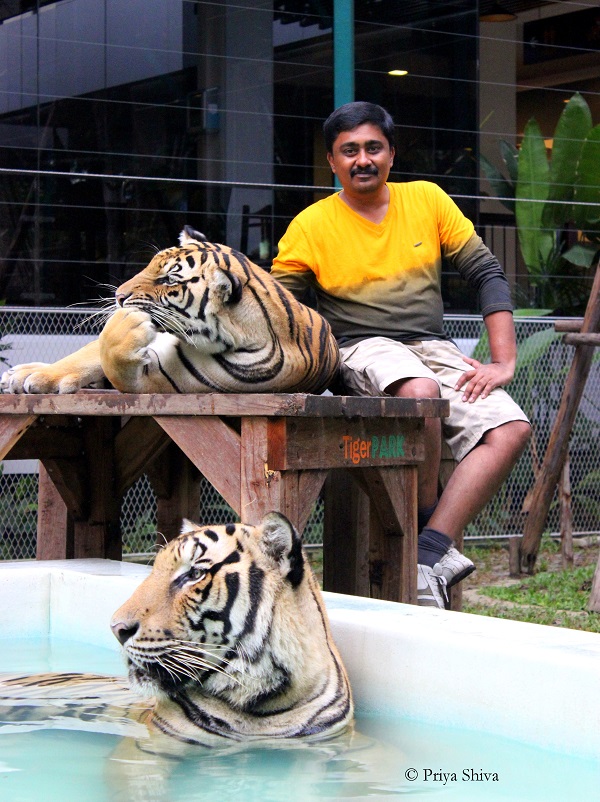 We checked back into the resort a little late in the night and decided to check out the famous walking street. A carnival like atmosphere, with loud music and beautifully lit streets, with vendors selling all and sundry on the streets, foods galore and numerous pubs that offer abundant entertainment to all age groups. This definitely is one of the lively streets we have witnessed in some time. Street magicians, mime artists and some real Thai boxing with betting happening are sure to entertain you as a family. Do not miss trying the coconut ice cream! With these three visits we decided to call it a day…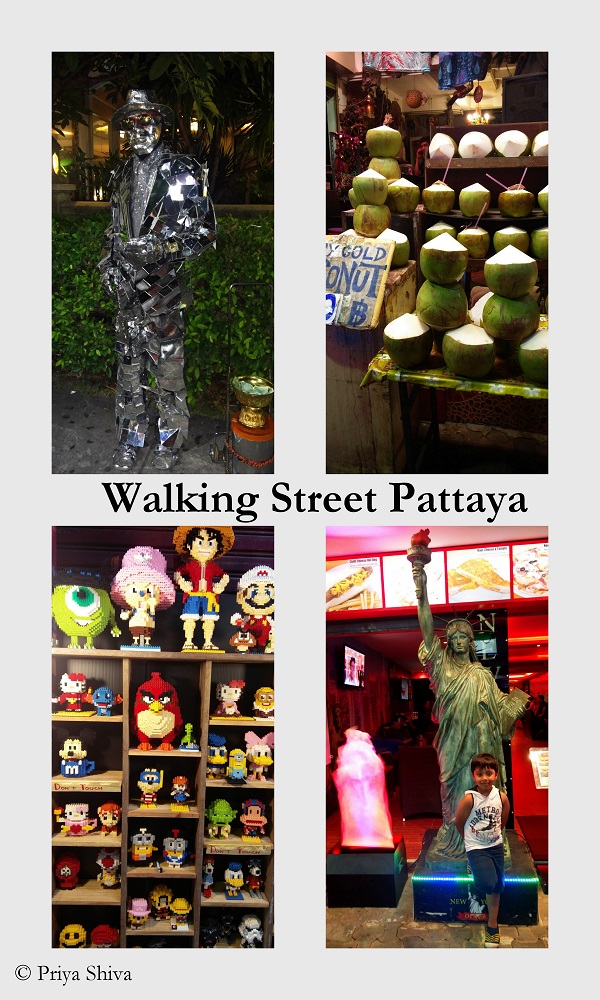 Day-2
Bang on time our driver arrived at our resort and we embarked on day two.
Wat Chaimongkron royal monastery
We just jumped in at the opportunity of visiting a royal monastery as this was very close to our resort. As the name suggests it does have a regal aura to it, gold plated domes, high ceilings and abundant Buddha statues are a delight to see. A few clicks for the religiously inclined..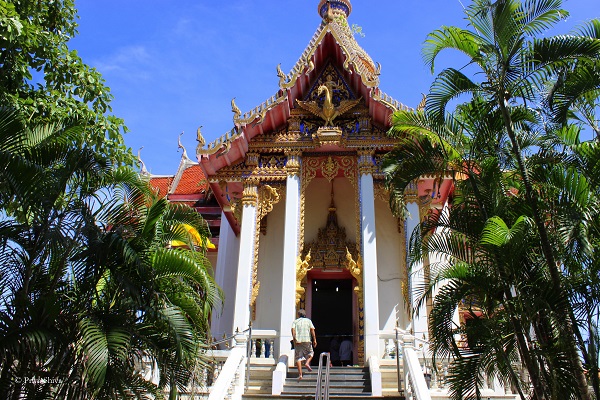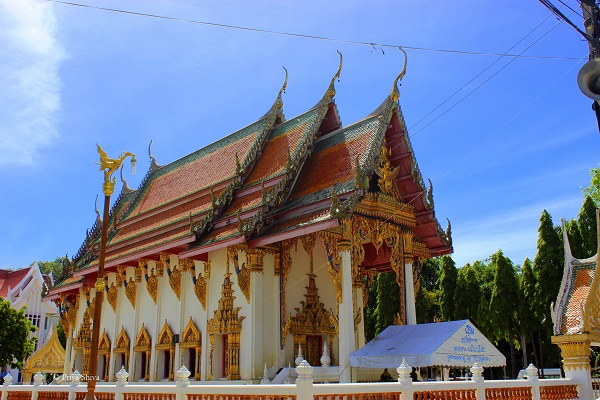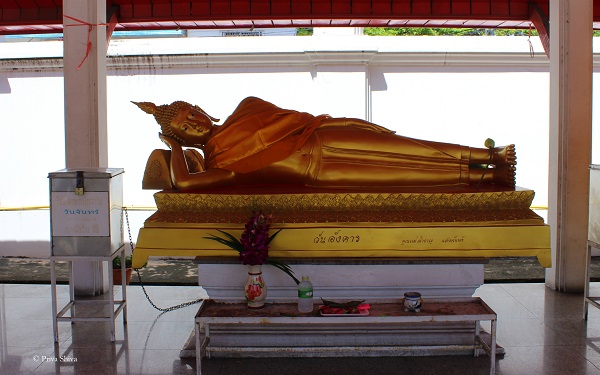 Thapparaya safari & adventure
If you have the money, Pattaya has the ability to make you spend. We moved on to the next adventure of the day. The Thapparaya adventure park has everything to entertain you. There are horn-bills waiting to get clicked with you, huge parrots that are camera friendly and two lazy pythons who are indifferent in your shoulder or in the boxes.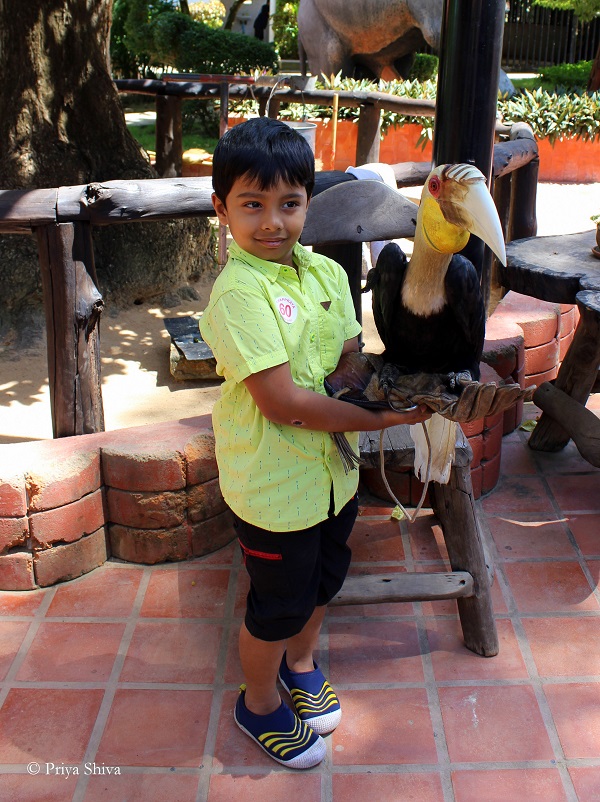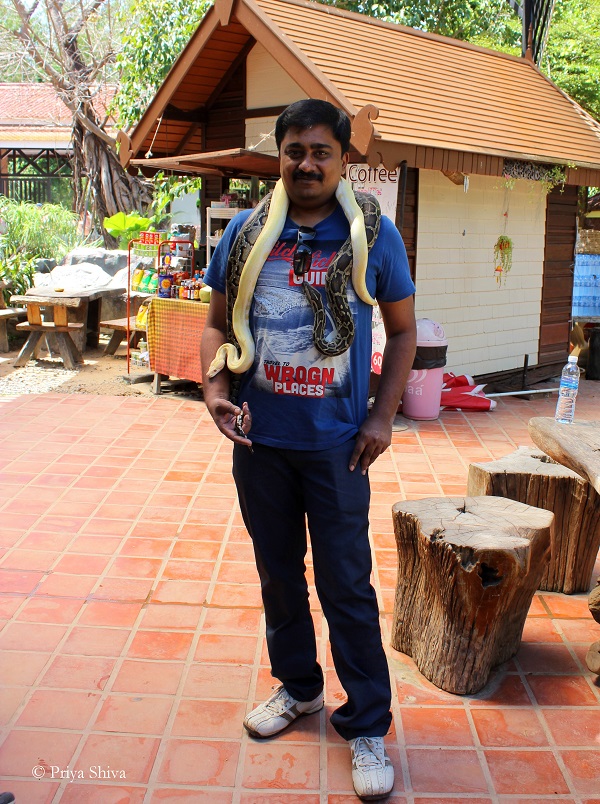 After a few minutes with them we moved on to the elephant safari. One thing good about it is they don't overload the elephant. At any time not more than two people are allowed on the elephant and they take you on a walk around the nearby forest. It is amazing to sit on the elephant and move slowly across the forest.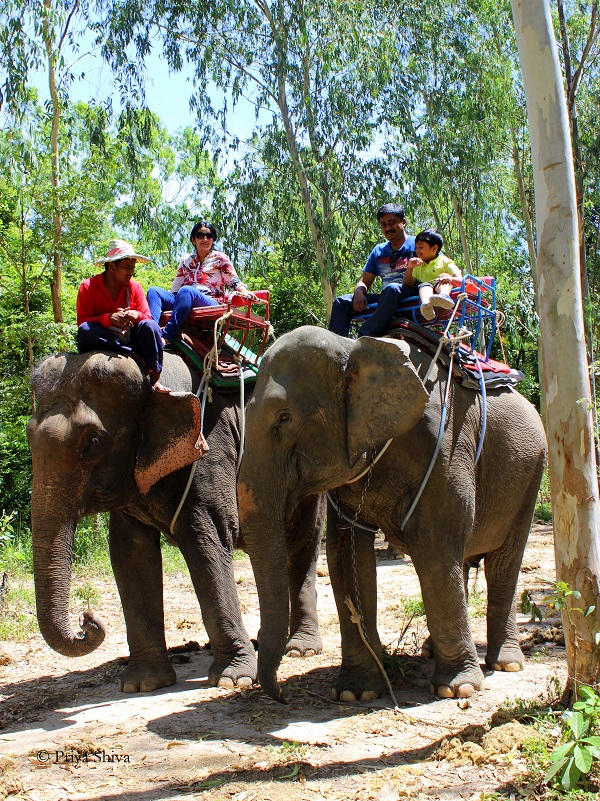 Million Year stone park and pattaya crocodile park
The last agenda for the day was to visit the Million Year stone park. Located on sprawling 70-acre campus this is really one place on our must do places in Pattaya. Carefully put together with close to 20 years of hard work, the stone park is bound to amaze you. Rocks of different shapes and sizes and trees that are a few hundred years old were painstakingly brought here and assembled to give you an amazing experience.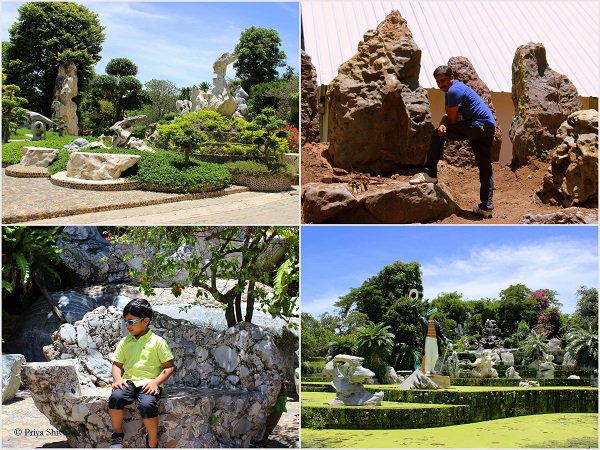 They also have an exotic zoo that feature Albino horse, tiger and bear. You can peep into the animal enclosures that have Giraffes, camels and deer's. Not be done with, they have the famous Crocodile show, where two brave men do everything from putting their hand to their head inside the crocodile's mouth. You could see few jaws dropping in the audience and we were equally in awe!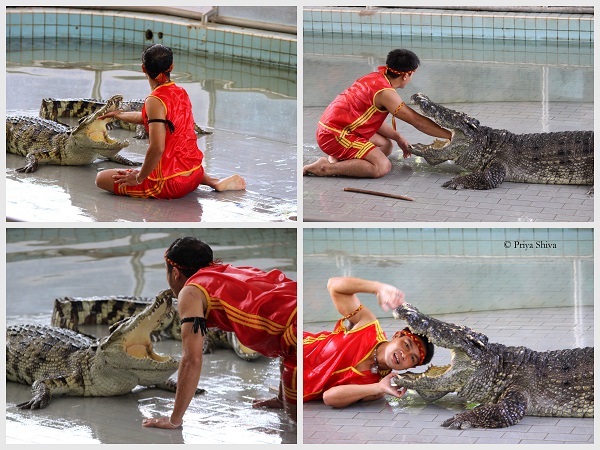 The miniature park that has replicas of world famous tourist attractions is one of the must visit places. It is just like being around the world in 80 minutes! They have beautifully landscaped gardens, adequately spaced replicas and monuments. You could see everything from the Eiffel tower, Sydney opera house, statue of liberty, the remnants of Abu Sibel in Egypt, not to forget Christ the redeemer of Rio De Genaro and the Singapore Merlion. This park is split into two- Mini Siam and Mini Europe, separated by a narrow canal that you can walk across. This is one place to visit which gives you the feeling of having seen half the world.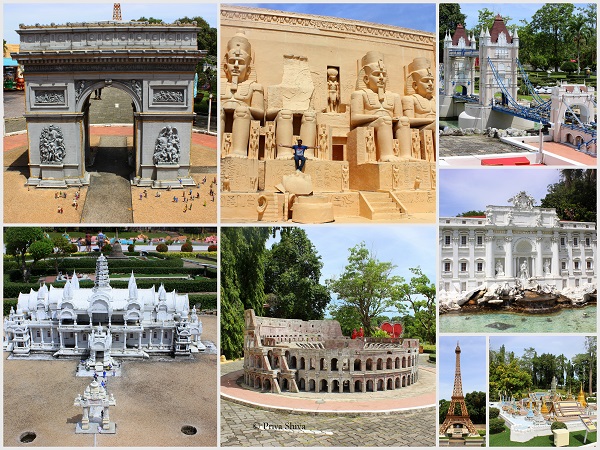 After a tiring day of sight-seeing, we decided to relax at the Jomtien Beach and retire for the day..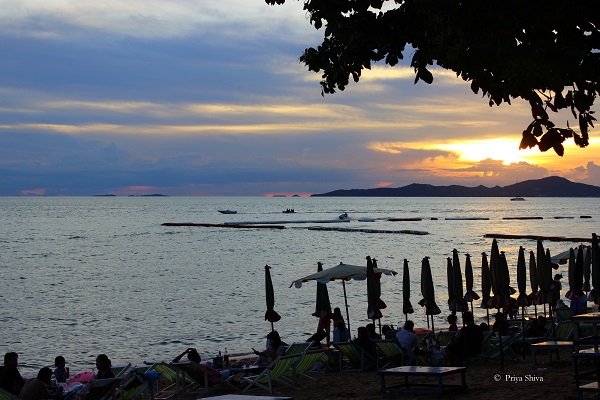 Day-3
Underwater Sea World Pattaya
Day three started with our visit to Ocean world Pattaya. A beautiful world of the ocean beckons you. Highly rated on kid's entertainment this is one place we recommend you do not miss. Starting with trying your hand on feeding fishes, to touching the turtles, this gives a great insight to the underwater life.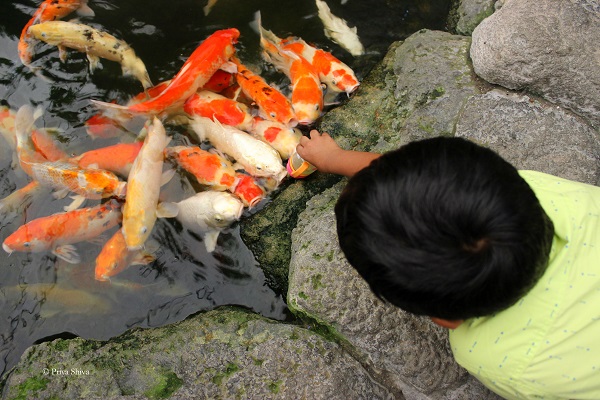 A 100-meter long underwater tunnel with a capacity of 4 million litres of water, the aquarium showcases an impressive diversity of close to a few 1000 varieties of fishes from many different parts of Thailand. It opens our eyes to the brilliance and diversity of the ocean life. A must visit place if you are with kids. It is a good opportunity to learn about sea world if you have not been to any other underwater park.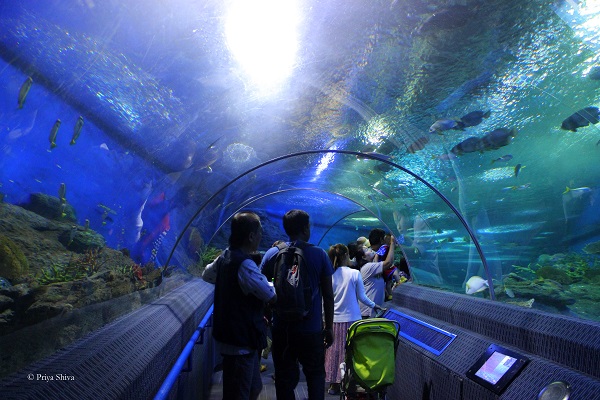 Sanctuary of tooth was our next stop, we checked into this place a little after noon, and suggest this place is worth a visit either earlier in the morning or a little later in the evening as you may have to walk a little close to 2 kms to reach this magnificent Architectural marvel. It showcases Thai wooden carvings and architecture. The ceiling is 105 meter tall and has carvings at that height.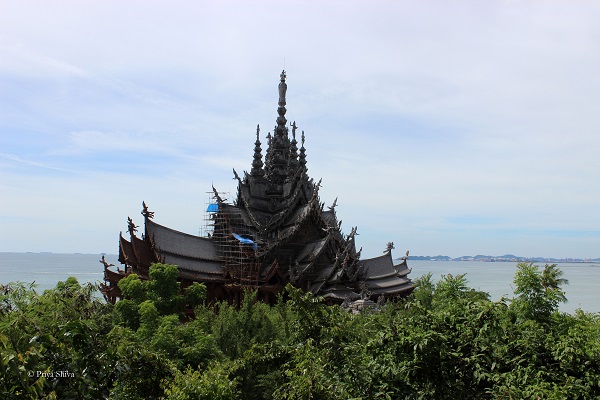 It makes you wonder what human mind is capable of visualizing and execution if you put your mind to it. Aptly described as "the magnificence of heaven recreated on earth" this is one place that will transport you to a different world. Each wood carving is intricately done and this will surely be a place that you won't forget for a long time to come.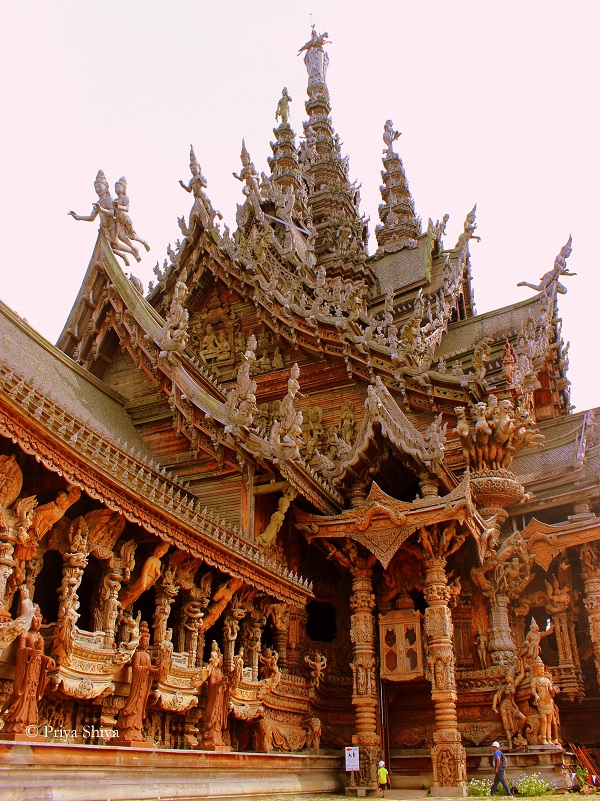 We even saw a ceremonial Thai Sword Dance and our son had some fun with these dancers holding a real sword!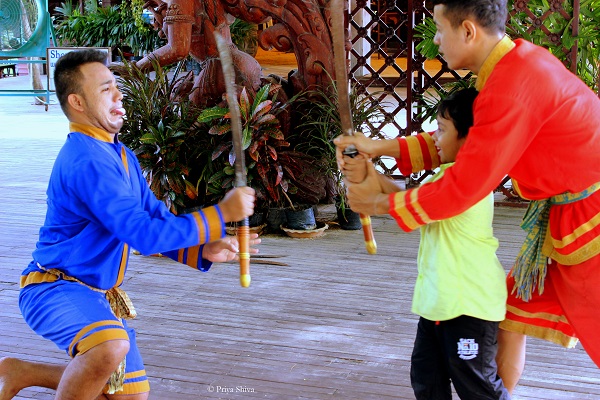 After a long day, the last agenda for the day was to visit the Floating market in Pattaya. Modelled on the famous Bangkok floating market this 100,000-sq. floating market is divided into four regions each representing and selling items from the four major parts of Thailand (north, northeast, central and south).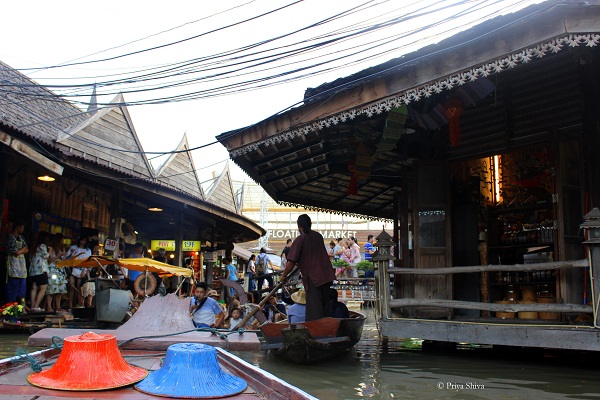 A lot of eateries, fruit stalls, souvenir shops and some art galleries are there that captures your attention. For a floating market experience, hire a boat to get around and discover the richness of the surrounding Thai architecture and riverside life. It is better if you hire the boat for yourself as that gives you some good photo opportunities and leisurely pace. The only thing that irks you is the quality of the water. Since its man-made and with no possibility of being cleaned, the water is murky and looks a little difficult to digest as soon as you enter the place. But you do get over it after some time. It is worth a place to visit just for the experience of it.
Day-4
After having read a lot of good reviews, we decided to peek into this museum on the last day of our leg in Pattaya. Just before we decided to move back to Bangkok we peeped into this museum. this place was definitely worth visiting. Click here to Read all about our visit to Art in Paradise Museum.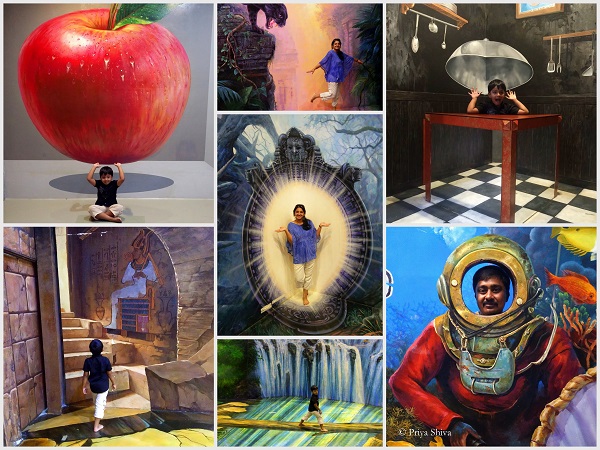 The last agenda on our trip was do a little bit of shopping in Bangkok.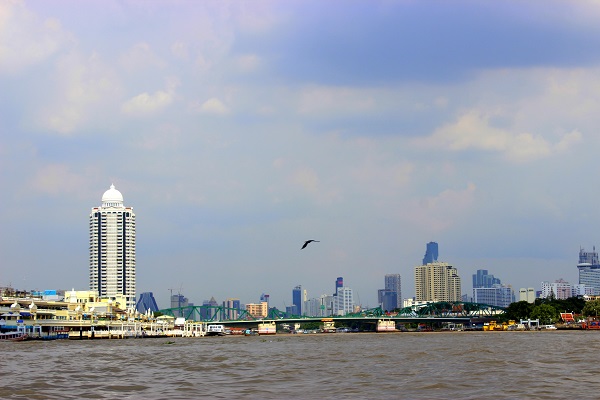 We quickly got sucked into a touristy trap and felt a ride on a boat on the Chao Phraya River in Bangkok is to be experienced. The tricky tuk tuk driver took us to the most expensive boat operator though there are many operators who provide group tours.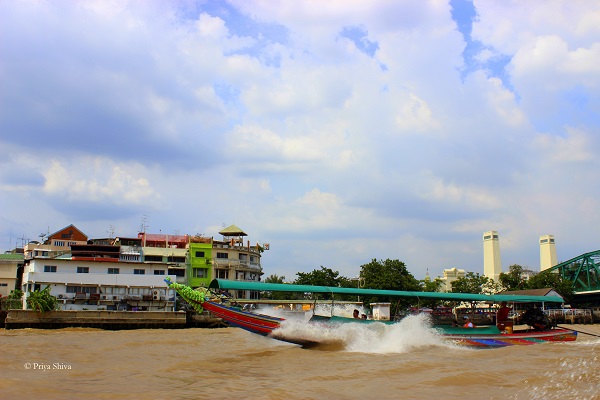 Wat Arun – temple of Dawn
We did not regret paying a higher price as the motor boat was left only for the three of us. The ride is close to one hour and in between offers you a chance to stop at one of the most beautiful and magnificent temple.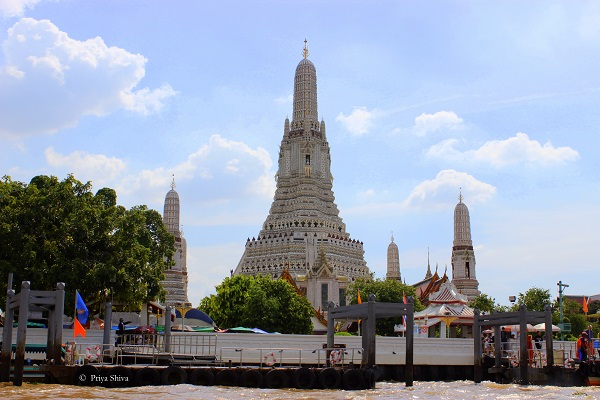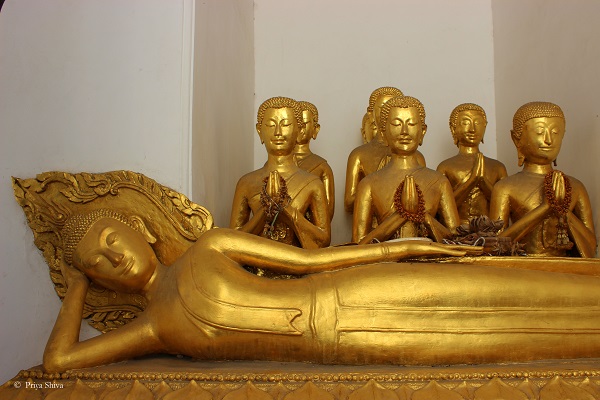 The uniqueness of this temple is its covered in colorful porcelain and derives its name from the Hindu god Aruna, often personified as the radiations of the rising sun. Wat Arun is among the best known of Thailand's landmarks and the first light of the morning reflects off the surface of the temple.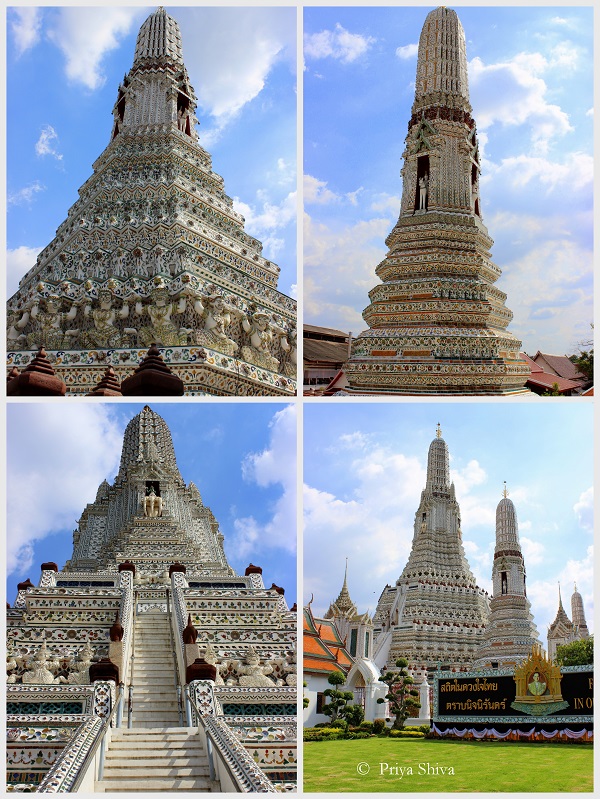 Day-5
With only a few hours left before catching our flight back to India and with few thousand bhats in hand the last item we decided to check out Madam Tussauds wax museum. With not much explanation needed, just a few photos to keep you all entertained!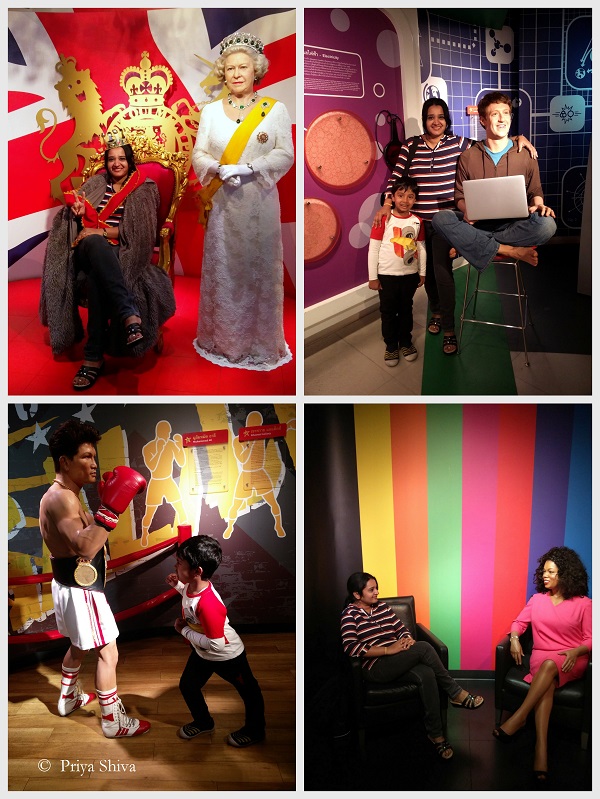 Every journey comes to an end but we collected loads of memories from our Thailand trip which we will cherish all our life. So, until we take you through another trip, enjoy reading about this trip and share your memories too with us.
Love,
Shiva & Priya
Yum