I can revive some of my most fond memories when I think of Maggi. It could be the Maggi party with friends or the late-night Maggi I enjoyed after a tiring day at work. Happiness is in eating 2 minutes Maggi! I had the exact thought when I made this Vegetable Maggi Noodles in white sauce…
I love making Maggi noodles in white sauce with a twist of freshly desiccated coconut though I'm equally fond of masala Maggi. What is your favourite way of making Maggi? Why don't you share your Maggi recipe with me? I can pick out the favourite and make it to share it with you all too!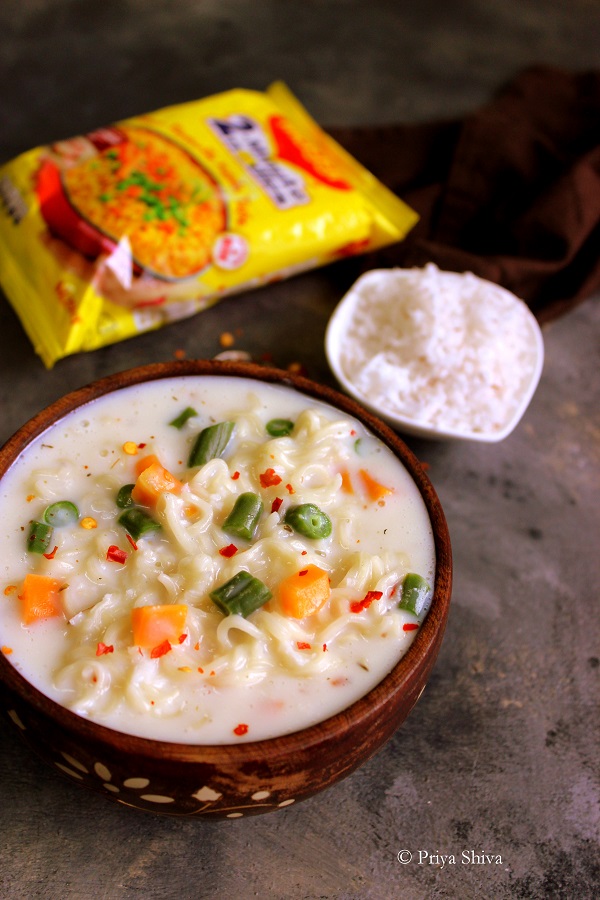 I have been pondering on a few thoughts about food and thought to share what is on my mind. There are many food options and preferences that catch the fancy of human beings every other day. A deep dive into the food culture shows that some countries were very impoverished and in order to sustain life people took to eating anything that was available around them. Where one part of the world relies on protein supplements, the other part depends on insects for their protein diet. So, what is a balanced diet? Is any diet completely good or completely bad? As I leave you to ponder over these thoughts, I personally feel that there needs to a balance in the diet which can provide adequate carbs, proteins and fat. A balanced diet, moderation and an active lifestyle is the only way to ensure good health. One bowl of Maggi Noodles actually has lesser fat than common food items like a cheese sandwich, pizza or even a buttered paratha. I believe in enjoying everything in moderation!
You can also try Pasta Pizza from my blog. So, let me enjoy Vegetable Maggi Noodles in white sauce until I hear out your Maggi recipe and story …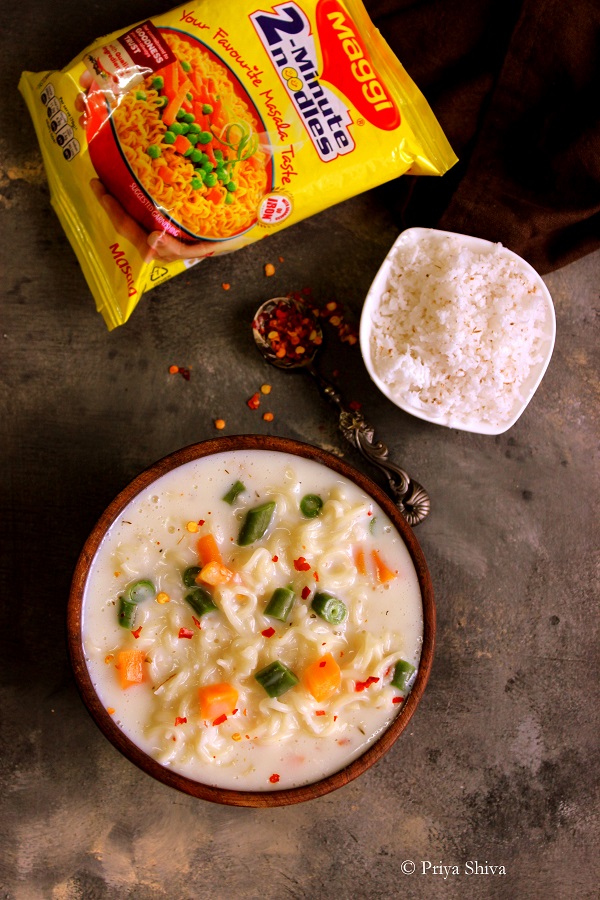 Vegetable Maggi Noodle In White Sauce
Ingredients
Maggi – 1 pack

Milk – 1 cup

Freshly desiccated coconut – 2 tbsp

Butter – 1 tsp

All purpose flour – 1 tbsp

Carrot – 1

small one

French beans – 6

Oregano seasoning – ½ tsp

Chilli flakes – ½ tsp

Salt to taste
Instructions
Boil 2 cups of water in a pan. Add Maggi and cook for 2 minutes.

Strain Maggi in a colander and drain the water.

Chop all veggies and microwave it for 1 minute with little water.

Melt butter in sauce pan and add all purpose flour in it. Quickly sauté it for a minute on low flame.

Start adding milk slowly. Keep stirring so that lumps don't form. Keep stirring till sauce thickens.

Now add veggies, salt, oregano, chili flakes and coconut. Mix it well.

Add boiled Maggi to it, stir and remove from flame.

Serve immediately.
Recipe Notes
You can add maggi taste maker too for enhancing the taste.
Yum