We love travelling and it is even more fun when GRT hotels and resorts invites us for a bloggers meet. You all would remember our Chennai to Kanchipuram trip with them which we shared about two months back. We headed for another memorable trip towards Kodaikanal to stay at Great Trails by GRT hotels.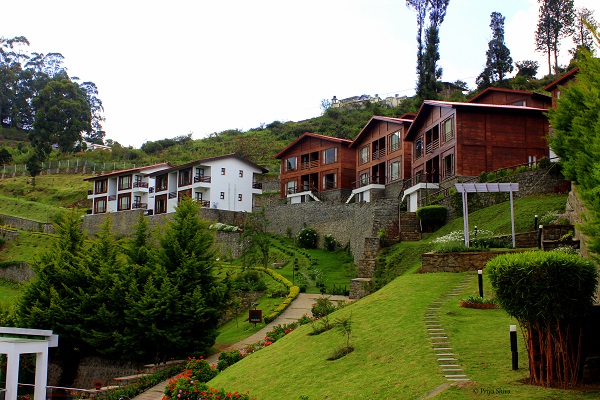 We took a night train from Bangalore to Madurai and checked in at Regency Madurai by GRT Hotels to freshen up. We enjoyed the GRT signature breakfast and started our journey towards Kodaikanal. The road trip from Madurai to Kodaikanal is scenic and we fell in love with the picturesque Kodaikanal. One would automatically feel relaxed when you see such a view from the room!
It was afternoon by the time we reached Kodaikanal and checked in into Great Trails by GRT hotels. We enjoyed the delicious buffet lunch at Whistler cafe which is their dining area. We had a sleepless night and a tiring journey on the train but the fresh air, beautiful view and a wholesome lunch immediately relaxed us..
We moved to our room for an afternoon siesta. We were given a timber chalet with a balcony which had a spectacular view of the valley. The spacious room is constructed with imported Indonesian wood and each room is provided with all modern amenities including in room tea/coffee maker, electronic locker, toiletries, sofa, work desk, LCD television and complimentary WiFi.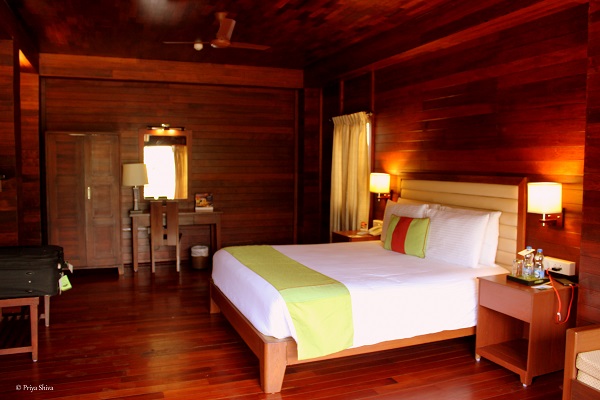 These staycation experiences have helped us as a couple too. We get time to bond with no worry in the world and were able to rekindle the previously lost romance due to the hectic urban life! Ah yes, when the romance is in the air, you just let yourself go with the flow…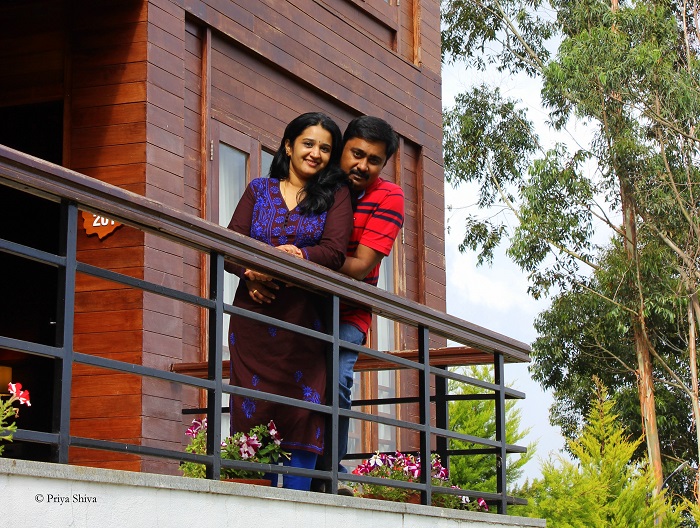 Kodaikanal is a beautiful hill station at an altitude of about 7000 feet and located in Dindigul district of Tamil Nadu. The pleasant weather and the greenery around makes it a popular tourist spot in India. The evenings get colder and its good to carry your mittens.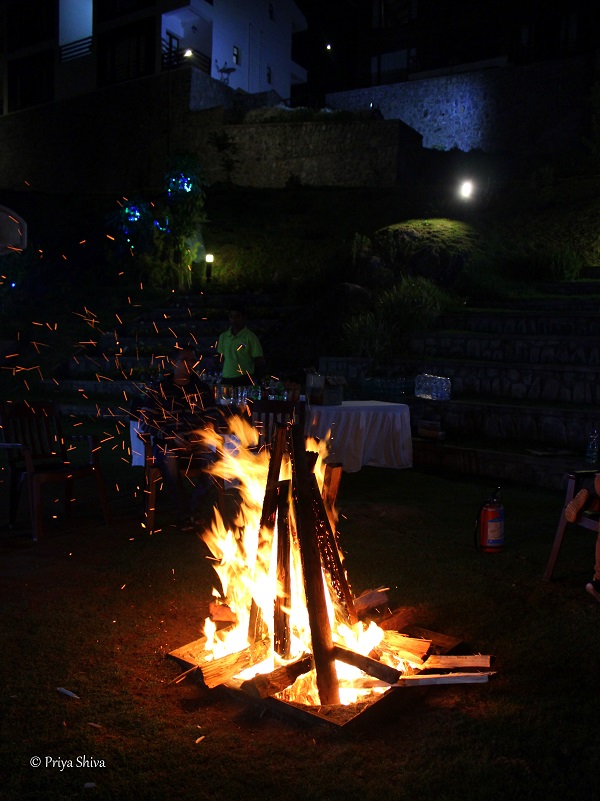 Great trails by GRT hotels organized a bonfire party for the bloggers and served some amazing food. It was an evening well spent chatting with co-bloggers and playing some fun games.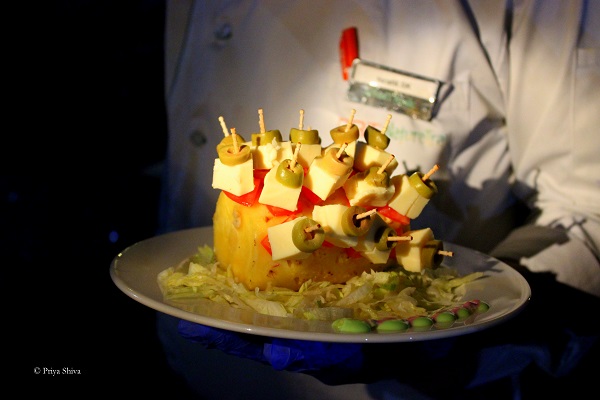 The management had arranged for a magic show which was thoroughly enjoyed by our kiddo Arhaan. The activities included a  lot of interesting and innovative games which kept the kids inside every grown up adult alive. We as adults have never laughed so much playing these giggle worthy games. A special mention should be made of the Activity Manager Mr. Bala, who ensured that group stayed together and bonded well over the evening. They also arranged for a karaoke session which was riotous as people who could not sing to save their life also started singing. The valley view and the hotel property looked even more spectacular in the night..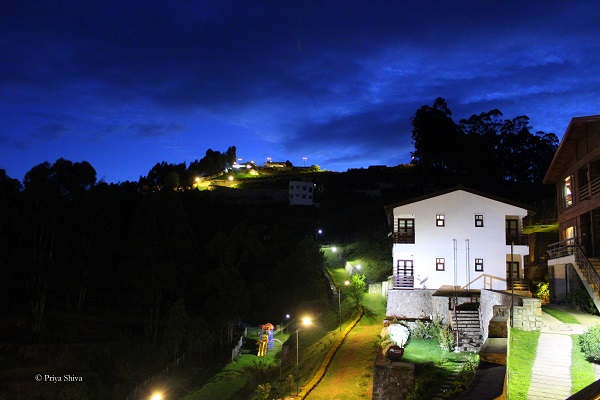 The next day started with a "Chai pe charcha" with Chef Sundar. He brings his vast experience which can be seen in the food served at Great trails by GRT hotels. I had to wait for the exclusive dinner preview but I thoroughly enjoyed talking about different cuisines and his passion for food. Chef Sundar will surprise you with a story or two from the western world as he has predominantly lived in the United States as much as he could tease your taste buds with his continental culinary skills.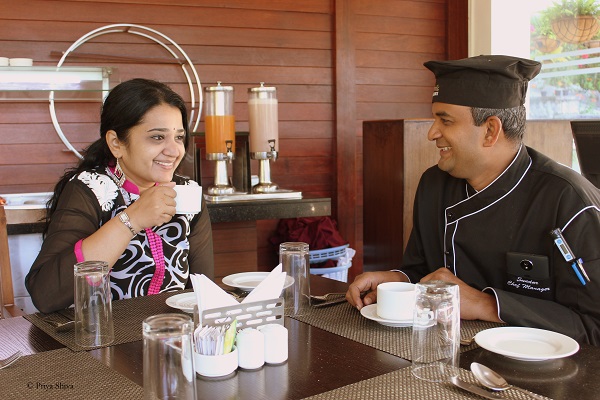 After a heavy breakfast, we decided to visit the strawberry farm. Arhaan was super excited about it as strawberries are his favorite whether we talk about ice cream, jelly or cream buns.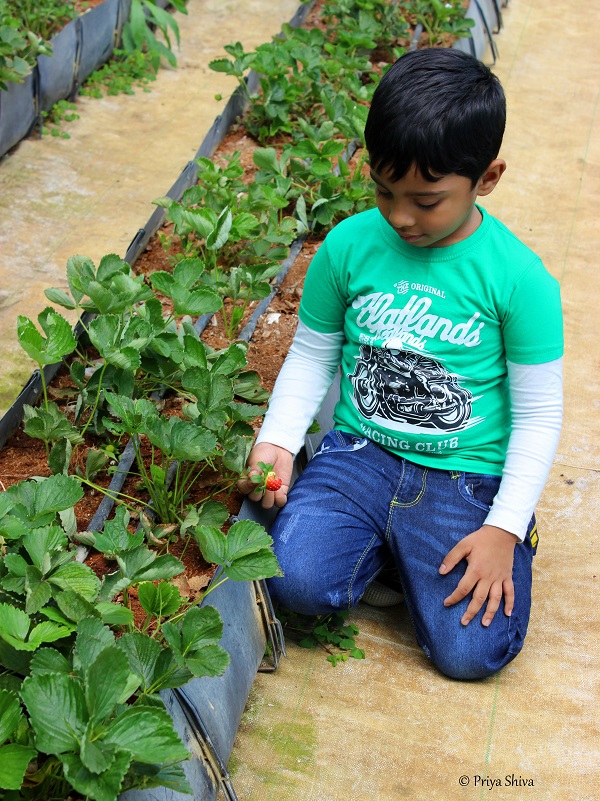 It was not a season for strawberries but it was fun to show our kid around. We could see other seasonal vegetables grown there like beans, capsicum, gooseberries etc. We continued our journey towards Berrijam forest. On the way we visited Poomparai Kuzhanthai Velappar Temple which is around 3000 year old temple for Lord Murugan. The temple comes under the administration of the popular Palani Temple in Tamil Nadu.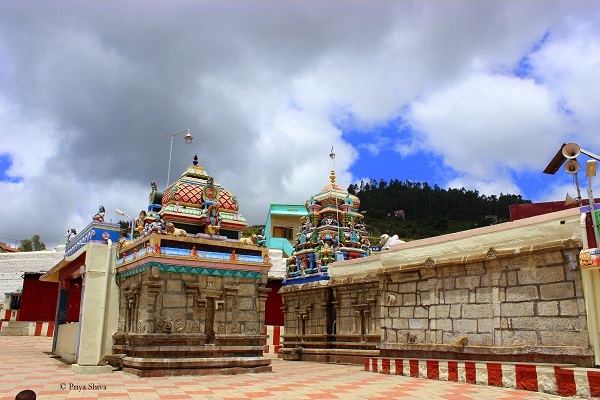 It is believed that Bhogar made 3 idols with the Navapaashanam. The first one is at Palani temple, second one in Kodaikanal and third one is buried in Berijam forest and still not been found. Nava means nine and Paashanam means poisonous substance. It is believed that when these nine Paashanam are combined together, they become so powerful that it can heal any wound or health disorder. Unlike Palani, this temple was less crowded and we enjoyed a peaceful and spiritual experience there..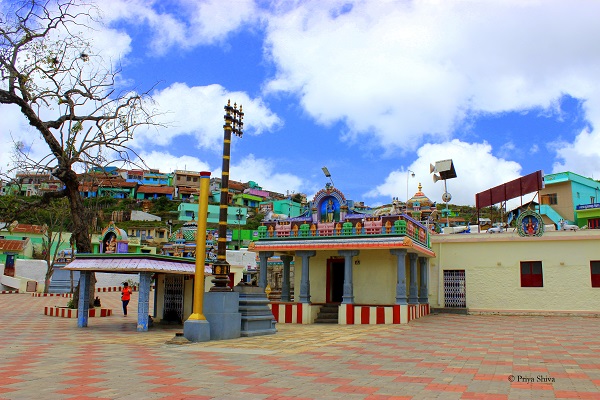 It was almost lunch time but patience always pays. GRT group of hotels always has a unique way of delighting its guests and this time it was no different. They had arranged for a buffet lunch to be served in the lake bed adjoining the Rabbit farm in Poomparai village and it reminded us of our growing up days with picnic lunches. The delicious food and the amazing view was all we needed to feel absolutely pampered.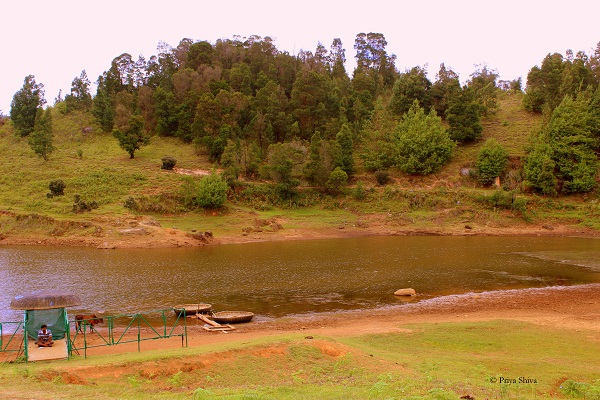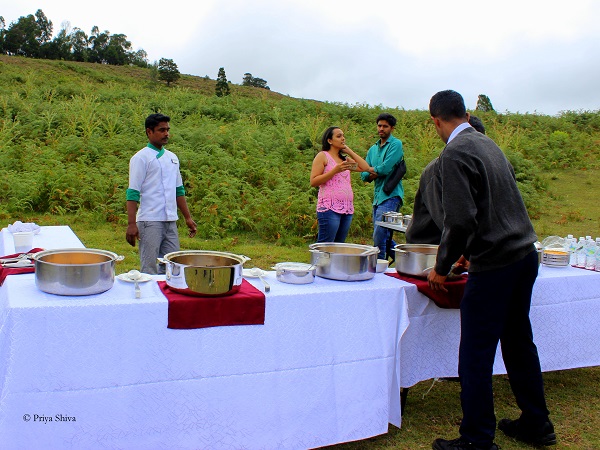 What was planned after the lunch was even more thrilling! Mr. Bala from the activity manager took us for drive through the Berijam forest.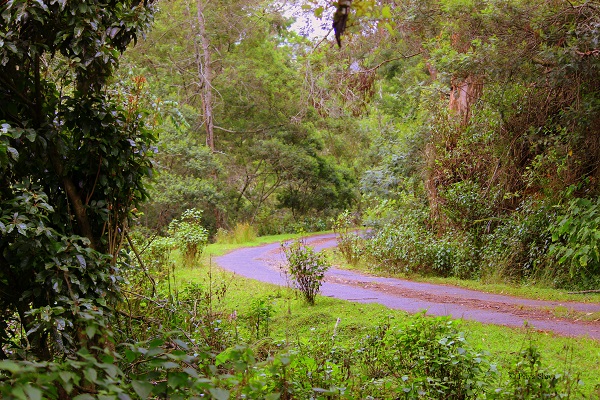 The Tamil Nadu Forest Department has restricted entry into the Berijam forest area for the general public. Entry permits are issued at the Forestry Department Office in Kodaikanal  but only a limited number of visitors are allowed in the forest each day. We thoroughly enjoyed the drive through the thick forest. We were even lucky enough to spot Bisons and black monkey.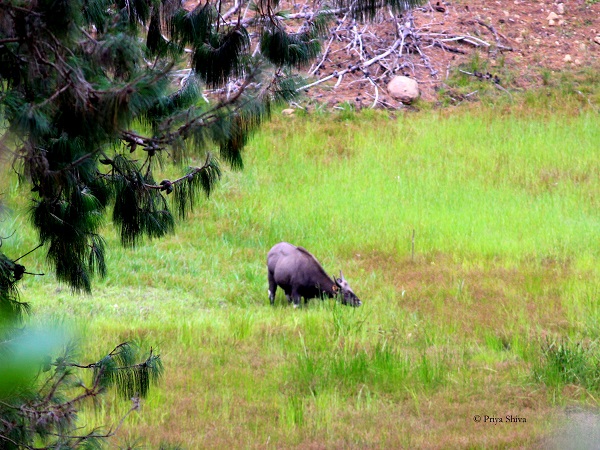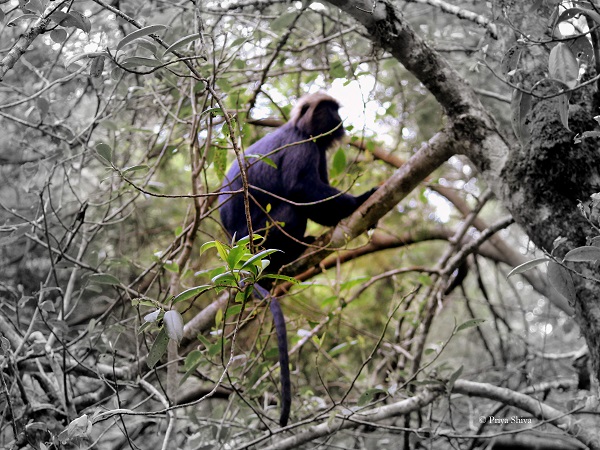 We stopped near the Berijam lake inside the forest. We live in a city where we get up with a sound of vehicle horns. It was so refreshing to walk around in a place where we can hear the birds singing and sound of ruffling leaves.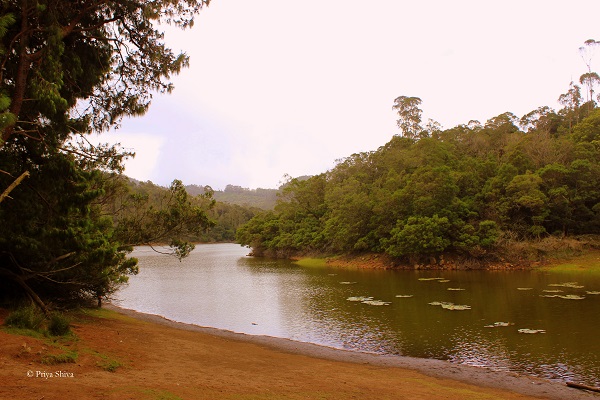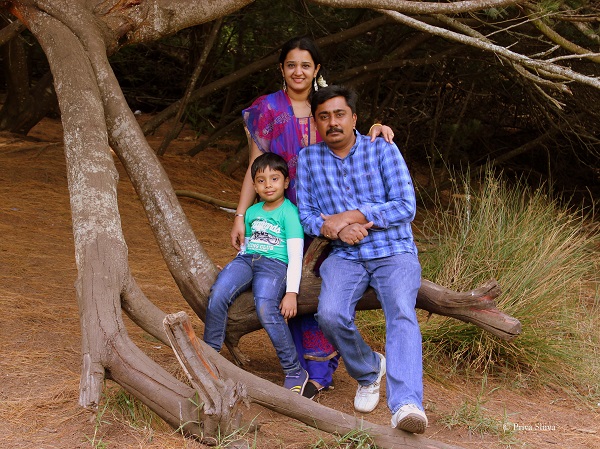 We even got a family picture sitting in the middle of the forest! This trip was also about bonding with friends. We can talk about the inseparable Jai-Veeru who call themselves Rajni and Kamal and were constantly singing "Mustafa Mustafa , don't worry Mustafa" the whole time ( Literally that inseparable)…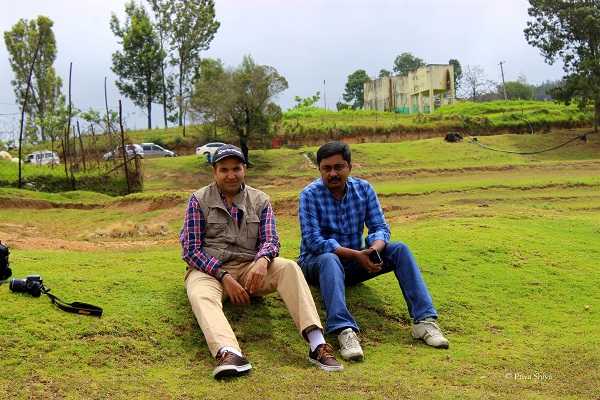 We girls also had some fun jumping and frolicking around .. (Pic courtesy Sandy and Vijay)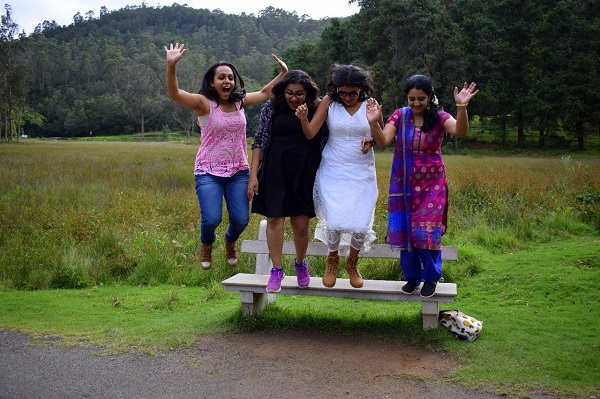 We were tired after the whole day outing. It was the exclusive dinner preview which excited us again. The dishes were so beautifully presented that we had to capture them in our camera!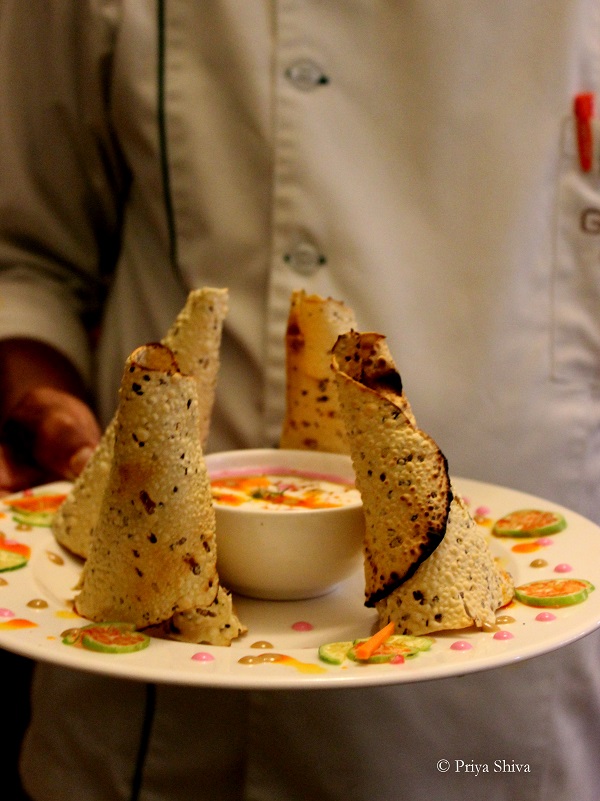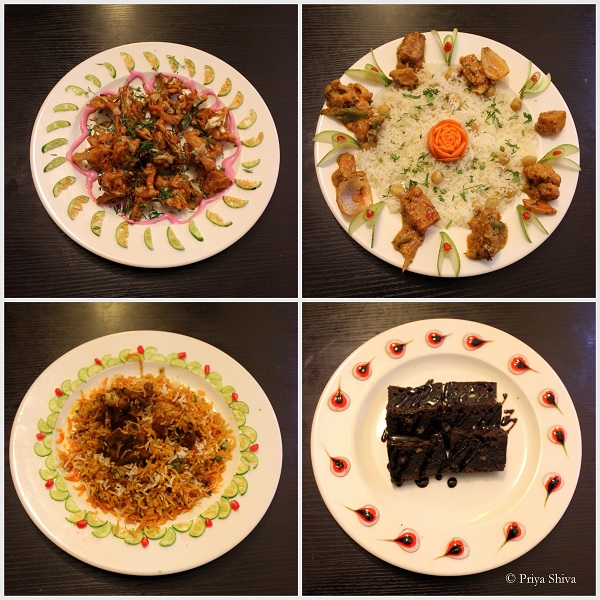 We throughly enjoyed dishes like the kurkure chaat, moti pilaf, dum biryani for dinner. The chocolate brownies were to die for!
To sum it all up , the hospitality of GRT hotels, their out of this world food experiences and that extra mile they go to make your stay memorable are a notch above the normal and inexperienced so far at least by us.  Whenever we have stayed with GRT hotels, we always felt the holiday should never come to an end. Such is the impact they have on you with their warm welcoming smiles and genuine parting goodbyes.
For now,  I'm sure you are also tempted to plan your next trip to Kodaikanal after reading our post. Do click here and book your stay with Great Trail by GRT. The management will help you by organizing treks, enable you to enjoy some of their outdoor activities, and can arrange horseback rides or just let you alone to relax and rejuvenate in one of the unexploited locales in Kodai. We continued our journey towards Madurai next morning and we will share the Madurai travel story in the post.
Until we meet again with our travel stories, enjoy these memorable moments which we spent at Great Trails by GRT hotels..
Love,
Shiva & Priya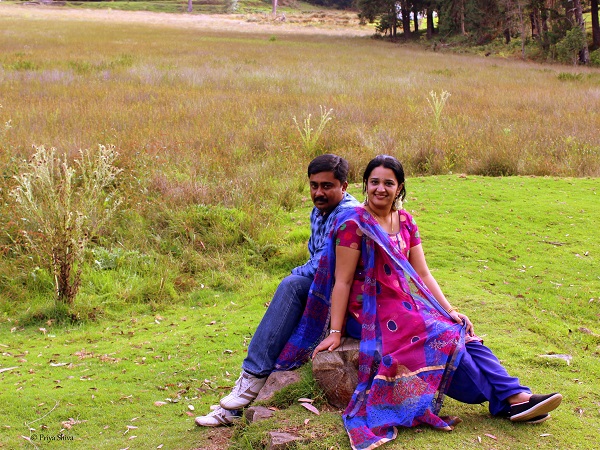 Yum