Bread pudding is one of the easiest breakfast to enjoy any given day. So, here's an eggless pudding recipe with a twist of Ginger Marmalade in it. Ginger marmalade bread and butter pudding is something which I prepared for breakfast today and wiped out by my family within minutes. I received Ginger Marmalade from Sprig and I always love their products. I had made Ginger Marmalade Coconut Thumbprint Cookies with it and they were too good. The pudding is even better than the cookies!
Try this Ginger marmalade bread and butter pudding and enjoy with your family..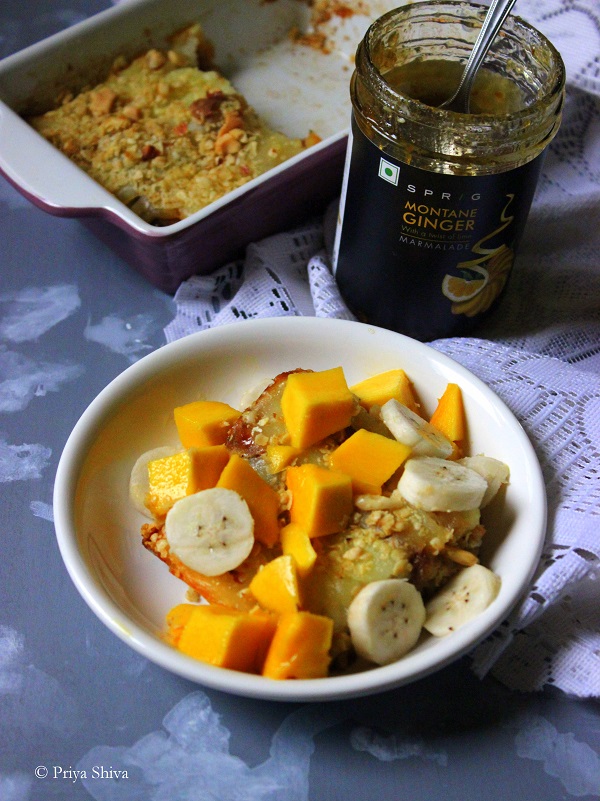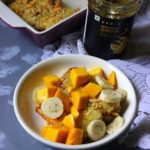 Ginger Marmalade Bread and Butter Pudding
Ingredients
Bread slices - 4

Melted Butter - 4 tbsp

Ginger Marmalade - 3 tbsp

Corn Flour - 1 tbsp

Chopped Cashew Nuts and Almonds - 2 tbsp

Oats - 2 tbsp

Raisins - 1 tbsp

Sugar - 1/4 cup

Milk - 1 cup

1 banana (chopped)

1 Mango (chopped)
Instructions
Apply butter on one side of each slice and ginger marmalade on other side. Cut each slice into 4 equal parts.

Grease an oven safe bowl with butter and line the bread slices with the buttered side facing downwards.

Combine the corn flour and sugar along with warm milk in a bowl and mix well. Make sure there are no lumps.

Boil the mixture on a low flame and keep stirring continuously. Cook till the sauce slightly thickens.

Pour the sauce evenly over the bread slices and sprinkle nuts, oats and raisins on the bread strips and. Add 1 tbsp melted butter evenly over it.

Bake for 30 minutes at same temperature. Remove from oven, top it with chopped fresh fruits like mango, banana and serve.
Yum