Friends are real treasure in life and Rafeeda is one of them. We have been virtually connected since the beginning of my journey in this blogging world and she will always have a kind word to share, a motivating comment and I'm happy to be connected to such a wonderful soul. Rafeeda blogs at The Big Sweet Tooth and she has brought these Eggless Orange Chocolate Chip Biscotti to share with us today.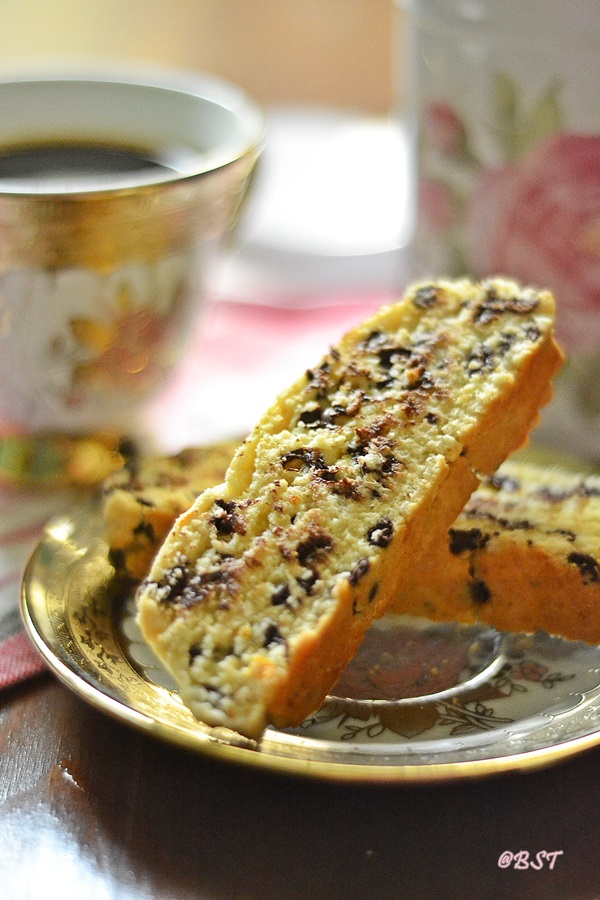 Rafeeda has something to say to all of you.. –  "I have been following Priya ever since the start of her blogging journey. It amazed me how she blogged every day without fail. I was really happy for her as effort was recognized by the India Book for Records. As years have moved, it amazes me how much hard work she has put into growing her blog and making a name in this huge blogging world. However, the best part is that this growth has kept her as humble and simple as she has been from the beginning. That is one reason why I love Priya and enjoy my interactions with her. When she invited me for a guest post, I have to say I was literally on the moon. I asked her a few times, just to make sure I was hearing it right. For her, I wanted to make sure I gave her what she wanted. That is when she hinted that she missed a biscotti recipe on her blog…"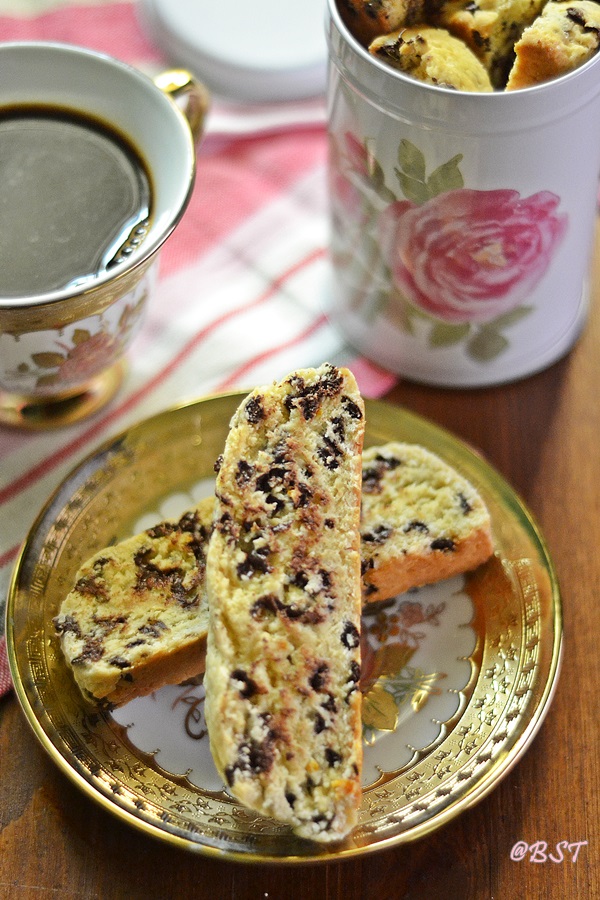 I'm so glad that Rafeeda brought these Eggless Orange Chocolate Chip Biscotti for my blog. She's a passionate food blogger, shares some amazing recipes and you will love to get connected to her. So, do stop by her blog and share some love for food. Thank you Rafeeda for these delicious Orange Chocolate Chip Biscotti. How I wish that I was your neighbor and I could ask you to bake them again for me 🙂 … So, check out today's recipe and make these biscotti to enjoy with your tea or coffee.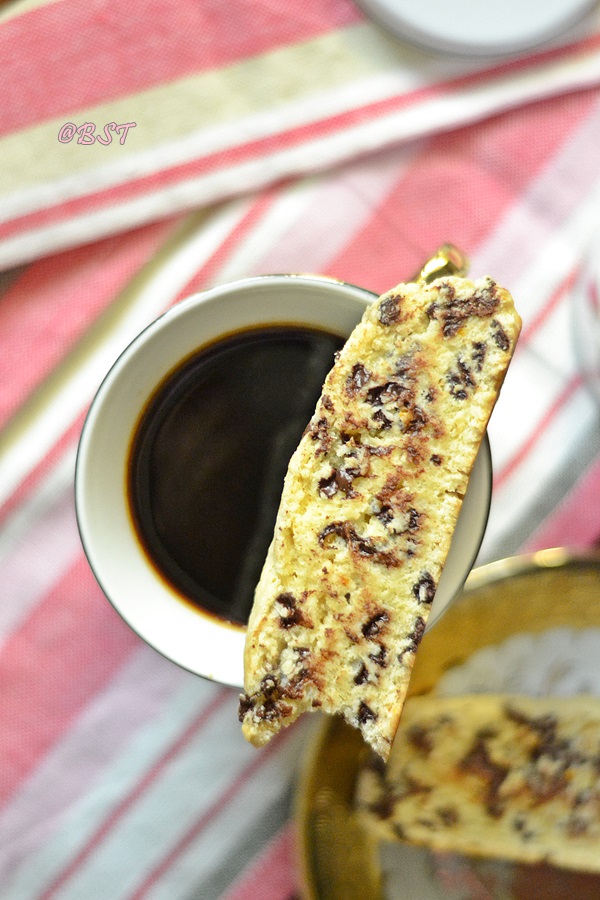 Orange Chocolate Chip Biscotti – Guest Post by Rafeeda
Author:
¼ cup sugar

1 tsp orange zest

50 gm butter, softened

¼ cup orange juice

2 tbsp yogurt

2 cup all purpose flour

¼ tsp salt

½ tsp baking powder

¼ cup mini chocolate chips
Preheat oven to 180 degrees. Keep a silicon mat or a parchment lined tray ready.

Rub the zest into the sugar and add into the softened butter. Beat till creamy.

Add in the orange juice and yogurt and beat just till combined.

In another bowl, whisk the dry ingredients together. Tip the chocolate chips and toss.

Add this to the wet ingredients and beat briefly till the mixture comes together.

Using your hands, shape the dough lightly into a log and place it on the prepared mat or tray.

Bake for 30 minutes.

Take out the tray and leave the log to cool for 15 minutes.

Using a sharp knife, cut into neat 12 slices, around ½ to ¾ inch thick. It may be soft to handle, so cut gently without crumbling. Arrange the slices on the tray.

Bake again for another 15 to 20 minutes till done.

Transfer to a wire rack to cool completely.

Store in an air tight container and consume within 10 days.
Yum