Pink is my favorite color and I love pink in food too. I'm glad that it is the season for strawberries. So, I could start my day with something pink today with this healthy Strawberry Oatmeal breakfast Smoothie Bowl.
I'm a breakfast person and smoothie bowls have their own benefits. It is a wholesome, healthy breakfast and you can think of various combinations in it. I tried Mango smoothie bowl in mango season combining it with jackfruit and it was a hit in my house.  I have even tried breakfast in a jar with overnight soaked chia seeds. So, sharing yet another easy breakfast recipe today. Make Strawberry Oatmeal breakfast Smoothie Bowl and enjoy.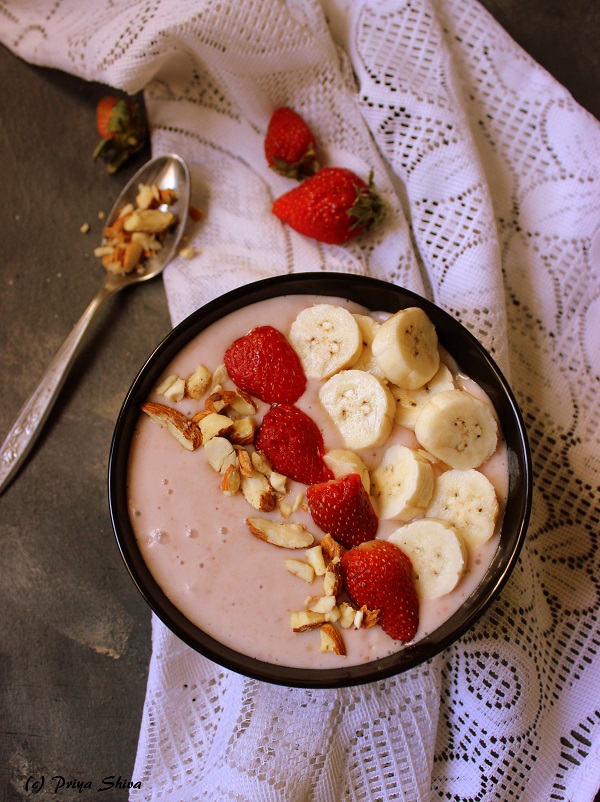 Strawberry Oatmeal breakfast Smoothie Bowl
Author:
Prep time:
Cook time:
Total time:
Ingredients
Strawberries – 8 (hulled and chopped)
2 Banana (chopped)
1 cup milk
¼ cup quick cooking oats (I used classic Quaker oats)
½ tsp cinnamon (grounded)
Sugar – 2 tsp
Walnuts – 4 (broken)
Almonds – 4 (broken)
Instructions
Cook oats in a pan with 1 cup of milk for 2 minutes. Let it cool down.
Add 6 strawberries, 1 banana, cooked oats, and cinnamon in your blender. Blitz it.
Pour in a serving bowl. Garnish with chopped strawberries, banana, some walnuts, almonds and serve.
Notes
Bananas add natural sugar. So, adjust sugar according to your taste.
Yum