I'm in love with papaya! Papaya is a tropical fruit which gives you loads of health benefits and luscious taste. Add them in any salad and it will light up. So, sharing an easy Papaya fruit salad today with a refreshing orange dressing recipe.
Did you know that papayas are high and fiber and even helps to boost your immunity? They do! Papaya is a wholesome fruit which is good to keep to you fit and healthy. So, make and enjoy this colourful papaya fruit salad today.
You can also try other salad recipes from my blog like:
Mango Apple Salad with pomegranate dressing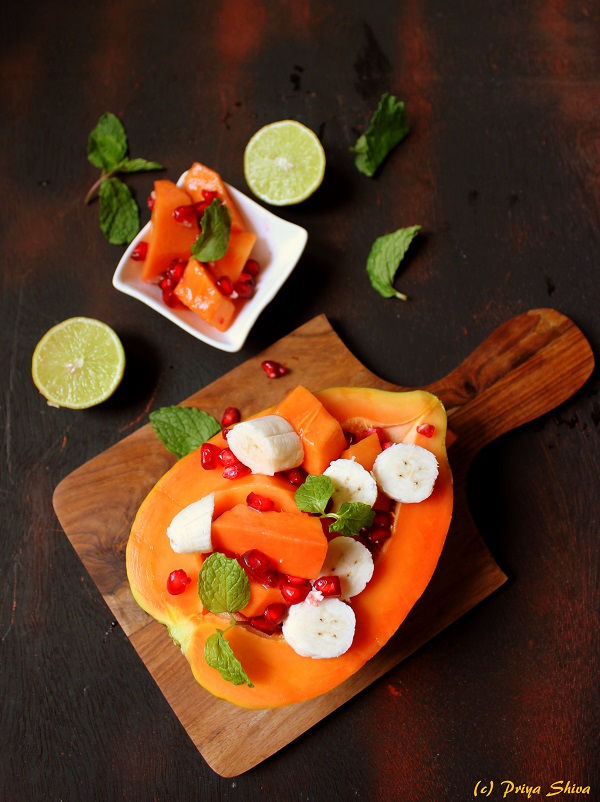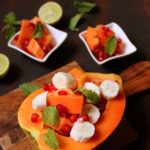 Papaya Fruit Salad
Ingredients
Papaya - 1

Banana - 2

peeled and chopped

Pomegranate seeds - 1 cup

Orange - 1

Lemon - 1

Honey - 2 tbsp

Olive oil - 1 tbsp

Apple cider vinegar - 1 tbsp

Salt - 1/4 tsp

Mint leaves - 12

Poppy seeds - 1 tbsp
Instructions
Juice orange and lemon.

Divide papaya into 2 equal halves. Peel and chop one half.

Add orange juice, lemon juice, honey, olive oil, vinegar, salt, mint leaves and poppy seeds in a bowl. Mix it well and the dressing is ready.

Add chopped fruits - papaya, banana, pomegranate seeds in a bowl and drizzle the orange dressing.

Serve it on an edible papaya boat..
Yum