Mixer grinder is the most commonly used gadget in my kitchen. So, I was thrilled when I received the Maharaja Whiteline – Joy Turbo Mixer Grinder. I have used Maharaja Whiteline products before and always been happy with their products and services. I would also be sharing a recipe for Poondu Milagai Podi today but let me firstly share more about the product.
Maharaja Whiteline was found in 1976 and has been a market leader for products like mixer grinder, juicer mixer grinder, food processor, air cooler and room heater. Their products are economical, easy to use and comes with prompt customer service.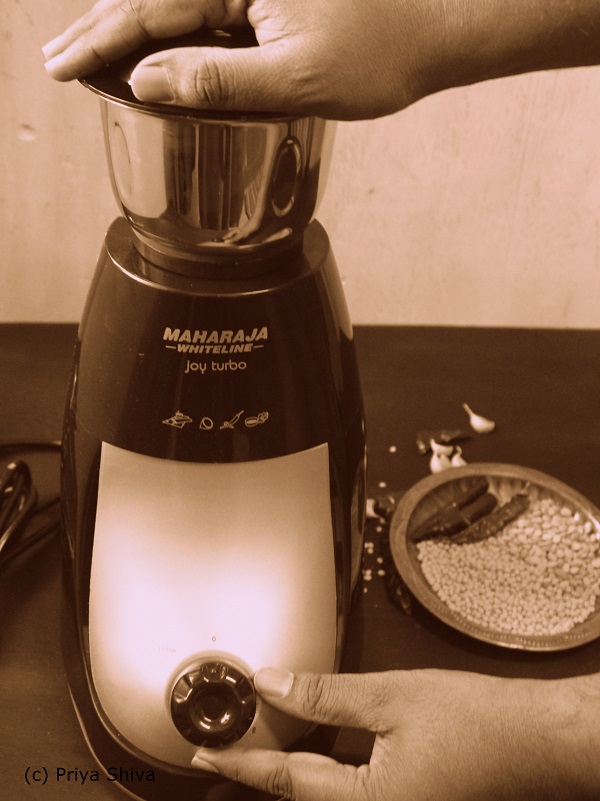 Maharaja Whiteline Joy Turbo Mixer Grinder comes with 3 stainless steel jars. The key features which I would like to highlight for the product are:-
Stainless Steel Jars with ergonomic handles – 1.5 liter Liquidizer Jar, 1 liter Grinding Jar, 0.4 liter Chutney Jar
Power – 750 Watt
Motor warranty – 5 years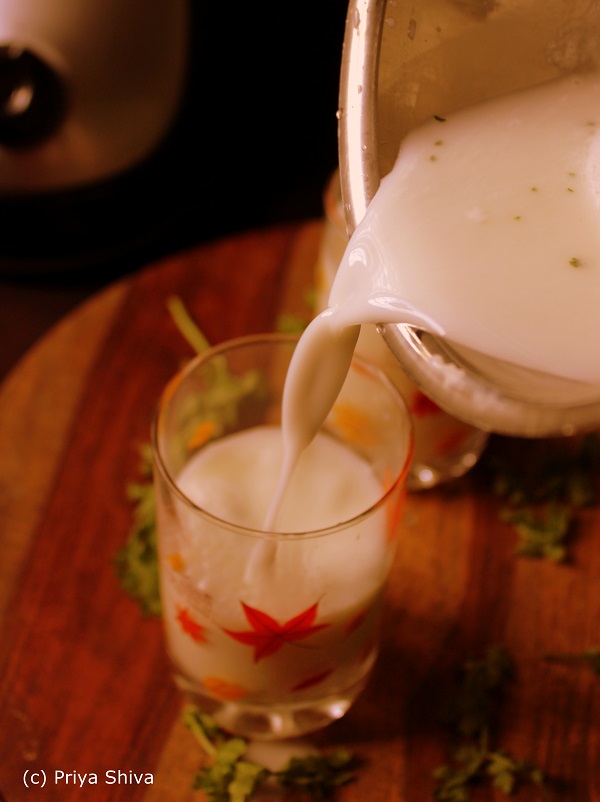 I love to make smoothies, milkshakes, lassi etc at home. Maharaja Whiteline Joy Turbo Liquidizer Jar is very useful to make lassi, buttermilk, smoothies, milkshakes and comes with a capacity of 1.5 liter. I used it to make some Masala Chaas for the first time and loved the way it works. I was able to make 6 glasses of chaas in  minutes.
Idli, dosa is the most favorite breakfast in my house. I end up grinding batter to make idli-dosa at least twice a week. I'm not a fan of those heavy grinders. So, Maharaja Whiteline Joy Turbo Grinding Jar is very handy and useful. It has 1 liter capacity, easy to use and clean. The blades are sharp enough to make a smooth batter in minutes. It is a multipurpose jar and it can be used for dry grinding or wet grinding.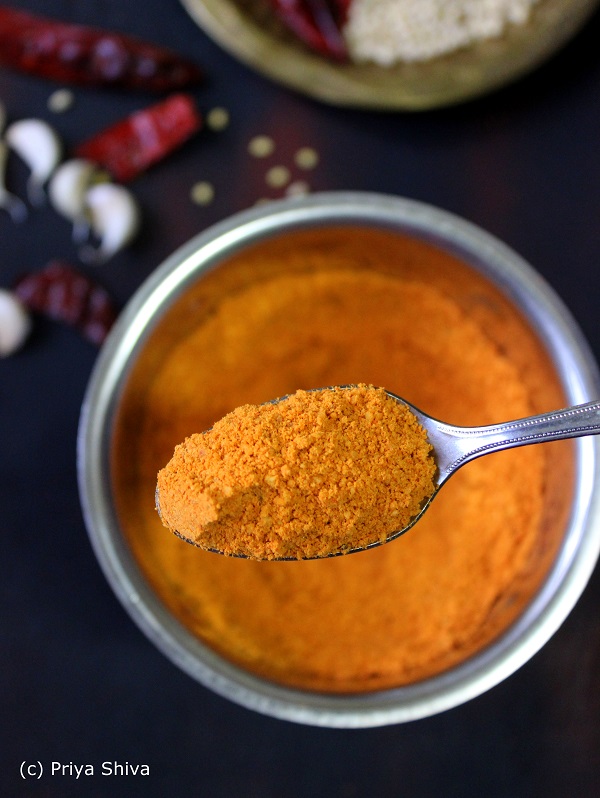 The mini jar is most handy one for me as I use it every day either to grind some chutney, gravy, spices etc. Maharaja Whiteline Joy Turbo Chutney Jar has a capacity of  0.4 liter. You can use it for dry grinding or wet grinding. I'm also sharing a quick recipe to make a Poondu Milagai Podi which is a dry chutney made with garlic, lentil and spices. You can serve this chutney with idli, dosa, uttapam for breakfast.
I totally loved Maharaja Whiteline Joy turbo Mixer Grinder. It is a product which will make things easier for you in kitchen and help you in making tasty dishes. Click Here to check out more details of the product.
Poondu Milagai Podi
Author:
Prep time:
Cook time:
Total time:
Ingredients
Urad Dal/White Lentil – 1/4 cup
Bengal Gram/chana dal – 1/4 cup
Garlic – 6 cloves
Red chilies – 10
Curry Leaves – 1 sprig
Asafoetida/ hing – ¼ tsp
White Sesame seeds – 1 tbsp
Salt to taste
Sesame Oil/cooking oil – 1 tsp
Instructions
Clean curry leaves with water and spread it on a towel to dry.
Heat 1 tsp of oil and roast white lentil, asafoetida and bengal gram together until they turn golden brown. Transfer it in a plate and let it cool down.
Roast red chilies in the same pan. Remove the roasted red chilies from the pan.
Now peel and roast garlic on low flame for few minutes. Remove from pan.
Roast curry leaves for few minutes on low flame and remove from pan.
Roast sesame seeds in the end and let all the roasted ingredients cool down completely.
Add all these roasted ingredients with salt in Maharaja whiteline chutney grinder Jar and grind it to make a coarse powder.
Spread the powder in a dry plate and leave it for 15 minutes. Transfer in an airtight container and store it in a cool place.
Mix this powder with little sesame oil and serve with idli, dosa, uttapam etc
***I received a free product but the opinion shared are completely mine****
Yum