If you love garlic, then you got to try this Tomato Garlic Chutney. This chutney has a strong garlic flavor and goes very well with idli, dosa etc. I served it today with some Khara paniyaram for evening snack and my family loved it. I'm a chutney fan and idli, dosa are staple food for us. Looking for more chutney recipes? Check out other Chutney recipes on my blog:
Spicy Idli Chutney Powder
Carrot chutney
Curry leaves Chutney
Coriander Chutney
Garlic not only adds great flavor to the dish but it has many health benefits too. They are easily available and you can store garlic for a long time. So, sharing an easy recipe for Tomato Garlic Chutney and hope you all try it out and share the feedback with me.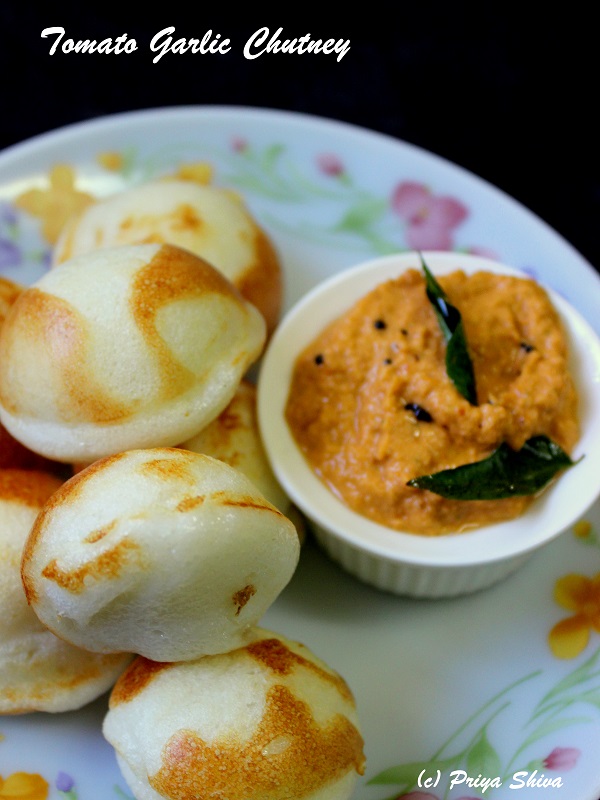 Tomato Garlic Chutney Recipe
Author:
Prep time:
Cook time:
Total time:
make a quick chutney with strong garlic flavor and enjoy!
Ingredients
Tomatoes – 2 (chopped)
Onion – 1 (chopped)
Garlic cloves – 5 (peeled and chopped)
Curry leaves – 1 sprig
Grated coconut – 1/2 cup
Red chilies – 3
Roasted gram – 2 tbsp
Salt to taste
Asafoetida / hing – ⅛ tsp
Mustard seeds – 1 tsp
Sesame Oil – 2 tsp
Instructions
Add 1 tsp oil in a frying pan and fry onions and garlic. Add asafoetida while frying.
When onions turn translucent, add tomatoes, curry leaves and saute for few minutes. Transfer the content in a bowl and let it cool down.
Add grated coconut, onion-tomato, roasted gram, chilies in your blender and blitz it.
Transfer it into a bowl and add salt to taste.
Add 1 tsp oil in a small frying pan and add mustard seeds. When mustard seeds crackle add it into the chutney.
You can serve this chutney with dosas, idlis etc.
Yum