I think of Moongphali ki chikki is a perfect any time snack. These Peanut brittle are addictive snack made with roasted peanuts, sugar and a hint of cardamom.
Winters are the best time for any foodie as you can enjoy everything warm and something in the air always makes you hungry. Its good to keep some snacks handy and these peanut chikkis are one of them. They are easy to make and you can store them for a long time. Chikkis are not only a great snack but they are also made to celebrate Lohri festival. You can also make these cashew brittle.
You start by roasting some peanuts..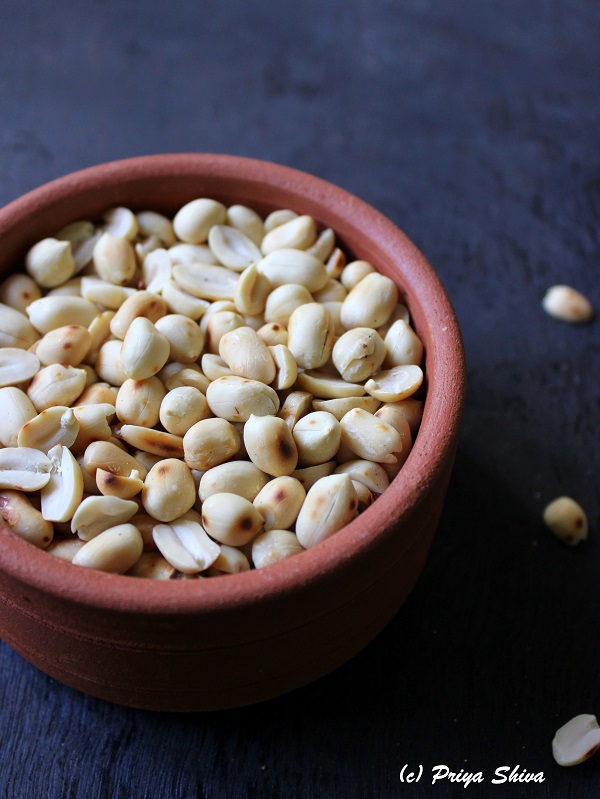 Combine sugar and roasted peanuts..Make sure you cut them while they are still warm..
Even your kids will enjoy it as candies. Yes, that's my son picking up a piece of chikki and caught in action 🙂 🙂 .. So, sharing the recipe and hope you all make these delicious peanut brittle for winter and enjoy.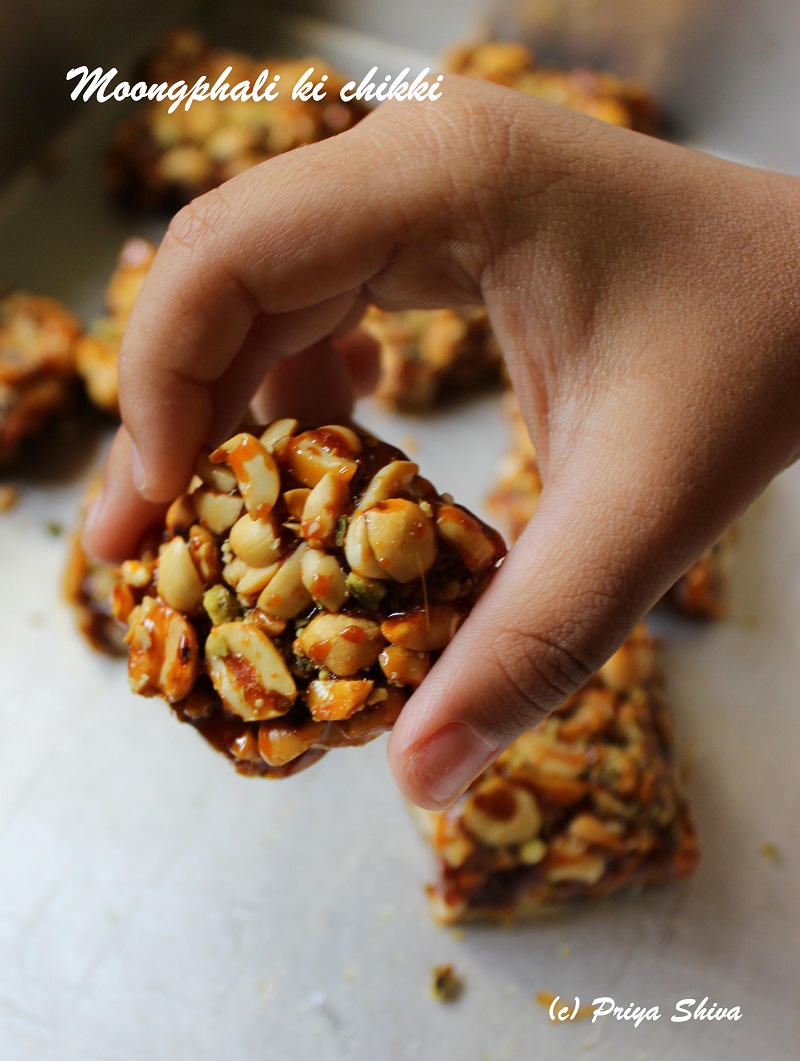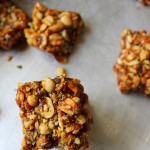 Peanut Brittle / Moongphali ki chikki
Make a quick snack with peanuts, sugar and hint of cardamom!
Ingredients
Raw peanuts - 1 cup

Powdered sugar - 1 cup

Cardamom - 2

powdered

Crushed pistachios - 2 tsp

salt - a pinch

Ghee - 2 tsp
Instructions
Grease a plate with oil or ghee and keep it ready.

Heat a frying pan and roast peanuts on low flame for few minutes. Transfer the content on a plate.

Once peanuts cool down, rub them between your fingers to remove the skin. Lightly crush them.

Heat the same pan, add 2 tsp ghee, sugar, 2 tbsp water, salt and mix well. Bring it to boil. Once it starts boiling, lower the flame and keep stirring till sugar starts changing color and turns brown.

Add few drops of syrup in the bowl filled with water to check consistency. It should not get dissolved in water immediately and you should be able to form a ball with it.

Once you've reached that consistency, remove from flame and add roasted peanuts and cardamom. Gently mix to combine peanuts.

Transfer the content onto the greased plate and spread evenly. Sprinkle some crushed pistachios over it.

Cut it into equal pieces using a greased knife when it is still warm. When it completely cools down, break into pieces and store in air-tight container.
Recipe Notes
Cook on low flame as sugar burns easily.
You can even add cinnamon powder or dry ginger for flavoring.
I have used regular granulated sugar and powdered it.
Yum