Its season for Pumpkins and its festive season. So, why not make a delicious Pumpkin burfi with it. Burfi is an Indian fudge made with milk combined with besan or mawa. Besan is better known as gram flour or chickpeas flour. Mawa is just dried milk. I have used besan today to make these soft, fudgy burfis.
Lets's start by cutting pumpkins and grating them.
The fun part of making this burfi is that you can add all ingredients together in a pan, mix it and then keep it on stove for cooking. Check out a quick video to make this fudgy sweet..
Enjoy this Pumpkin Burfi this festive season with your family and friends. Do read the complete direction before you start to make these burfis..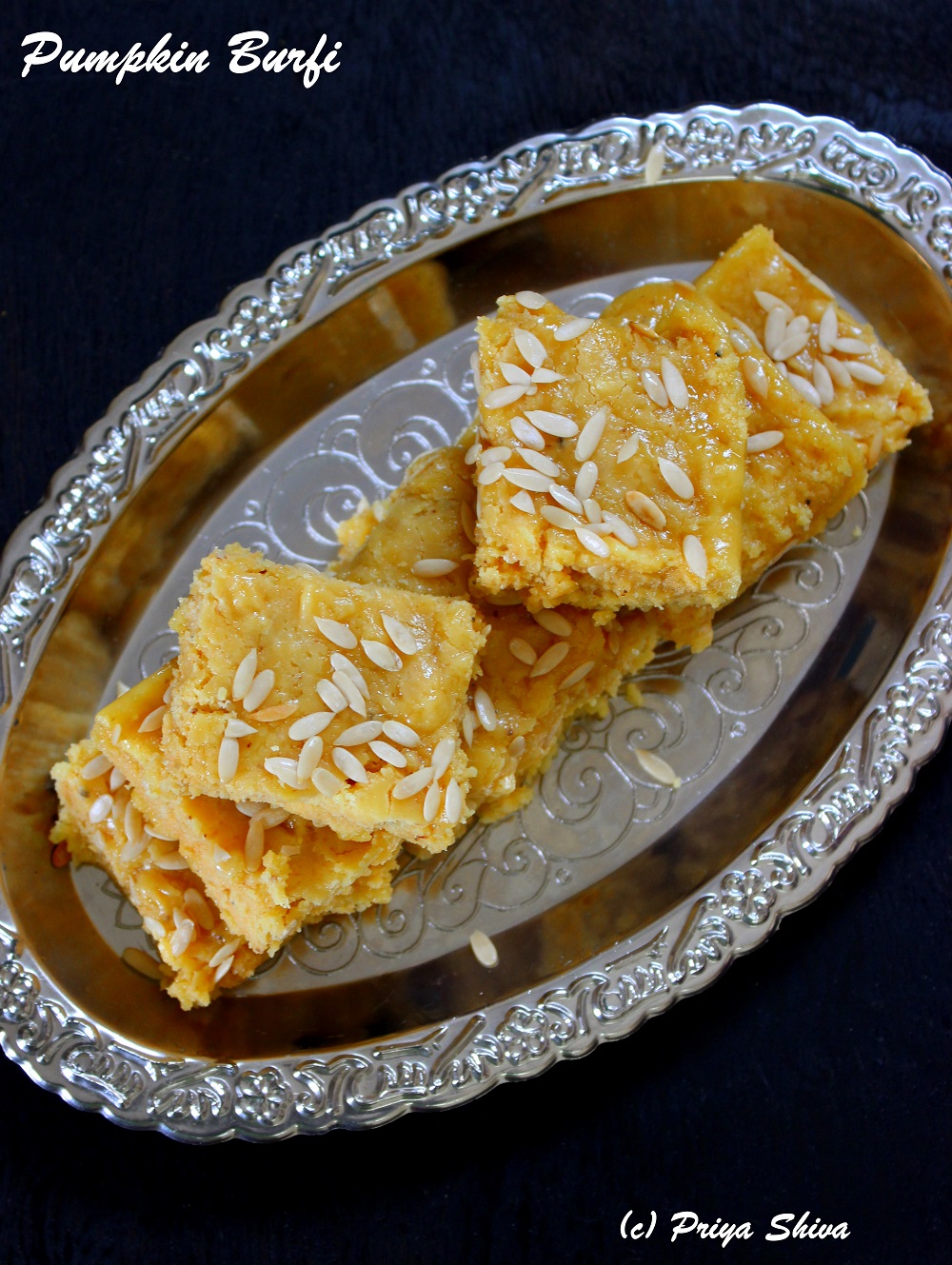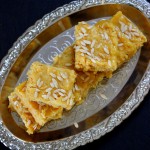 Pumpkin Burfi / Kaddu Besan Burfi
Ingredients
Besan/Chickpeas flour – 1 cup

Grated pumpkin – 1/2 cup

Shredded Coconut – 1/2 cup

Melted Ghee/Clarified Butter – 1 + 1/2 cup

Sugar – 2 + 1/2 cups

Milk – 1 cup

Green Cardamom Powder – 1 tsp

Musk melon seeds - 2 tbsp
Instructions
Grease a square plate with ghee and keep it aside.

Sift besan flour. Add the flour in a pan on low flame for 2 minute and lightly roast it. Keep stirring.

Saute grated pumpkin and coconut for few minutes in a pan so that the raw smell leaves from it.

Now combine besan flour, sauted pumpkin-coconut, milk, melted ghee, sugar in a heavy bottom pan and mix it well to ensure there are no lumps.

Place the pan on the gas stove on low flame and stir continuously for few minutes.

Now you'll start seeing it bubbling and ghee leaving on sides. Add cardamom powder and when it gets thicker transfer the content into the ghee greased plate and leave it for few minutes.

When it is still warm, sprinkle musk melon seeds on top and cut it into square pieces.

When it cools down, keep it in an air tight container.
Yum