Pachadi is a popular side dish from South India and usually served with rice. It is also made with curd which is just like raita and can be prepared in 10 minutes. I love pomegranates and add them even in curd rice. They add such colour and sweetness even to a pale looking dish. So, Pomegranate Coconut Thayir Pachadi turned out to be really good.
I had made some sambar, okra fry with steam rice for lunch today and thought of making some pachadi. I usually peel the pomegranate and store the seeds to eat almost everyday which always come handy. Pomegranates are rich in fiber and minerals and I'm basically a fruit lover.  So, sharing a quick recipe today for Pomegranate Coconut Thayir Pachadi and hope you all try it out and share your feedback with me..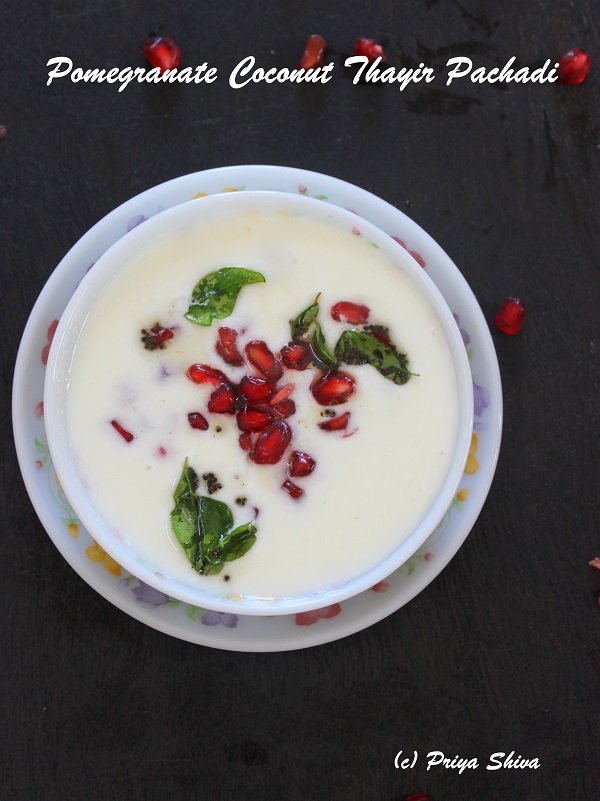 Pomegranate Coconut Thayir Pachadi
Author:
Prep time:
Cook time:
Total time:
A delicious yogurt based side dish which you can serve with flat bread or rice.
Ingredients
Pomegranate seeds – 1/4 cup
Grated Coconut – 1/4 cup
Curd – 1 cup
Green chillies – 2
Salt as per taste
Mustard seeds – 1/2 tsp
Urad dal/white lentil – 1/2 tsp
Vegetable oil – 1 tsp
Curry leaves – 1 sprig
Instructions
Grind grated coconut with green chillies with some water to make a smooth paste.
Add this coconut paste, curd, salt in a bowl and mix it well.
Temper mustard seeds, white lentil in oil. When mustard seeds crackle, add curry leaves and saute for few seconds.
Add pomegranate seeds in the end and serve.
Yum