I always tend to make quick curries or one pot dishes during working days and go for elaborate meals over the weekend. I have a small kid who needs to be sent to school by seven in the morning and my husband prefers taking lunch to office. So, I need to finish cooking breakfast and lunch in the morning itself. It is easier to prepare a dish which will be eaten by the whole family. Eggplant and potatoes are loved by my family. So, I decided to make this easy eggplant potato curry for lunch today and packed it for hubby's office with some phulkas and raita. I have already shared few dishes on my blog using eggplant. If you love eggplants like me, just click on names for the recipes:
So, sharing a quick curry and hope you all try it out and enjoy!!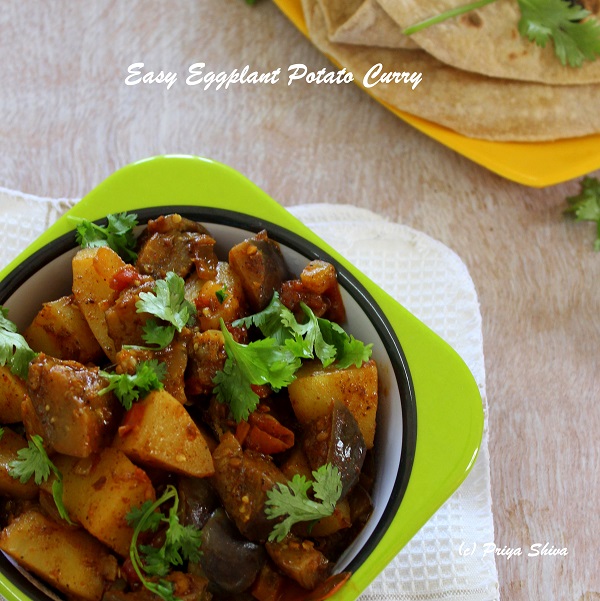 Quick Eggplant Potato Curry
Author:
Prep time:
Cook time:
Total time:
A quick and easy curry made with potatoes and eggplant cooked with blend of spices!
Ingredients
Eggplant- 3 (chopped)
Potatoes – 2 (peeled and chopped)
Onion – 1 (finely chopped)
Tomato – 2 (finely chopped)
Ginger – 1 tsp (grated)
Cumin seeds – 1 tsp
Garam Masala – 1/2 tsp
Turmeric powder – 1/2 tsp
Red chilli powder – 1/2 tsp
Black pepper – 1 tsp
Amchur Powder – 1/2 tsp
Salt to taste
Vegetable oil – 2 tbsp
Few Coriander leaves/cilantro for garnishing
Instructions
Heat a frying pan and add oil. Add cumin seeds and saute. When the seeds crackle, add onions and ginger.
When onion turn translucent, add chopped tomatoes and saute till they get mushy.
Add turmeric powder, red chilli powder, black pepper powder, garam masala and mix it well.
Now add chopped potatoes, eggplants and mix it well. Saute for few minutes.
Add salt and 1/2 cup of water, lower the flame and let it simmer for few minutes.
Cook till the vegetables are totally cooked and tender. Serve it hot with some phulkas and raita.
Yum