Tomato masala pooris for weekend brunch served with potato masala and Aamras sounds delicious, isn't it? 🙂 I always love to enjoy some poori with potato masala or chole masala on a holiday. It is just fun to make fluffy pooris and see your family enjoy it.  It has become a ritual in our house and as my hubby says that a Sunday brunch is incomplete without pooris. I had some really ripe tomatoes  and knew that if I don't use them today, they will get spoilt. So, I finally decided to make some tomato masala pooris. They are so easy to make by just adding some tomato puree along with some spices in wheat flour. I'm sharing a step-wise recipe and hope you all try it out and enjoy it too.
Lets first prepare the dough..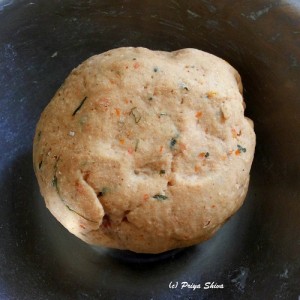 Then pinch a small portion from the dough and make small lemon size balls..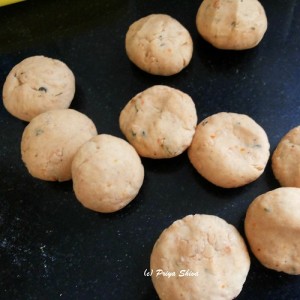 Flatten it with a rolling pin in a round shape.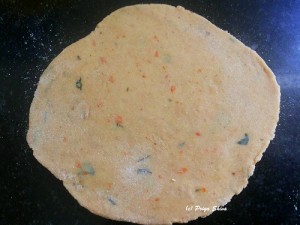 Deep fry in oil..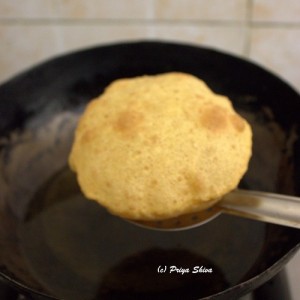 Enjoy these fluffy tomato poori with Potato Masala and aamras..
You can watch this video to make fluffy poori: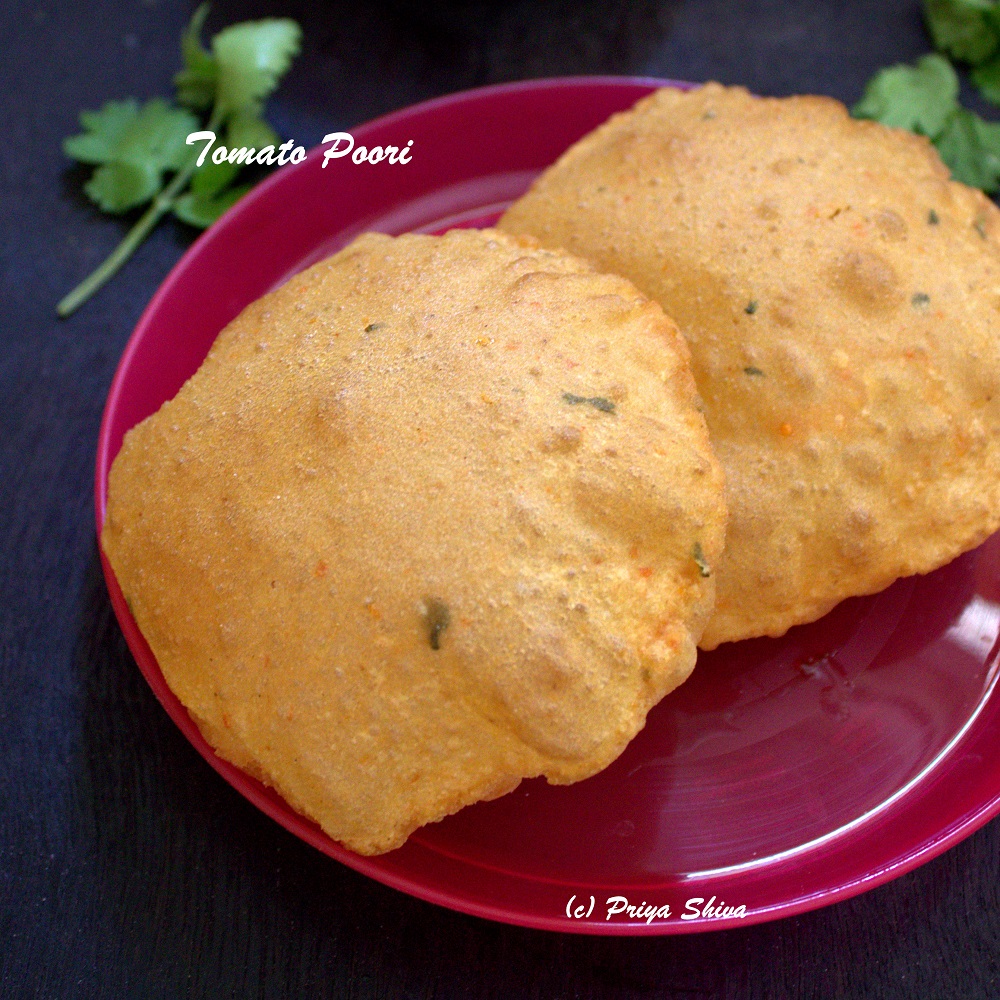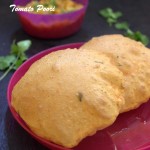 Tomato Poori Recipe
Ingredients
Wheat flour – 2 cups

Tomatoes - 3

Turmeric powder – 1/4 tsp

Kasur methi/Dried fenugreek leaves – 2 tbsp

Red Chilli powder - 1 tsp

Salt to taste

Vegetable Oil for deep frying ( I used Sunflower oil)
Instructions
Chop tomatoes and blend it to make a tomato puree.

Add wheat flour, tomato puree, turmeric powder, salt, kasuri methi, chilli powder in a mixing bowl and knead it nicely by adding little by little water to make smooth dough.

Add 1 tbsp oil and knead again. Keep it aside for 15 minutes.

Knead the dough once and make small balls of it and flatten it with a rolling pin in a round shape.

You can use dry flour to roll the dough smoothly. Try to use minimum dry flour while rolling the dough.

Heat oil in a frying pan. To check if the oil is warm, drop a small piece of dough into the oil. If it comes on top immediately, the oil is ready for frying poori.

Keep the flame on highlevel and slide the raw poori into the oil carefully.

You have to keep regulating the flame to make sure oil doesn't get too hot. Press down lightly on the pooris as it fries to help it puff up. Once pooris turn golden brown, put them on a strainer or a paper tissue to drain excess oil. 
Yum