Preparing a balanced and healthy lunch menu for your family is a challenging job especially when you have kids at home. You are on a mission to be the best mother and cook the most nutritious and healthy menu for your child. You want to make sure that your family is having a healthy meal but at the same time enjoy it with pleasure.
I prepared an absolute gluten-free meal for lunch today and decided to share it with you all. The menu is balanced with a quick Seppankizhangu Roast which is simple stir fry veggie made with roasted taro root, rasam (clear soup), Paruppu keerai masiyal which is a combination of lentil and spinach cooked in coconut gravy, a bowl of curd, and I have served it with Steamed Rice.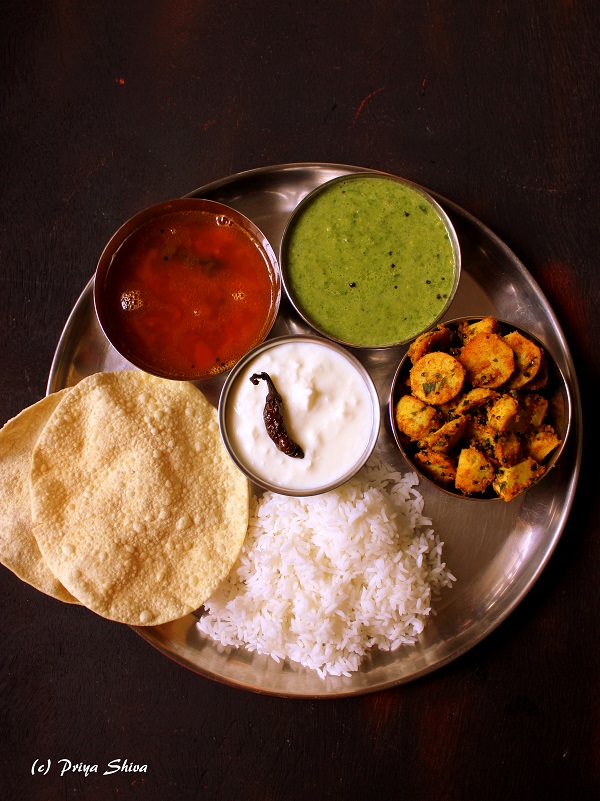 I will be sharing the method to steam rice quickly and how to set curd but for remaining items in the menu, just click on the names in list for their recipes.
Serves – 4
Lunch menu:
4) Curd and pickle
5) Steamed Rice
Method:
1) How to set dahi/curd at home – Boil 1 liter milk in a pan. Let it cool down till it is warm.  Add 1-2 tsp of curd and mix well. Keep it covered for 5-6 hours or till the curd has set. I usually set the curd overnight.
2) How to steam rice –  Soak 2 cups of rice in some water for 30 minutes. Drain the water and pressure cook with 5 cups of water. I have used Sona Masoori raw rice.
3) Grate the fresh coconut and keep it ready. You can even chop and grate required vegetables and refrigerate to use it the next day.
4) I usually pressure cook lentils and rice and then move on to preparing curry, soup, salad etc.
If you are wondering what is floating over the curd, it is mor milagai which is a deep fried chilli. I have served the meal with some papad.  You can serve any pickle of your choice and papad or chips. Hope these tips help you in preparing this menu and enjoy with your family.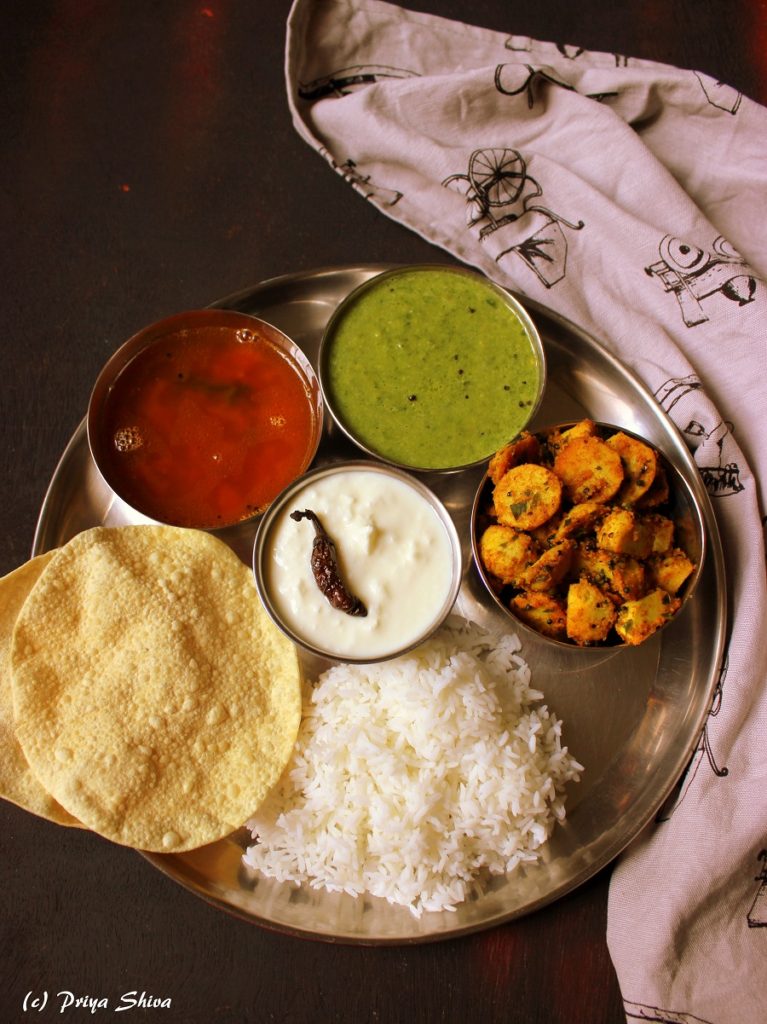 Yum