Mint lemonade is an ultimate summer drink. This lemonade is refreshing, thirst-quenching and one of the best drinks for this scorching summer. I added an extra flavour of black pepper but you can totally skip it and enjoy this refreshing drink with your family.
It was a hectic day with cleaning and buying grocery. I grabbed a quick afternoon nap and got up to finish the Nora Robert's book "The collector". I was thinking of the fresh bunch of mint which I bought from the market today. So, I ultimately settled down with a refreshing Mint lemonade and my book. So, sharing a cool and refreshing summer drink and hope you all have a great week ahead.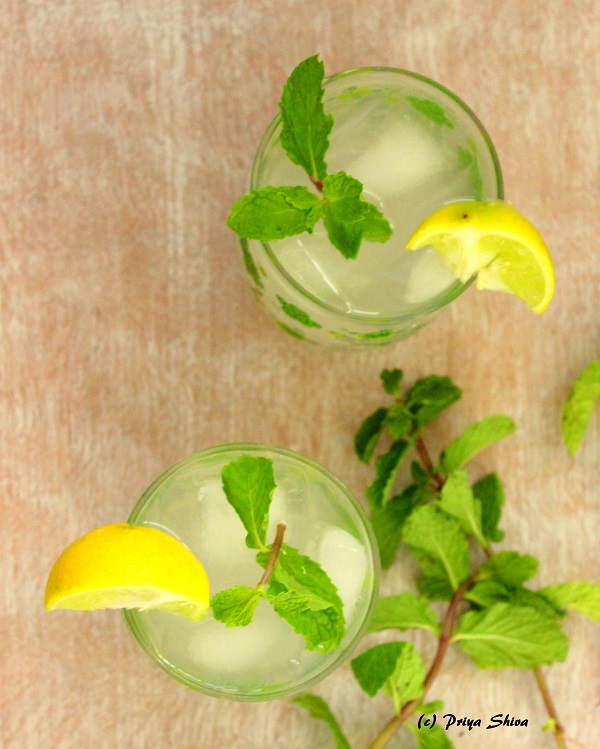 Mint Lemonade
Author:
Prep time:
Cook time:
Total time:
Enjoy a refreshing summer lemonade with mint in it!
Ingredients
Freshly squeezed lemon juice – 3 tbsp
Sugar – 4 tsp
Fresh mint leaves – 4-5
Salt – 1/4 tsp
Black pepper – 1/2 tsp (optional)
Water – 2 glasses
Mint leaves and Lemon Slices to garnish
Ice cubes – 6-8
Instructions
Blend the mint leaves, few spoons of water and lemon juice to make a paste.Now add sugar, salt and pepper and blend again.
Add this mint paste along with water a jar and mix it well.
Pour it in a serving glass with ice-cubes and garnish lemon slices and mint leaves.
Yum