Today is Ugadi which is a New year's day for people of Andhra Pradesh, Telangana and Karnataka. The most popular dish which is prepared for this auspicious day is  
Holige Obbattu
. I have already shared the recipe for the same on my blog and decided to explore something new for this occasion. I was talking to my mom about it when she gave me an idea to prepare Boorelu. My aunt lives in Hyderabad and remembered how she used to make these sweet dumplings and send on special occasions. So, I called her to take the recipe and tried these delicious dumplings. The stuffing is made out of Chana dal (split chickpeas) which is cooked with jaggery and coconut. The coating is made with white lentil and rice. So, lets see how it is prepared and I wish all my readers Happy Ugadi.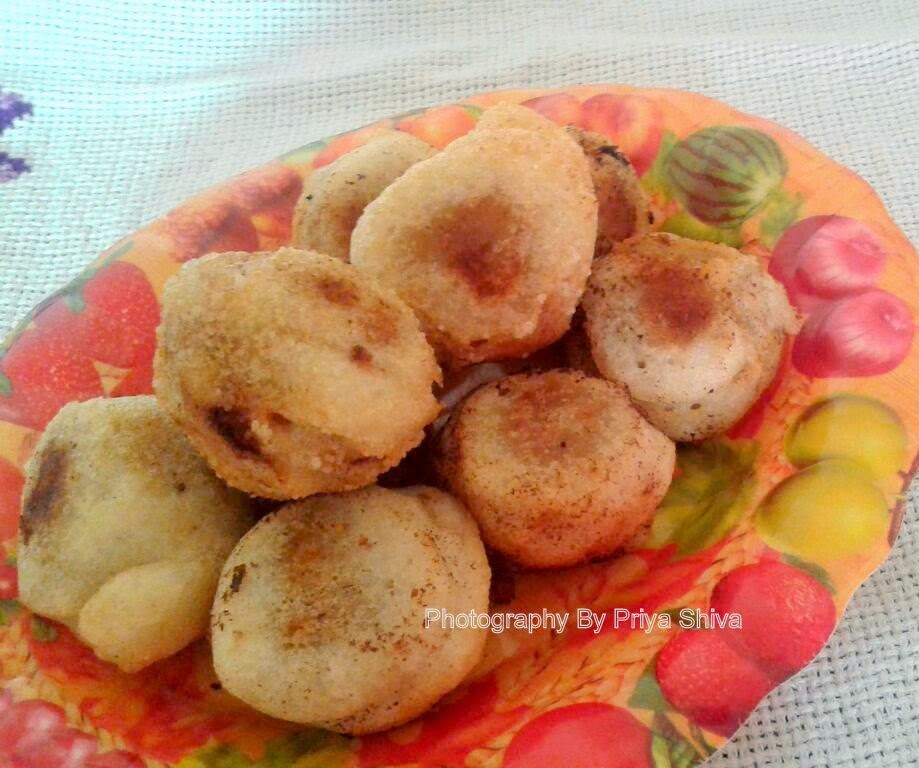 Ingredients For the outer layer:
Urad dal/White lentil – 1/2 cup
Raw Rice – 2 tbsp
Salt – 1/4 tsp
Ingredients For the Filling:
Chana dal/split chickpeas – 1 cup
Grated Jaggery – 1+1/4 cup
Fresh Coconut – 1/2 cup (grated)
Green cardamom – 2
Vegetable Oil for deep frying (I used Sunflower Oil)
Method:
1) Wash Chana dal and soak for an hour. Pressure cook dal with enough water till its soft and cooked.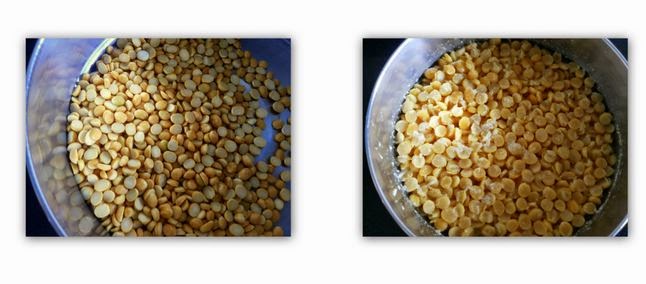 2) Add cooked dal, jaggery and coconut in a pan and let it simmer for few minutes. Simmer on low flame till water i completely soaked and thickens. Keep stirring. Remove seeds from cardamom pods and crush it lightly. Add cardamom powder and mix well.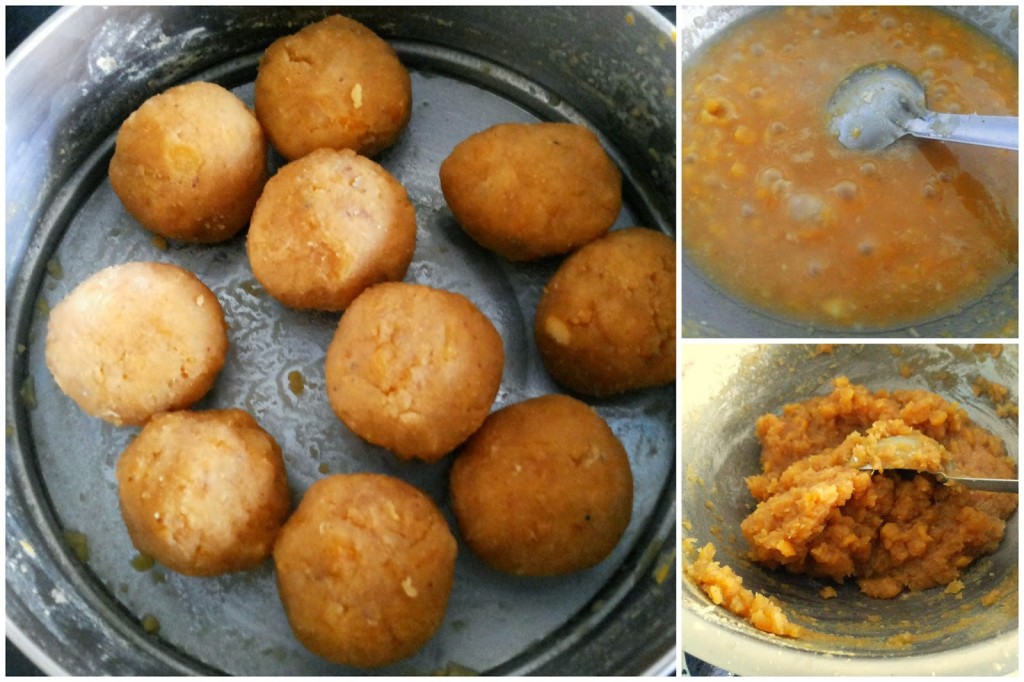 3) Remove from the flame and let it cool down completely.
4) Once it cools down completely, take a portion of the stuffing and make a lemon size ball. Make equal size balls and keep it ready.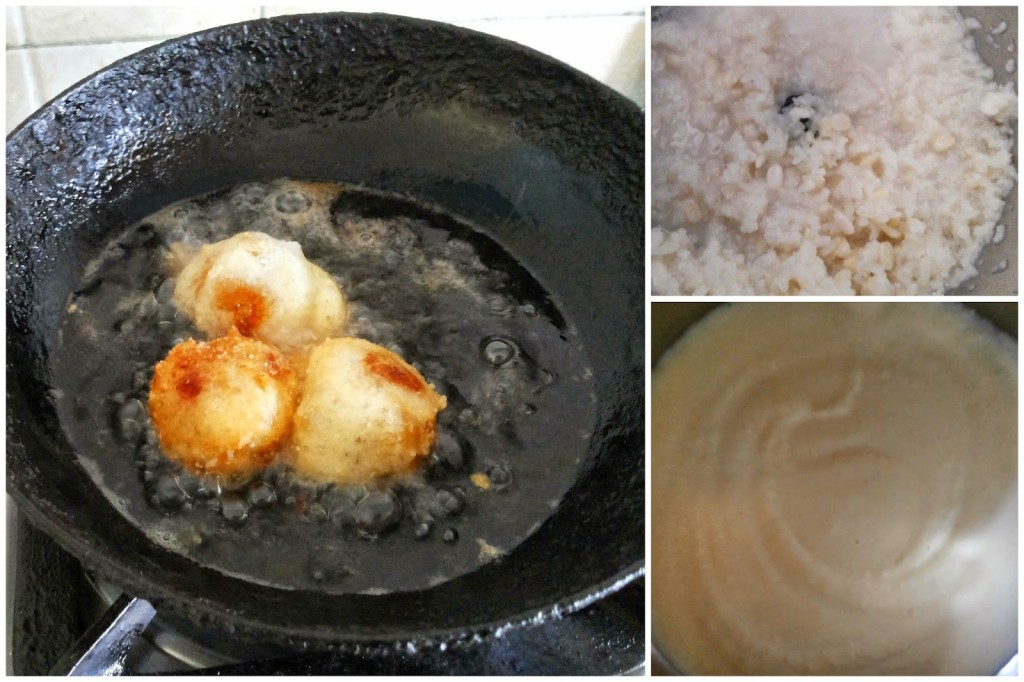 5) Wash and soak Urad dal and rice for 3 hours. Add to your grind and grind to fine paste along with salt. Add very little water as the batter should be thick.
6) Heat oil in frying pan. Once the oil is hot, lower the flame. Then dip each ball in the Urad dal batter.
7) Drop them into the hot oil. Turn and cook on all sides till they start turning light brown.
Drain excess oil on to a tissue and serve.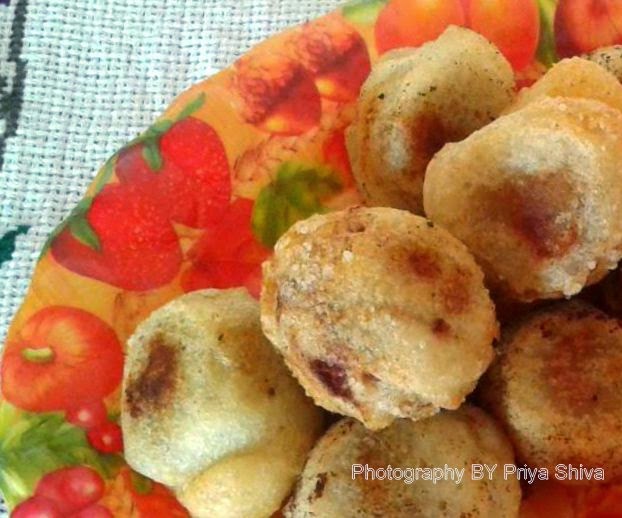 Yum