I recently got a gift of "eggless bakes and cakes" books from my a friend and wanted to try out the recipes from it. I had bookmarked these cookies and finally got some time to try them out. Baking is like a stress buster for me. Whenever I'm over-worked or stressed, I just get into the kitchen to bake and it cheers me up. These cookies are chocolaty, crispy from outside and soft inside.While going through these books, I realized how long its been that I read some books. There was a time I always used to have some book in hand. If you are thinking that I was some studious girl engrossed in my school or college books, you are absolutely wrong. I was far far away from being a studious girl and God only knows how I got my college degree 🙂 🙂 … The books I'm talking about are Sidney Sheldon, Nora Roberts, Jeffrey Archer, Danielle Steel..They are few of my favorite authors. So, I finally did something I love yesterday, baked some cookies, got hold of a Jeffrey Archer and enjoyed some "Me time". So, sharing the recipe with you all and hope you all a great day.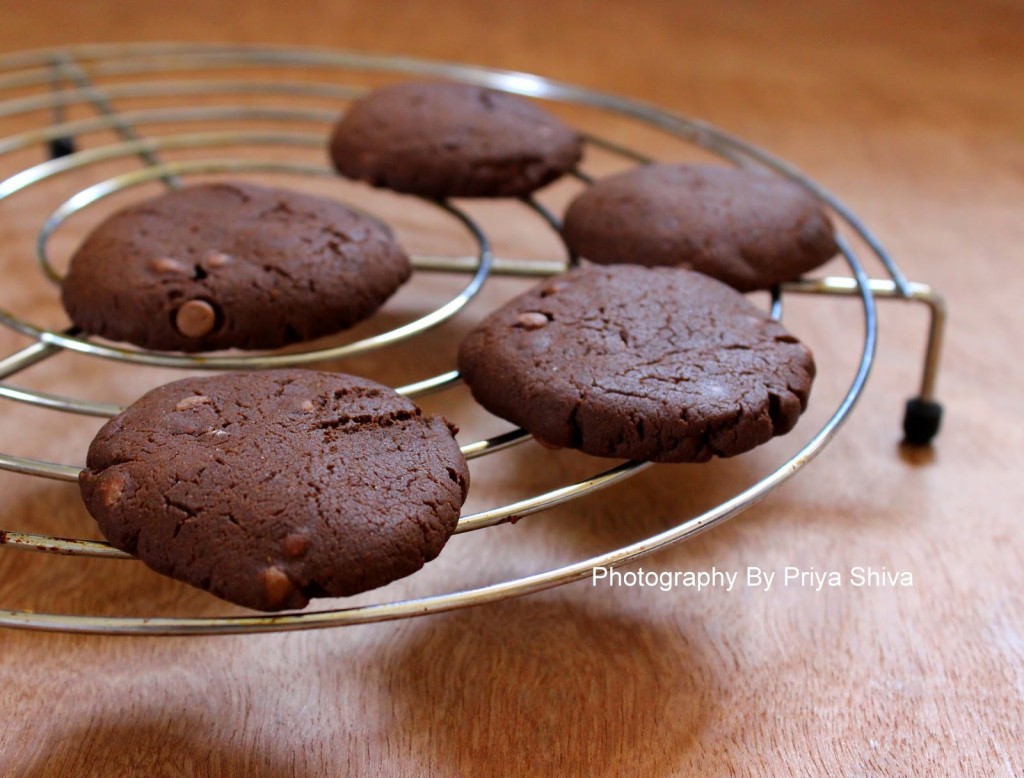 Eggless Double Chocolate Chip Cookies
Recipe Type
:
Cookies, Snack
Author:
Prep time:
Cook time:
Total time:
Makes – 12-15 medium sized cookies
Ingredients
All Purpose Flour/ Maida – 1 cup
Icing Sugar – 1/3 cup
Unsalted Butter – 1/3 cup
Unsweetened Cocoa Powder – 2 tbsp
Chocolate Chips – 1/3 cup
Baking Soda – 1/4 tsp
Baking powder – 1/4 tsp
Vanilla Essence – 1 tsp
Milk – 2-3 tbsp
Instructions
Sift all purpose flour twice with baking powder and baking soda.
Preheat oven at 180 °C.
Add butter at room temperature and sugar in a bowl and cream it well.
Now add all purpose flour, vanilla essence and mix it .Add milk little by little to make a soft dough. In the end add choco-chip and mix it.
Line the cookie tray with parchment paper. Take a small portion of dough and flatten it gently with your hands and place it on cookie tray.
Keep at least 1 inch distance between each cookie.
Set the timer for 12-15 minutes and place the cookie tray for baking at the same temperature.
Remove from the oven and place them on wire rack for cooling.
When they have completely cooled down store them in an air-tight container.
You can enjoy them with a cool glass of milk.
Yum