A bowl of sweet potato chaat, sounds delicious isn't it? I love to have my tea in a relaxed mood watching some television or reading a book or just standing in the balcony and enjoying the evening breeze. I like some snacks with my evening tea and usually prefer some cookies or quick snacks. This is a quick snack which you can put together in no time and enjoy with your family. I love the combination of sweetness of sweet potatoes with lemons and pepper.
This also very famous in North India as shakarkandi chaat. Shakarkandi means sweet potato. I have used plain sev to make this dish but you can totally avoid it too :)..So, sharing the recipe for Sweet potato chaat today and hope you all have a great week ahead.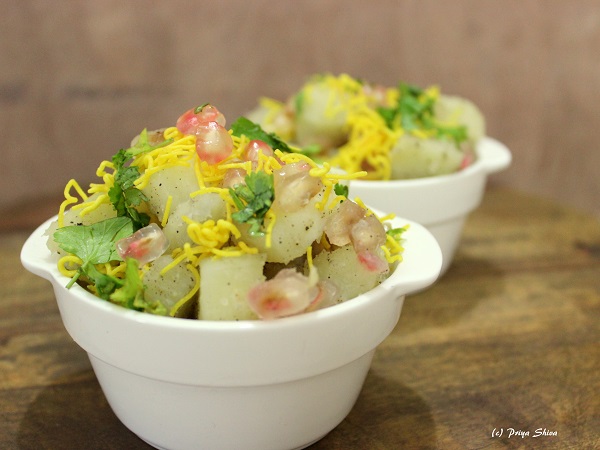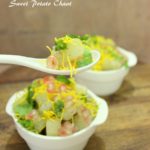 Sweet Potato Chaat
Ingredients
Sweet potato - 2

Pomegranate - 1/2 cup

Plain Sev - 1/2 cup

Salt as per taste

Lemon - 1

Back pepper powder - 1 tsp

Chopped coriander leaves - 2 tbsp

for garnishing
Instructions
Clean and boil sweet potatoes till they are nicely cooked and soft. Peel the skin and chop them into equal medium size pieces.

Roll the lemon on kitchen platform few times and then juice it.

Add chopped sweet potatoes, pomegranate, salt, lemon juice, black pepper in a mixing bowl and mix it well.

.Add this in serving bowl, garnish with sev and coriander leaves and enjoy.
Yum