Akkara Adisil is a famous sweet dish from South India. Its is specially made in Vaishnavite temples as an offering to God. It is also made in Iyengar households during Margazhi month. The rice and lentil is cooked in milk and jaggery is added for the sweetness. Traditionally, this dish is cooked in large bronze vessel known as Vengala Panai on a low flame.
Akkaravadisal is also made during Krishna Jyanthi in Iyengar houses in South India. I'm sharing an easy method to cook this dish in a pressure cooker today.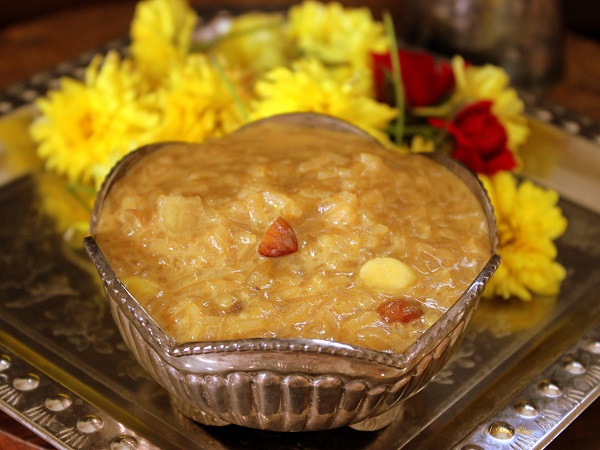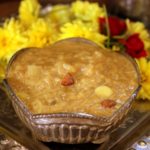 Akkaravadisal Recipe
Ingredients
Raw Rice  - 1/2 cup

Moong Dal/ yellow lentil - 2 tbsp

Milk  - 2 cups

Jaggery - 3/4 cup

powdered

Broken Cashews, almonds and Raisins - 3 tbsp

Green cardamom powder - 1 tsp

Ghee/clarified butter - 1 tbsp
Instructions
Add rice and moong dal in a pan. Rinse gently in water. Drain the water and spread it on a towel. Transfer in a plate once dry.

Roast rice and lentil in a frying pan on low flame for few minutes.

Add roasted rice lentil mix and 2 cups of milk in a vessel and cover the the vessel with a lid. You can drop a small steel plate or spoon in the vessel so that milk doesn't spill inside the pressure cooker. Place the vessel inside pressure cooker and give at least 4-5 whistles so that rice is soft and cooked nicely.

Add the powdered jaggery along with 1/4 cup of water in a heavy bottom pan and boil it. Once the jaggery is melted, strain this water.

Now add this jaggery water to the cooked rice and mix it well.

Add this rice in a sauce pan and cook on low flame for 2 minutes or till it starts thickening. Add cardamom powder and remove from the flame.

Roast broken cashews, almonds and raisins in ghee and add this for garnishing. Serve it warm and enjoy with your family. 
Yum