Christmas is an exciting time for all. The streets and shops look pretty with the decorations and kids are excited about the holidays. My kitchen also starts smelling with the bakes and cakes! I love baking and these Eggless Tutti Frutti cookies looks so colorful and festive to enjoy this holiday season.
You Can now watch this quick video to bake these cookies:-
Xmas is a time for baking cookies too! I saw this easy recipe for Eggless Tutti frutti cookies in blend with spices blog and could not believe how easy it could be! I tried out the cookies and simply loved them. My boy has already a list prepared for what he is going to ask Santa Claus this year. He keeps confirming if he has been a good boy and it really melts my heart. He's such a sweet and calm boy and of course a big blessing for me. So, to just come in the Xmas mood I decided to involve my little boy and bake some cookies. He was so excited just to see the candied fruits and started helping me in bringing out the mixing bowl, measurement cups etc. I enjoyed baking these eggless tutti-frutti cookies and hope you all enjoy baking it too..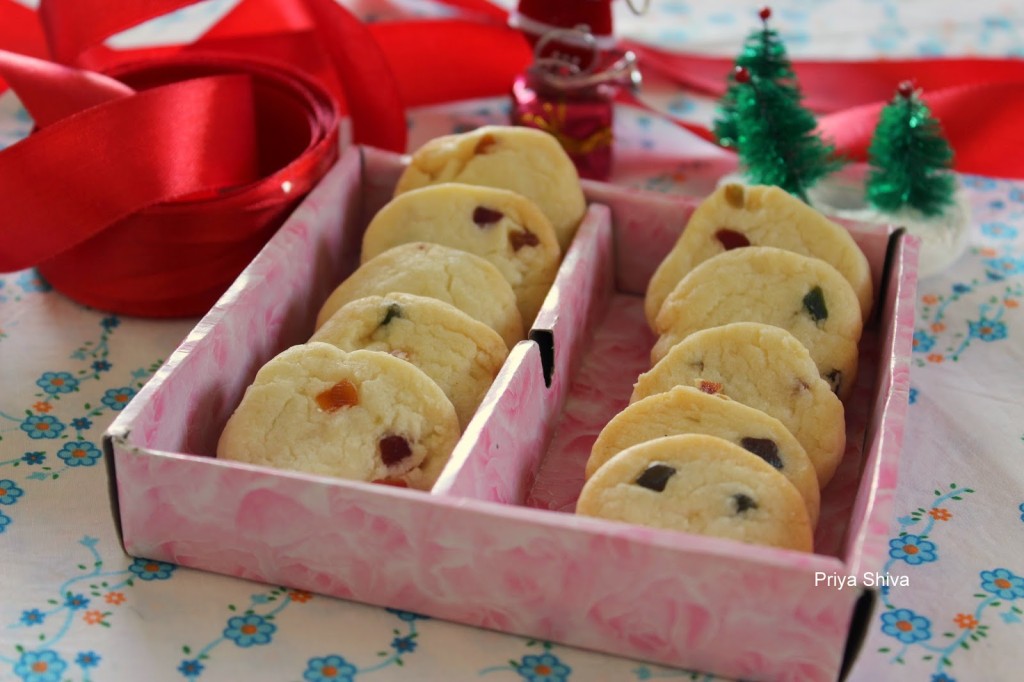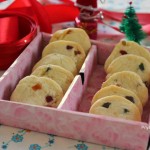 Eggless Tutti-Frutti Cookies
Delicious, egg-free and colourful cookies with tutti-frutti!
Ingredients
All Purpose flour/ Maida - 1 cup

Butter

at room temperature - 6 tbsp

Powdered Sugar - 1/2 cup

Tutti Frutti / Candied Fruit - 5 tbsp

Vanilla Extract - 1 tsp

Milk - 2 tbsp
Instructions
Add butter, Vanilla extract and powdered sugar in a mixing bowl and mix it until light and fluffy.

Now add the flour and tutti frutti and start mixing.

Now add milk to form a soft dough.

Roll the dough into a log and wrap it tightly in plastic sheet or butter paper.

Keep the log in the freezer for about 20-30 minutes.

Preheat oven at 160 degree Celsius.

Remove the dough from freezer and cut into 5 mm. thick slices.

Line cookie tray with parchment paper or use non-stick trays. Bake them in the preheated oven at 160 degree C for 15 minutes or till they are slightly golden brown. My cookies took 15 minutes.

Remove from the oven and let them cool down. Transfer them to a wire rack and let them cool down completely.

Store them in air-tight container and enjoy them making with your family this Xmas 🙂
Yum