Cooking and blogging has become an integral part of my life today. After blogging for 365 days continuously, I thought I will be taking a break but I'm simply hooked onto it. I will tell you the secret that I can't stay away from blogging as I love talking to you all through my blog sharing my daily joy and sorrows. I also received an email this morning from India books of Records that they have featured my record in their gallery. Click here to check my record. I have to thank God for showing me the way to share my love for food. I also thank each one of you for the continuous love and support.
I had been busy since morning with household activities and when my little boy asked for cake, I could not stop myself from again getting into the kitchen and churning something to treat him. He's a sweet boy who has filled my life with so much joy and happiness. I was not in a mood to bake a complete cake today and decided to make a mug cake for a quick treat. As always, he thanked me with his hugs and kisses and i could not have asked for more..
This quick treat is filled with goodness of fresh carrots and walnuts and you can always enjoy it over a cup of tea/coffee..
Serving – 1 mug
Ingredients:
Whole wheat Flour – 4 tbsp
Powdered Sugar – 3 tbsp
Finely shredded carrot – 2 tbsp
Milk – 2 tbsp
Baking powder – 1/4 tsp
Pinch of salt
Cooking oil – 1 tbsp
Vanilla essence – 1/4 tsp
Chopped walnuts – 2 tbsp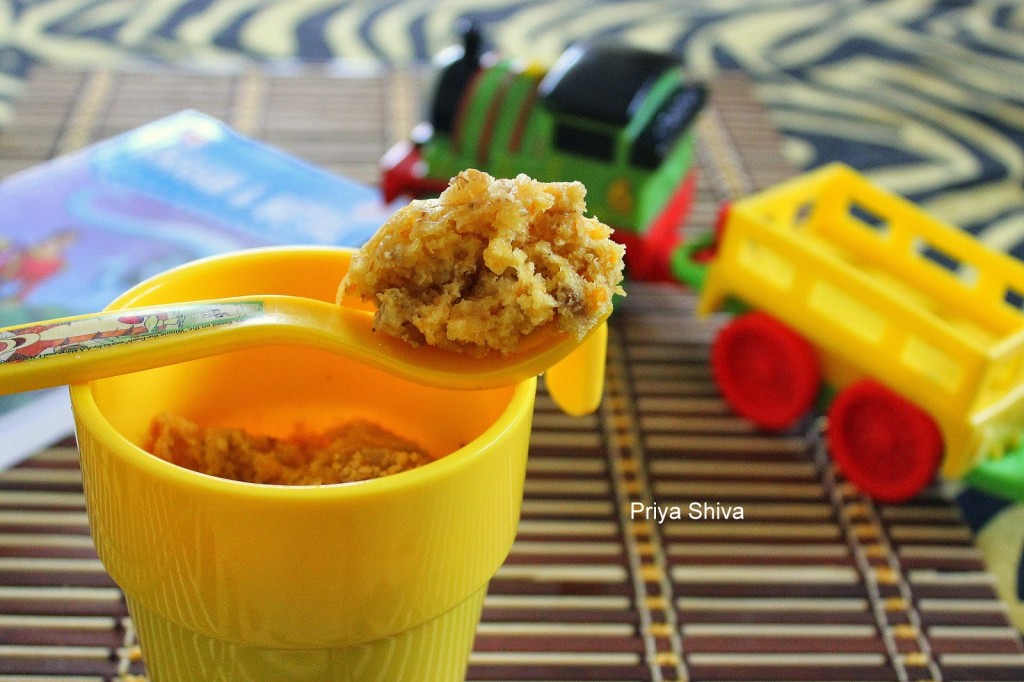 Method:
1) Add all dry ingredients – wheat flour, sugar, baking powder, salt  in a bowl and mix it well.
2) Add shredded carrot, milk, cooking oil, vanilla essence and mix it well. Add the nuts and give a quick stir
3) Grease a microwave safe mug with oil and pour the batter in the mug.  Microwave it for 1 minute at high (highest in my microwave is –  900).
4) Again microwave it for a 30 seconds at 600 D. Insert a toothpick to check if its done. If toothpick does not come out clean, microwave for 30 seconds more. 
5) Remove from the microwave and let it cool down completely.
Enjoy with your family and friends 🙂 <3
Tips:
1) You can add 1-2 tbsp of milk if you feel the batter is too dry.
2) You can replace walnuts with your choice of nuts like almonds, cashew or even raisins.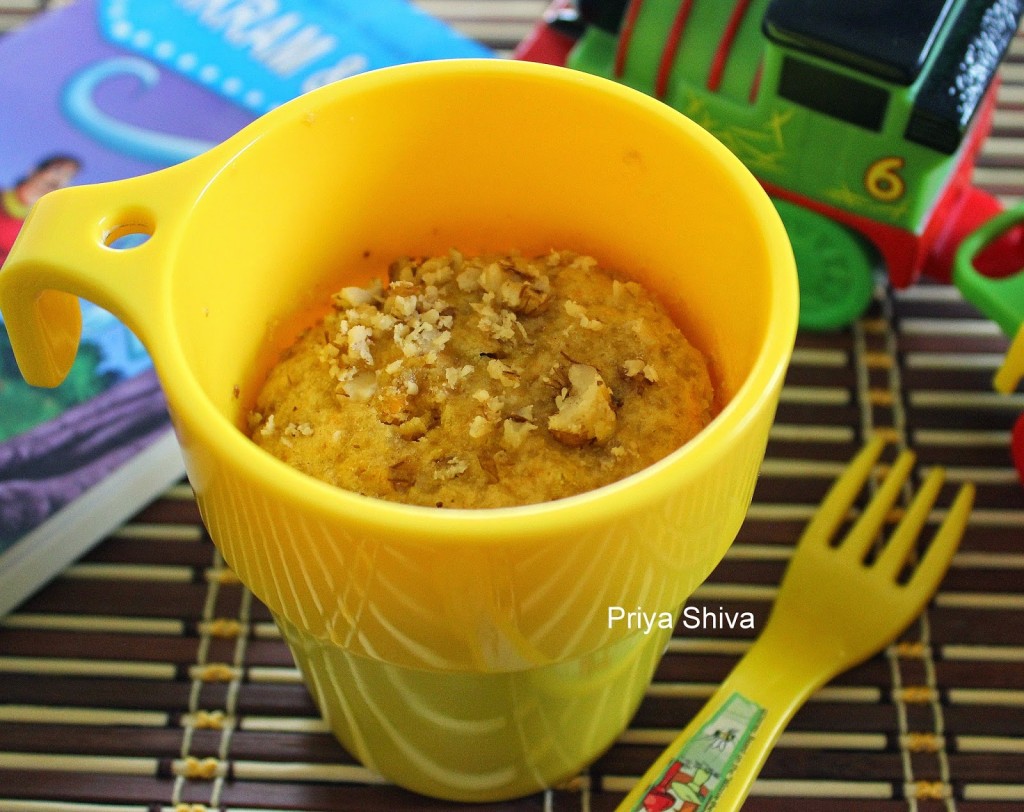 Yum