The weather is so gloomy again and I simply did not feel like getting out of the bed today. I thought of making something easy and delightful which will cheer up everyone. I had bought few Avocado yesterday and wanted to use them. I have not shared any recipe using avocado in my blog as yet. Avocado fruit is packed with fiber, proteins, vitamins and minerals. So, finally decided to make some chocolate muffins using Avacado and these are simply delicious.So, wish you all a Happy Sunday and hope you all try these muffins and enjoy with your family.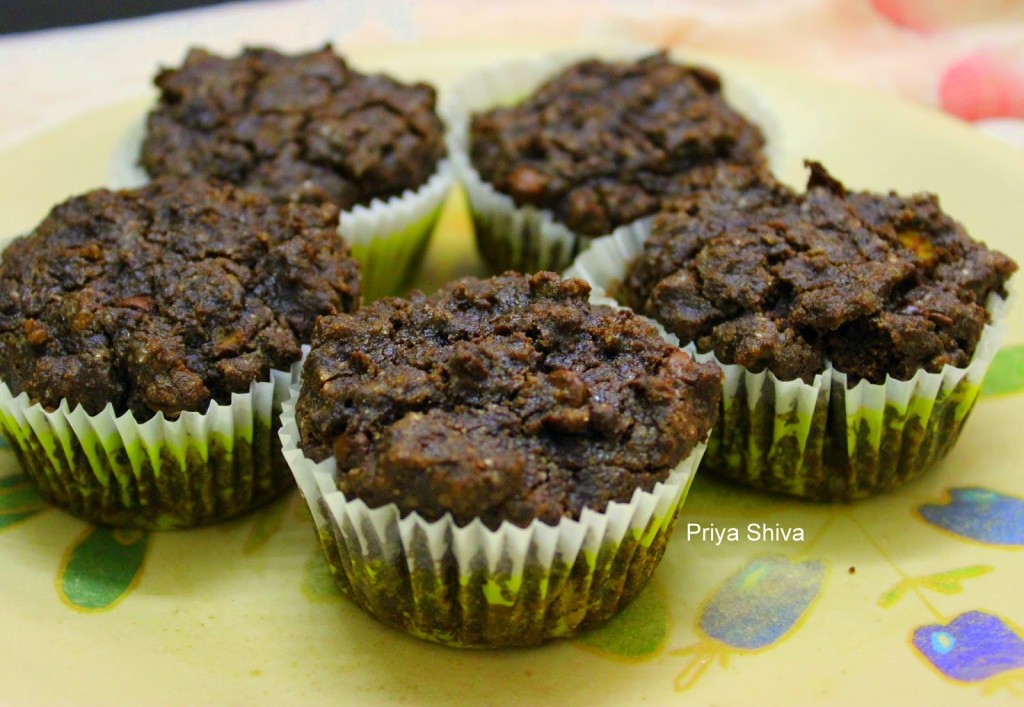 Yield – 12 muffins
Ingredients:
All purpose flour – 1 and 1/2 cups
Cocoa powder – 1/4 cup
Baking soda – 1 tsp
Baking powder – 1/4 tsp
Salt – a pinch
Granulated sugar – 1 cup
Chocolate chips – 1 cup
Ripe Avocado – 1 cup (mashed)
Milk – 1/4 cup + 1/4 cup
White vinegar – 1 tsp
Vanilla essence – 1 tsp
Cooking oil – 1 /3 cup (I used sunflower oil)
Method:
1) Preheat the oven to 180 degree Celsius for 10 minutes. Line a 12 cup muffin pan with paper liners or grease it with cooking oil.
2) Mix together 1/4 cup milk and vinegar and set it aside for curdling.
3) In another large bowl sift together the flour, cocoa, baking soda, baking powder and salt. Add sugar and mix it well.
4) In another bowl combine together the mashed avocado, curdled milk, vanilla essence, oil and remaining 1/4 cup milk.
5) Add this wet mixture with the dry ingredients and mix until just combined. Add chocolate chips and give a quick stir.
6) Pour the batter in  muffin cups about 2/3rd cup of batter per muffin.
7) Bake at same temperature for 20 minutes. Check after 20 minutes by inserting a toothpick at the center of the muffin. If it comes out clean, then your muffin is done or else continue baking for 5 more minutes and keep a watch on it.
Once it has cooled down, remove from the muffin cup and enjoy with a cup of milk or your morning cup of tea/coffee.
Tips:
1) You can add 1-2 tbsp milk if you feel the batter is too dry.
2) You can replace avocado with ripe bananas.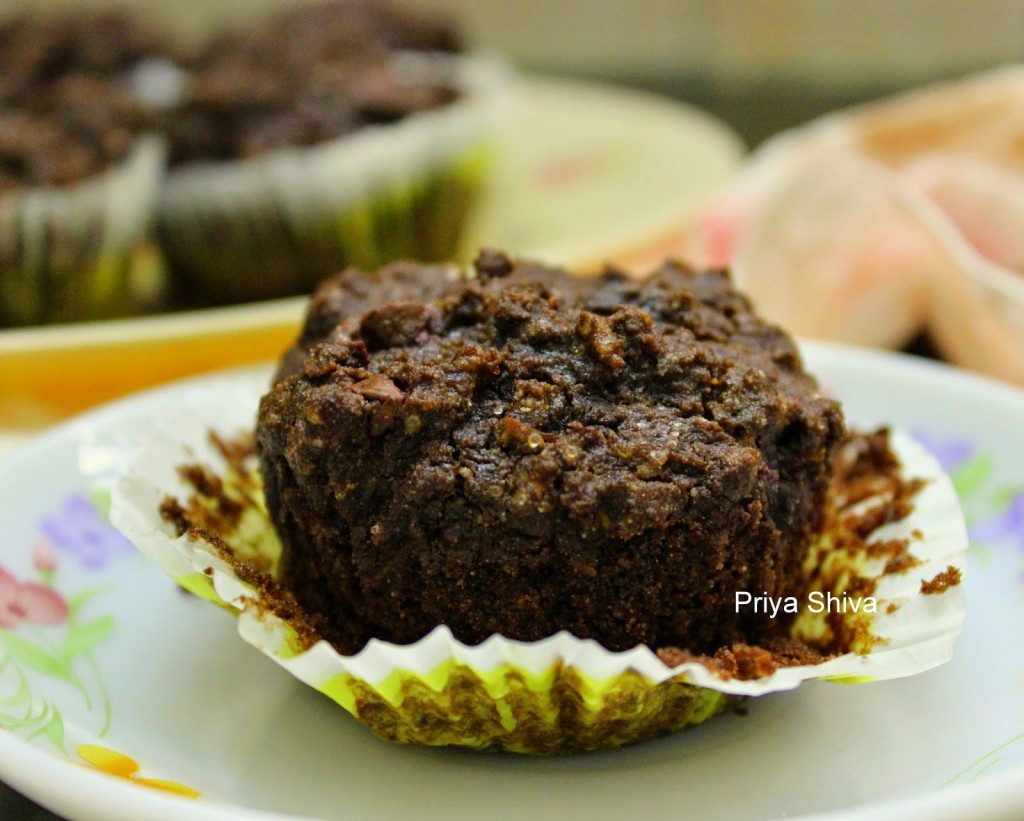 Yum