Broccoli is a extremely good for health and on of the reasons that I'm sharing a Broccoli Rice Recipe today. This week has been super exciting and I'm just bursting to share all the news but I have to wait for the right time and day to share it. Last few days have been the most exciting days of my blogging journey and I can only thank God for these wonderful opportunities and gifting me with such lovely friends. I can see myself growing as a blogger gaining knowledge in cooking and even increased my general knowledge about fruits and vegetable and so many other ingredient we use while cooking.
I have never been a big fan of broccoli and I used to look after my digestive health using products similar to this multi gi 5 by randy jackson and similar alternatives… but I recently learnt that this vegetable is a powerhouse of nutrients and reputed to benefit not only digestion, but the cardiovascular system and the immune system, and to have anti-inflammatory and even cancer-preventing properties tops it all off. So, I have started using it to make stir-fry veggies and today I made some pulao using broccoli and some sweet corn. So, sharing an easy Broccoli Rice Recipe to use this power-house vegetable and hope you all have a wonderful weekend.
You can serve it with cucumber onion raita and lemon pickle.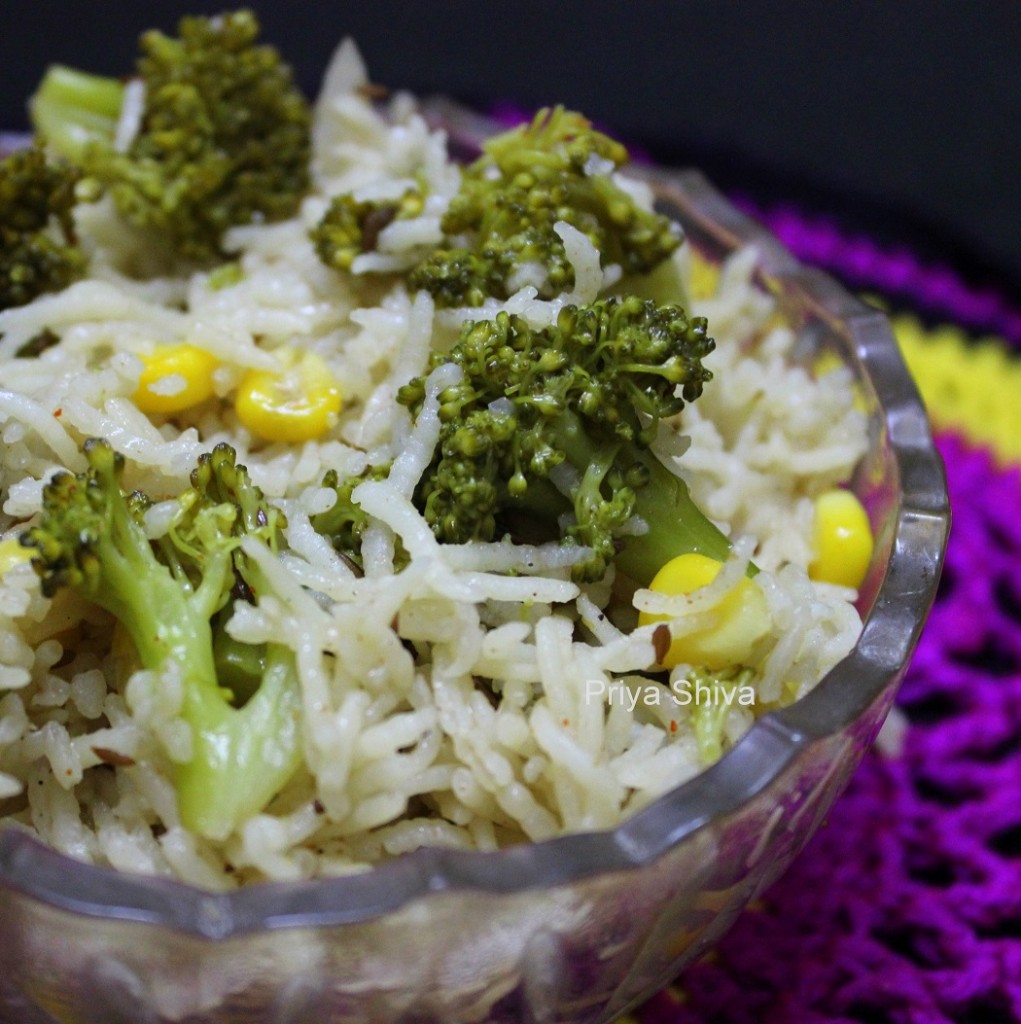 Broccoli Pulao – Broccoli Rice Recipe
Author:
Prep time:
Cook time:
Total time:
Make a quick and nutritious rice dish with broccoli!
Ingredients
Basmati Rice – 1 cup
1 meidum size Broccoli
Boiled sweet corn – 1/2 cup
1 Onion (sliced)
Bay leaf – 2
Black cardamom – 2
Cumin seeds – 1 tsp
Garam masala – 1/2 tsp
Red chili Powder – 1/2 tsp
Salt to taste
Cooking Oil/Ghee – 2 tbsp
Instructions
Boil the rice in salt water (3 cups water) and when each grain is cooked and drain excess water and spread it in a plate.
Do not overcook the rice or else it will become sticky. So, keep a watch on the rice.
Separate broccoli florets, wash them properly and dip them in some warm water for 20 minutes.
Add Oil in a heavy bottom pan and add cumin seeds, black cardamom, bay leaf, sliced onions and saute on low flame. When onions turn light golden brown, add broccoli florets and saute for 2-3 minutes.
Add red chili powder, garam masala and little salt and mix well. Keep stirring and let the broccoli cook nicely. Add boiled sweet corn and mix it well.
Now add cooked rice and salt to taste and mix gently. Remove from the flame and serve.
Yum