I thought of making something easy and quick for dinner when my husband gave me this superb idea to bake a pasta pizza!! I'm a pizza fan and love enjoying it over a quite weekend with my husband. This time he gave an idea to try pasta pizza. I was very apprehensive but you all have to try it out to believe me that its simply delicious!! Its loaded with cheese and you can add any vegetable of your choice. So, sharing the recipe and hope you all enjoy making it as much as I did with my husband.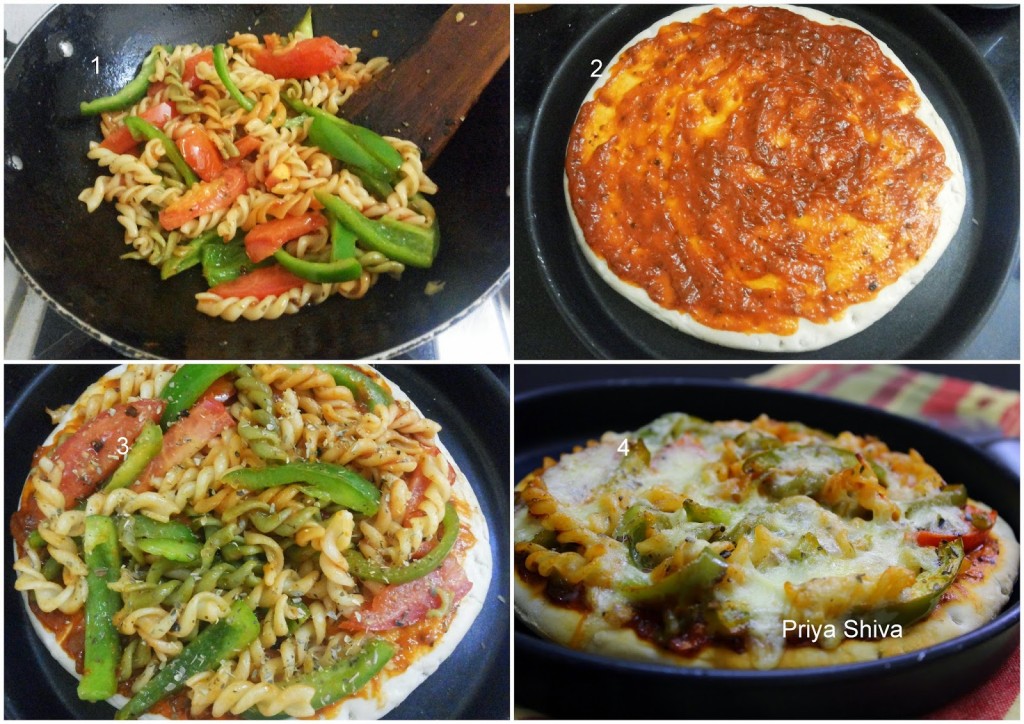 The recipe I'm sharing can easily make 2 pizza. You can add your choice of seasoning and be more innovative 🙂 ..If you want to try making pizza from scratch with the pizza dough – Click here. So, sharing the recipe for pasta pizza today and hope you all have a great week ahead!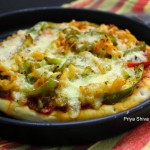 Pasta Pizza Recipe
Ingredients
Pizza base - 2

Pizza sauce - 4 tbsp

Fusilli pasta - 1 cup

1 Red bell pepper (thinly sliced)

1 Green bell pepper (thinly sliced)

2 tomatoes (sliced)

Oregano seasoning - 1 tsp

Chili Flakes - 1 tsp

Butter - 2 tbsp

Salt to taste

Grated Mozzarella cheese/Pizza cheese - 1/2 cup
Instructions
Cook fusilli pasta with enough water and salt until its soft and cooked. Drain the water and set it aside.

Heat the butter in a pan and sauté sliced red bell pepper, green bell pepper and tomatoes for 2-3 minutes.

Add oregano seasoning, chili flakes, 2 tbsp pizza sauce , salt and mix it well. Remove from the flame and set it aside.

Spread 1 tbsp pizza sauce on top of the base evenly.

Spread the cooked pasta over it.

Now add grated mozzarella cheese evenly and sprinkle some chilly flakes, pepper powder and oregano seasoning.

Place the base on a baking tray and bake at same temperature for 15 minutes or till crust turns light golden brown. Use a pizza cutter to slice the pizza and enjoy it hot!
Yum