Jigarthanda is a famous Summer drink from Madurai, Tamil Nadu. Jigarthanda means "cooling the heart" and made using Nannari Syrup. I have earlier shared the benefits and recipe of making Nannari syrup at home (click here for recipe). Nannari syrup is made with roots of sarsaparilla which mainly helps to purify your blood, cools your body and heals skin diseases. So, sharing another refreshing cool drink using home-made nannari syrup.
Ingredients:
Whole Milk – 4 cups
Vanilla ice cream – 2 scoops
Almond gum / Badam pisin  – 2 tbsp
Sugar – 1/2 cup
Nannari syrup – 2 tbsp
Few saffron strands
Tutti frutti – 1 tbsp
Broken nuts of your choice.
Method:
1) Soak saffron strands in little milk and keep it aside for 30 minutes.
2) Soak almond gum in 1/2 cup of water over night. It will get doubled in size and will be like jelly.
3) Boil milk in a wide pan. Lower the flame once it starts boiling and simmer until it thickens and reduces to half the quantity.
4) Add sugar and mix it well and let it dissolve completely. Add saffron strands and mix it well. Remove from flame and let it completely cool down. Transfer the content in a bowl and refrigerate.
4) In a large glass, add some almond gum and 1 tbsp of nannari syrup.
5) Add 1/2 cup of thickened milk and big scoop of vanilla ice cream on top and add another tbsp of nannari syrup and garnish with tutti frutti and nuts of your choice and enjoy!!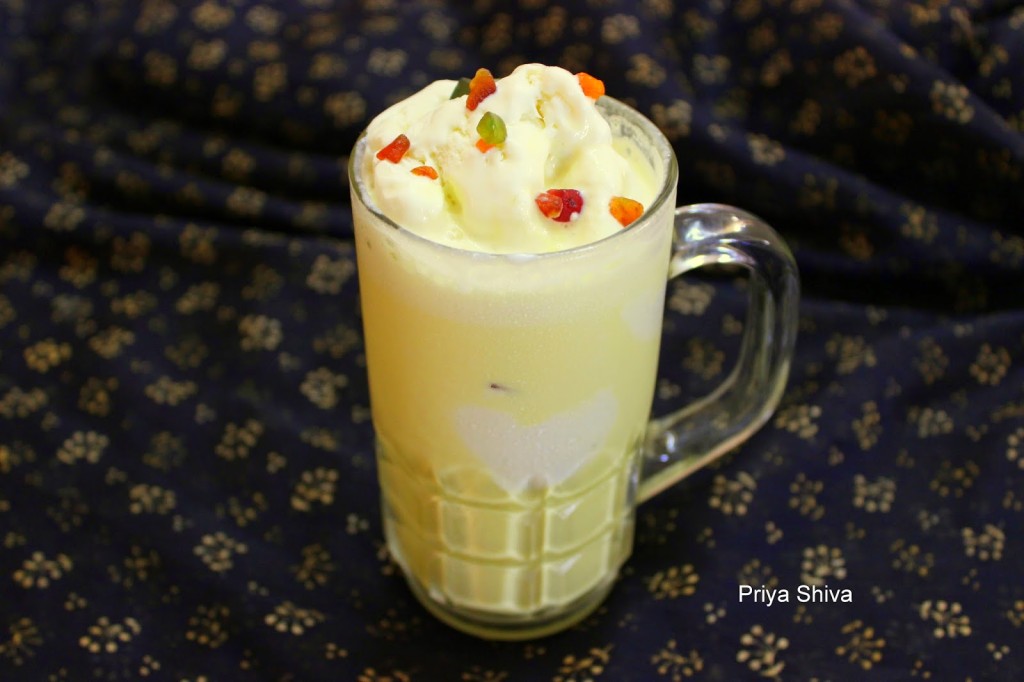 Yum