Make some spinach corn cheese sandwich and enjoy a wholesome breakfast. Spinach is rich in iron and fiber. Spinach is also important for maintaining bone health especially for vegetarians. You all know I'm a vegetarian and I make sure to eat spinach at least twice a week. I'm a breakfast person and my day starts well if I have had a wholesome breakfast. I'm more active, cheerful with a filling breakfast. You can also try other breakfast options from my blog.
This is a simple recipe to make some healthy sandwich which is also a good filling breakfast for your family. It is also a great snack box recipe for your kids. It is a good way to make your kids eat some spinach. So, sharing the recipe for spinach corn cheese sandwich and hope you try it and enjoy for breakfast or snacking!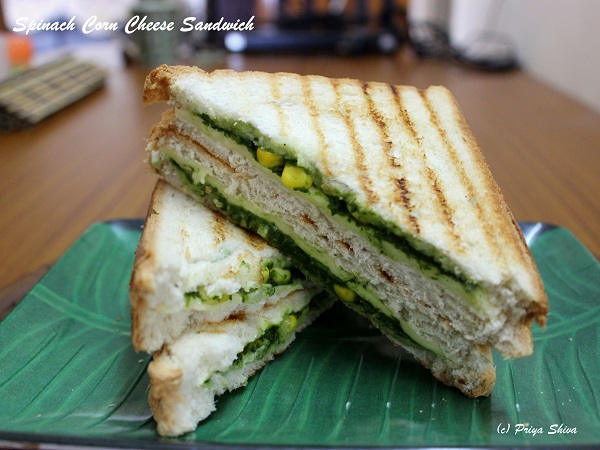 Spinach Corn Cheese Sandwich
Make healthy spinach corn cheese sandwiches for breakfast and enjoy!
Ingredients
Whole wheat bread slices - 4

Cheese Slices - 2

Spinach - 1 cup

chopped

Boiled corns - 1/2 cup

Salt to taste

Black pepper powder - 1/2 tsp

Butter - 2 tbsp
Instructions
Clean spinach and boil it in 1/2 cup water for 2 minutes. Let it cool down, drain the water and mash it nicely. Add spinach, boiled corn in a mixing bowl. Add salt to taste, pepper and mix well.

Spread butter evenly on bread slices.

Take a slice of bread and place a cheese slice over it.

Now spread the spinach-corn stuffing. Keep another slice above it.

Grill it or toast and enjoy!
Recipe Notes
Do not throw away the water used to blanch spinach. You can use it to knead the dough or in a soup.
Yum