Soya chunks are rich in protein and they are soft and juicy when cooked. It is high in fiber and helps in managing cholesterol levels. Green peas are excellent source of folic acid and vitamin C and help in developing immunity. Its always good to have a basic knowledge about what we eat and how it helps us. So, sharing an easy recipe to make some Soya peas curry and hope you all have a Happy Sunday!!Ingredients:

Nutrela Soya Chunks – 1 cup 
Green Peas – 2 cups
Tomatoes – 4
Onions – 2
Grated Ginger – 1 tbsp
Finely chopped Garlic – 1 tsp
Kasuri methi/Dry Fenugreek leaves – 2 tbsp
Cumin Seeds – 1 tbsp
Turmeric powder – 1/2 tsp
Red Chilli powder – 1 tsp.
Dry Mango Powder/Amchur Powder – 1/4 tsp
Garam Masala – 1 tsp
Cooking Oil – 2 tbsp
Salt to taste

Method:

1) Finely chop onions, garlic and tomatoes.
2) Heat oil in a pan and add cumin seeds. Add the ginger, garlic and onions and saute till onions turn light brown. Now add chopped tomatoes and fry till oil starts leaving on sides and tomatoes are mushy.
3) Add turmeric powder, garam masala, amchur powder and red chilli powder, and mix.
4) Add peas and soya chunks and mix well. Add enough water (Approx 2 cups) to cover the vegetables. 
5) Mix it well and lower the flame and close the pan with a lid. 
6) Let it cook for 5-7 minutes and keep stirring in between to check if the vegetables are soft and cooked.
7) Add salt to taste and kasuri methi and let it simmer for few more minutes. 

Garnish it with some fresh coriander leaves and serve hot with some phulka/naan.

Tips:

1) Add soya chunks in boiling water and keep it aside for 5-10 minutes. Once it puffs up, rinse it well again in water to remove the raw smell and squeeze the excess water from it.
2) Adjust the consistency according to your taste. Always taste the food before serving to adjust the salt and spices.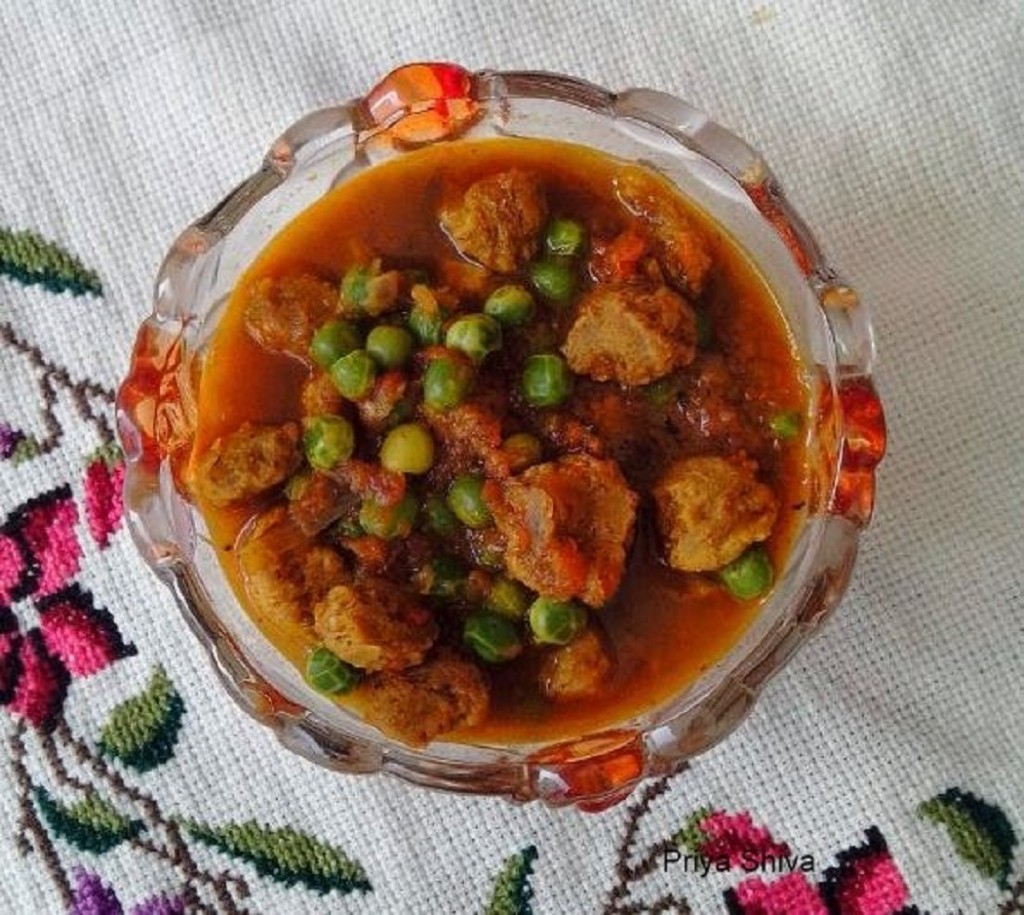 Yum