This is an easy delicious evening snack which you can serve with any chutney. They are crispy from outside and soft inside and can be served as a snack or appetizer or a starter. I usually like to have it with some tangy tamarind chutney. So, sharing the recipe and hope you all are enjoying your weekend..
Serving – 4
Yield – 10
Ingredients

Bread slices – 10
Plain thick Yogurt/dahi – 1 cup
Rice flour – 1/2 cup
1 onion (finely chopped)
Chopped green chillies – 1 tbsp
Cumin seeds – 1 tsp
Grated ginger – 1 tsp
Few Curry leaves (chopped)
Chopped Coriander leaves – 1 tbsp
Salt to taste 
Asafoetida – 1/4 tsp
Cooking Oil for deep frying
Method:

1) Cut the sides of the bread slices and slice it into small pieces. 
2) Add the onion, green chilies, coriander leaves, curry leaves, ginger, cumin seeds, rice flour, asafoetida, yogurt, and salt and mix it well with your hands to make a sticky dough. 
3) Heat some oil in a frying pan. 
4) Take a tbsp of the batter in a wet plastic sheet and shape it into a circle. Make a hole in between and drop it into the oil carefully. 
5) Deep fry in oil on low flame till it turns golden brown. Drain excess oil and place them on an absorbent paper.
Serve it hot with some sweet tamarind chutney. 
Tips:
The dough will be sticky, so do not add more water. Do not fry them on high flame or they will be under-cooked from inside.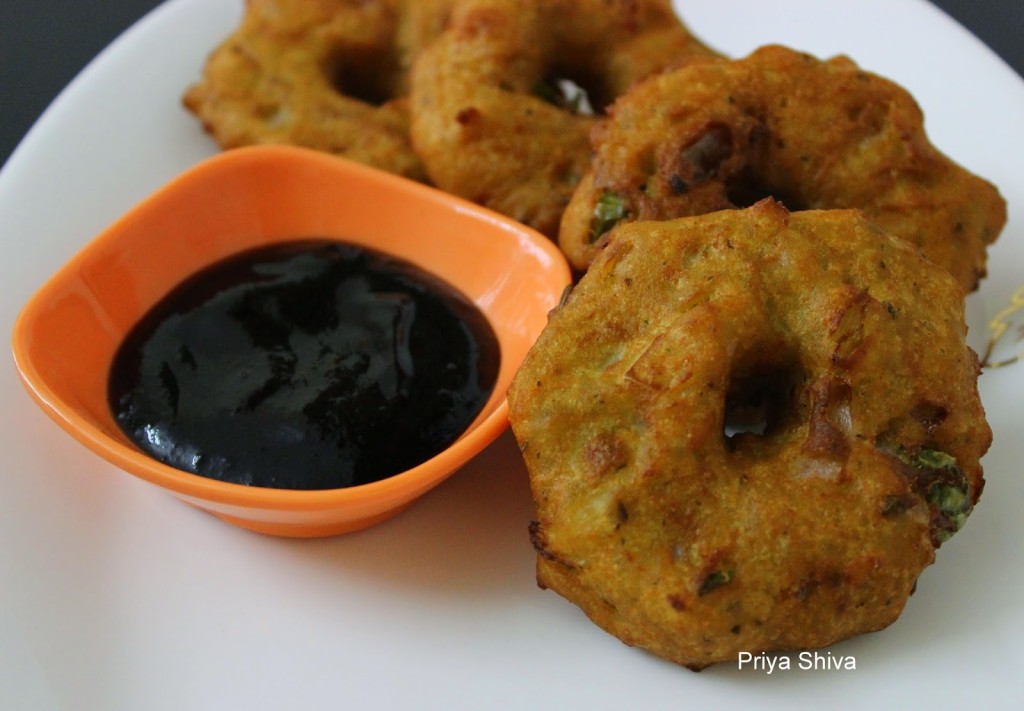 Yum