I always love to cook something good on Sunday and enjoy with my family. I decided to make some
Colocasia Roast
 and race Kolambu served with rice. I'm not sure how this dish got its name but its a very famous Tanjore/Kumbakonam, Tamil Nadu dish. My grandma used to make this and I always loved the smell of freshly grounded spices and the whole house will be smelling of her cooking.
Ingredients:
Small Eggplants/Brinjals – 6 (wash, remove the head and chop into 4 equal parts)
Tamarind – a small lemon size
Toor Dal/Yellow pigeon peas Spilt – 1 tsp
Bengal Gram – 1 tsp
Moong Dhuli /Green gram split and skinned – 1 tsp
Coriander seeds/ Sabut Dhaniya – 2 tsp
Dried Red Chillies – 5
Fenugreek seeds – 1 tsp
Raw rice – 1 tsp
Asafoetida – A generous pinch
Turmeric Powder – 1/4 tsp
Mustard seeds – 1 tsp
Salt to taste
Curry leaves – 1 sprig
Gingeley Oil/Cooking oil – 3 tbsp
Procedure:
1) Soak the tamarind removing the seeds for 30 minutes in 4 cups of warm water. Now drain the water in a separate bowl by removing the pulp.
2) In a pan, add fenugreek seeds and rice and dry roast them till golden brown colour and keep it aside.
3) Add 1 tsp cooking oil in the same pan and roast all lentils, red chillies and coriander seeds till golden brown and mix this along with the earlier roasted fenugreek seeds and rice and allow this to cool down completely
4) Grind this in a mixer to a fine powder.
5) Add remaining oil in the pan and when oil is warm add mustard seeds and asafoetida.
6) When mustard seeds crackle add chopped brinjals and fry them on medium flame till they are soft. Keep stirring in between.
7) Now add the tamarind water and curry leaves, turmeric powder and salt to taste and let it boil for 5 minutes.
8) Add the grounded powder and keep stirring so that no lumps are there. When the gravy starts thickening, remove from gas stove.
I served it hot with some coconut rice and Colocasia Stir Fry.
Tips: You can also add 1 tablespoon of grated jaggery to give a nice flavour.
Click here for recipe for coconut rice.
Click here for recipe for colocasia stir fry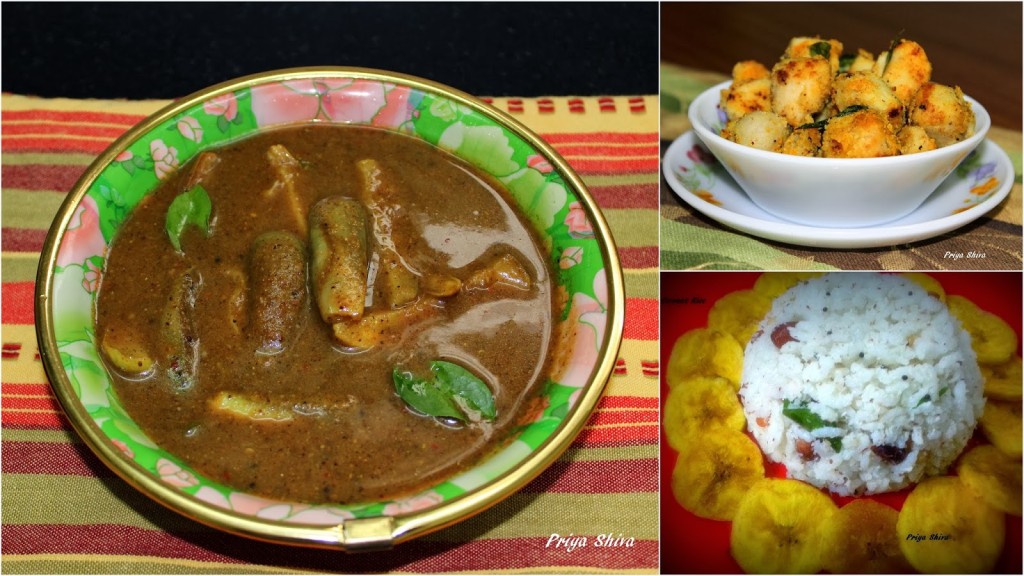 Yum