I wanted to try something different today and thought of exploring some vegetarian Spanish dish. Patatas bravas is a dish native to Spain, often served as a tapa (appetizer or starter) in restaurants. While searching for the recipe, I found so many versions but I was glad to know its topped with some spices as I'm big fan of spicy food. Here's my version of patatas bravas and hope you all have a great day.. 🙂
Ingredients:
Potatoes – 3-4 large (peeled and chopped)
Tomatoes – 3 medium (to make a fresh tomato purée)
Garlic – 4-5 cloves
Vinegar – 1 tsp
Red chilly powder – 1 tsp
Black pepper powder – 1/2 tsp
Sugar – 1 tsp
Sato taste
Olive oil – 4 tbsp
Method:
1) Take a deep and heavy-bottomed pan and pour in the olive oil.
2) When 3 tbsp olive oil is warm, add potatoes and fry them on low flame till they turn light golden-brown. Sprinkle salt to taste and mix it well. Remove from the pan and keep it aside.
3) Add 1 tbsp olive oil and add garlic and saute for few seconds. Now add tomato purée, pepper, red chilly powder, sugar, vinegar and mix it will. Cook it on medium flame until oil separates and the paste turns darker red.
4) Remove from flame and mix this sauce with the fried potatoes.
You can add some chime or parsley or oregano for seasoning and garnishing and squeeze a little lemon juice on top before serving. You can also serve it topped with mayonnaise.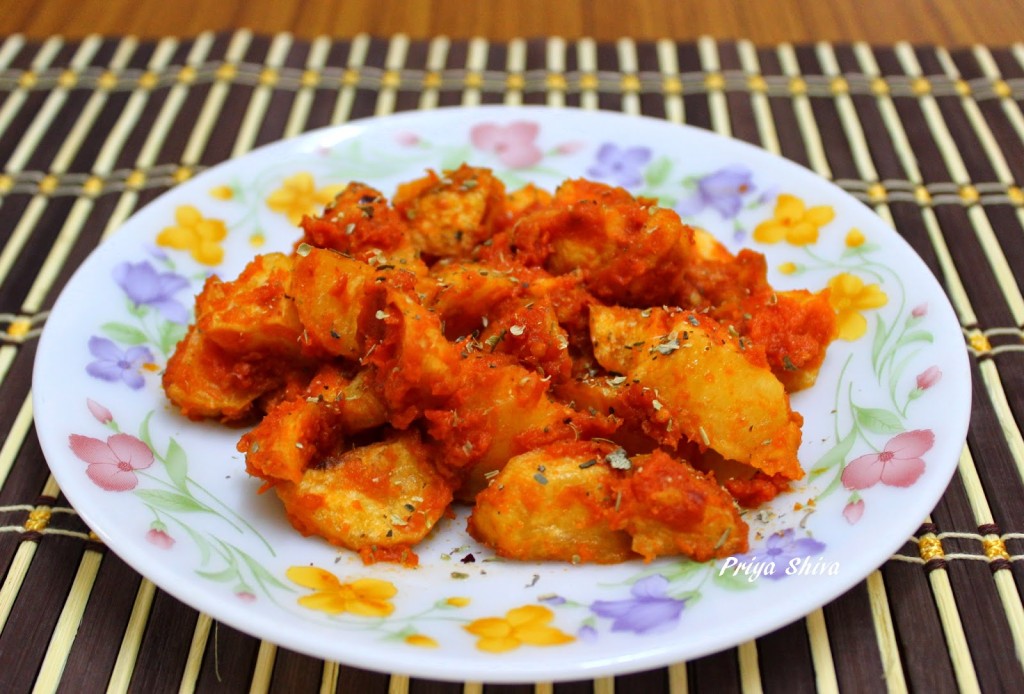 Yum