I love peanuts! I had just bought a packet of raw peanuts and I usually add peanuts while making some coconut rice. Today, I decided to make some spicy peanut rice along with 
Curd rice
 for dinner. Its a quick dish and you can prepare it in 10 minutes if you have steamed rice handy. So, sharing a simple spicy peanut rice and hope you all have a wonderful day.
Ingredients to cook plain rice:
Raw rice – 1 cup (washed and soaked for 20 minutes)
Water – 2 and 1/2 cups
Method to cook in pressure cooker:
If you're cooking directly in a small 3ltr cooker – Add washed rice and water and close the cooker. Cook it for 2-3 whistles and the rice is ready to be served.
If you're using basmati rice, add 2 cups of water for 1 cup of rice.
Ingredients to make peanut masala rice:

Cooked rice – 2 cups
1 onion (peeled and finely chopped)
Cumin seeds – 1 tsp
Mustard seeds – 1/2 tsp
Dry red chillies – 3
Chopped green chillies – 1 tbsp
Peanuts – 3 tbsp
Curry leaves – 1 sprig
Salt to taste
Cooking Oil/Ghee – 1 tbsp

Method:
1) Spread the cooked rice in a plate a and keep it aside.
2) Heat oil in a pan and add mustard seeds, cumin seeds and a pinch of asafoetida.
When mustard seeds crackle, add peanuts and roast till it turns brown.
3) Add red chillies, green chillies, chopped onions and curry leaves and sauté on low flame till onions turn light golden brown.
4) Lower the flame and add add cooked rice and salt and mix it well.
Serve it hot with some
Dal fry
and chips. I had it with some plain yoghurt and chips.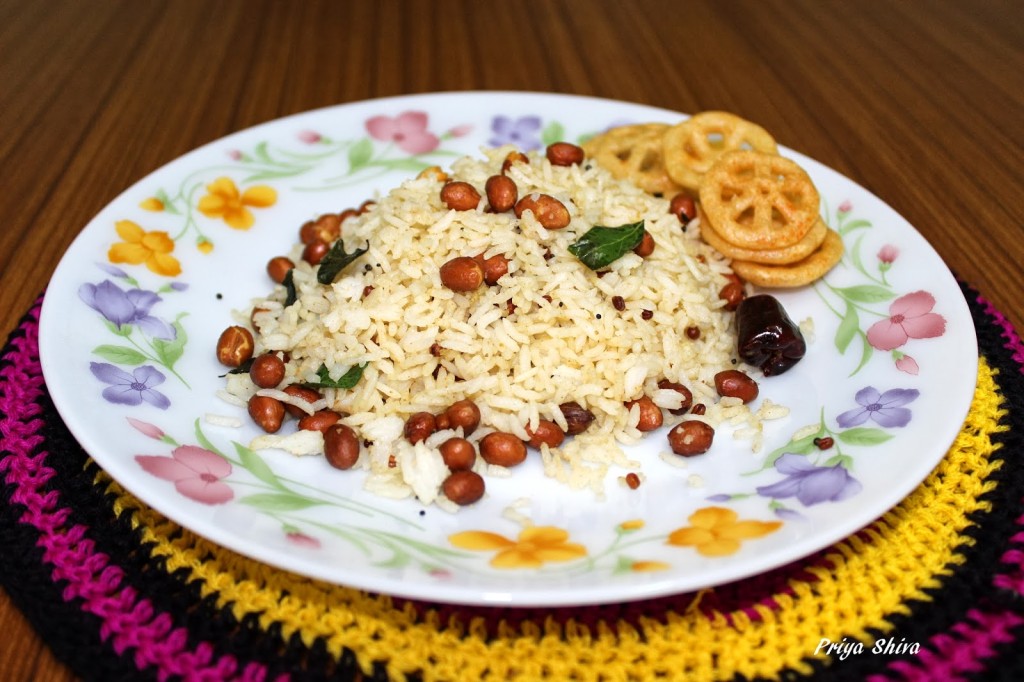 Yum